Articles
HEALTHYDAY uses crowdsourced data to help users track nearby illnesses and (hopefully) avoid getting sick.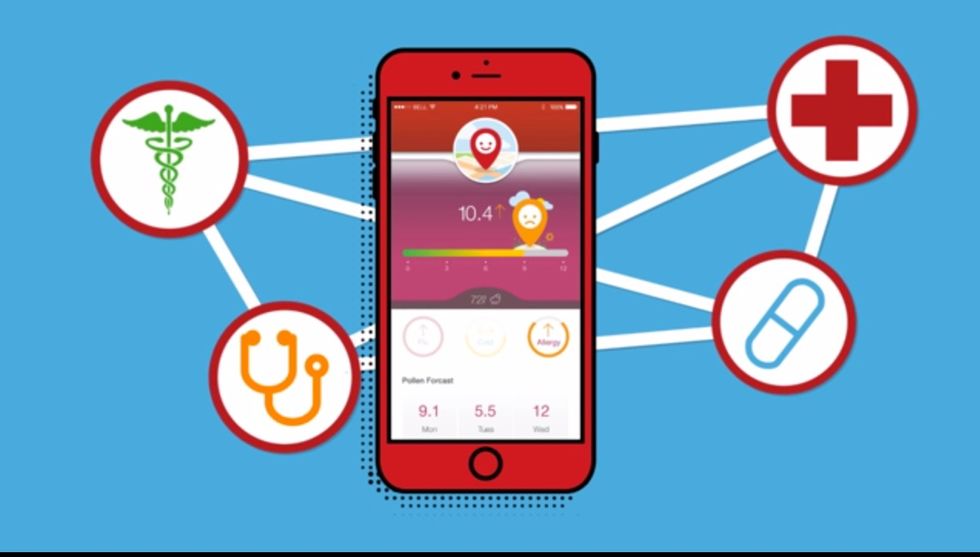 image via McNeil Consumer Healthcare screencapture
There's really nothing worse than being sick. Coming in at a close second, however, is being surrounded by those who've fallen ill, and realizing, with depressing finality, that you, inevitably, are next. It's there, in that liminal space between "getting" and "being" sick that the new HEALTHYDAY app plans to make itself at home. The app is designed to do for health and wellness what mapping systems like Waze have done for navigation: Draw from public data to show users the real time geography of, in this case, illness.
<p>A <a href="http://www.prnewswire.com/news-releases/mcneil-consumer-healthcare-announces-innovation-to-help-consumers-outsmart-seasonal-symptoms-300096294.html">release</a> announcing the June 8th launch of HEALTHYDAY explains that: </p><blockquote><p>"...helps consumers by gathering data from the same trusted sources used by doctors and hospitals. Using a patent-pending algorithm, HEALTHYDAY cross-references this information with localized, crowd-sourced data to determine what people in your neighborhood might be feeling – whether it's an outbreak of flu or seasonal allergies." </p></blockquote><p>The app comes from the <a href="http://www.mcneil-consumer.com/">McNeil Consumer Healthcare</a> Division of McNEIL-PPC, Inc. If that name doesn't necessarily ring a bell, you'll probably recognize McNeil's corporate higher-ups: Pharmaceuticals giant Johnson &amp; Johnson. To that end, the app also provides users with health tips, conveniently "sponsored" by some of J&amp;J's more recognizable products. </p><p></p><p>Admittedly, there may be something uncomfortably voyeuristic about tracking waves of illnesses as they roll through your city. Still, by providing some measure of context to whatever seasonal crud may be going around, HEALTHYDAY does, in fact, afford users an opportunity to put their minds at ease and prepare themselves for illnesses to come. </p><p>As <em>Medical Daily</em> <a href="http://www.medicaldaily.com/johnson-johnson-launches-app-will-tell-you-when-your-neighbors-are-sick-338356">points out</a>, HEALTHYDAY is in some ways similar to <a href="http://www.crowdbreaks.com/html/about.html#">Crowdbreaks</a>, a still-in-development service that uses crowdsourced social media and data analysis to algorithmically report on disease outbreaks. </p><p>Ultimately, HEALTHYDAY's strength may not be in what it shows you, but what it doesn't. By filtering health concerns based on real-time information, the app shields users from the deluge of information they might otherwise get by Googling their symptoms. In that respect, HEALTHYDAY, and services like it, join the growing trend of technology that doesn't simply bring all available data to your fingertips. Rather, it's smart enough to know you don't need to know everything—just why you have a runny nose. </p>