Articles
The medium is the message when it comes to sounding the alarm for those most vulnerable to China's polluted skies.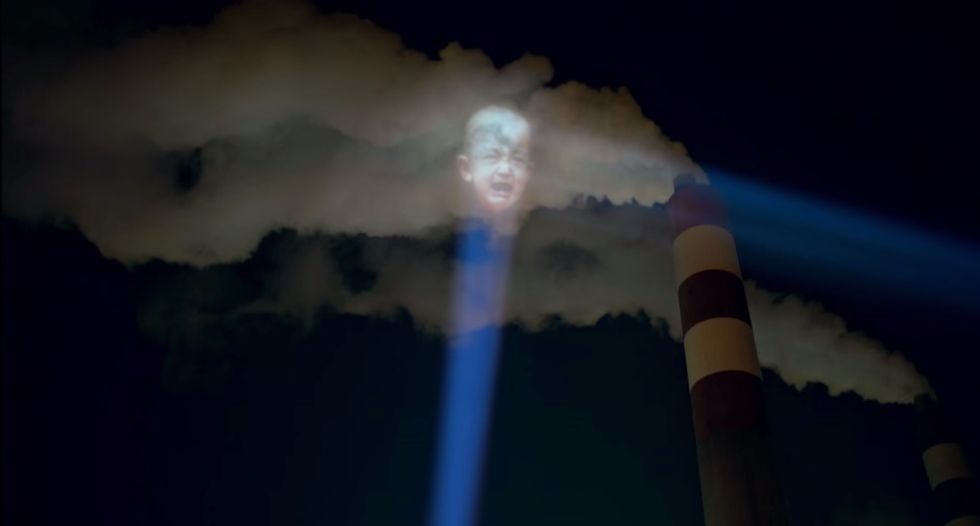 image via youtube screen capture
Move over Batman, there's a new signal piercing the night sky. Rather than summon a caped-crusader, though, these beams of light feature the faces of crying, gasping children in order to illustrate the very real dangers of China's staggering level of air pollution.
<p class="shortcode-media shortcode-media-rebelmouse-image"> <img class="rm-shortcode" data-rm-shortcode-id="b53bc3cc4bc5f9c01c754b0873175b34" data-rm-shortcode-name="rebelmouse-image" id="26bb8" type="lazy-image" data-runner-src="https://assets.rebelmouse.io/eyJhbGciOiJIUzI1NiIsInR5cCI6IkpXVCJ9.eyJpbWFnZSI6Imh0dHBzOi8vYXNzZXRzLnJibC5tcy8xOTg0MTA1MC9vcmlnaW4uZ2lmIiwiZXhwaXJlc19hdCI6MTU5NDk1NzI3Nn0.SHgWGqor_62K5w_jv4-xNtAv3tmFOwaLCBJ90ELUP3Q/img.gif?width=980"/> <small class="image-media media-caption" placeholder="add caption..."></small> <small class="image-media media-photo-credit" placeholder="add photo credit..."></small> </p><p><a href="http://www.exiaozhu.com/exiaozhu/">Xiao Zhu</a>, a Chinese company specializing in air purification units, has, <a href="http://www.designboom.com/art/xiao-zhu-air-pollution-project-china-06-11-2015/">reports</a> <em>Design Boom</em>, been projecting the faces onto the plumes of smoke billowing from several factories across China. Given the widespread health problems caused by China's <a href="http://magazine.good.is/articles/off-the-charts-air-pollution-in-china-breaks-the-scale">infamously poor air quality</a>, the "Breathe Again" campaign was created to "put a spotlight on air pollution's biggest culprits—the factories—by using the actual pollution from the factories as a medium," according to the project's <a href="https://www.youtube.com/watch?v=1e1qGc66W9k">youtube description</a>.</p><p>It's a chilling reminder that what goes up into China's air often comes down—and comes down hard—on those most vulnerable: Children.</p><p><span class="rm-shortcode" data-rm-shortcode-id="9123e161aa9b477c92d42d3ddf2e5ed7" style="display:block;position:relative;padding-top:56.25%;"><iframe frameborder="0" height="auto" type="lazy-iframe" scrolling="no" data-runner-src="https://www.youtube.com/embed/1e1qGc66W9k?rel=0" style="position:absolute;top:0;left:0;width:100%;height:100%;" width="100%"></iframe></span></p><p>This "Breathe Again" footage was uploaded to YouTube nearly a month ago, but it's only in the last few days that people have begun to take notice. <em>The Verge</em> <a href="http://www.theverge.com/2015/6/12/8769933/chinese-air-pollution-projection-ad">points out</a> that whomever originally submitted the story to <a href="http://www.designboom.com/art/xiao-zhu-air-pollution-project-china-06-11-2015/"><em>Design Boom</em></a> did so under a username matching the <a href="https://twitter.com/wong_handsome">twitter handle</a> of a "creative partner" at <a href="http://verawom.com/au.html">Verawom</a> (<em>The Verge </em>has them labeled as "Veracom")—a Chinese digital and social media marketing firm. </p><p>Still, while the campaign may itself simply be a sophisticated advertisement for a line of locally-sold commercial air purifiers, the message it conveys is universal: "Clean the air. Let the future breathe again." </p><p style="text-align: right;">[<em>via <a href="https://twitter.com/GreatDismal/status/609351551367262208">@TheGreatDismal</a></em>]</p>