Articles
Two electric bicycle wheels are pushing their way into the market: the Cophenhagen Wheel and the FlyKly Smart Wheel.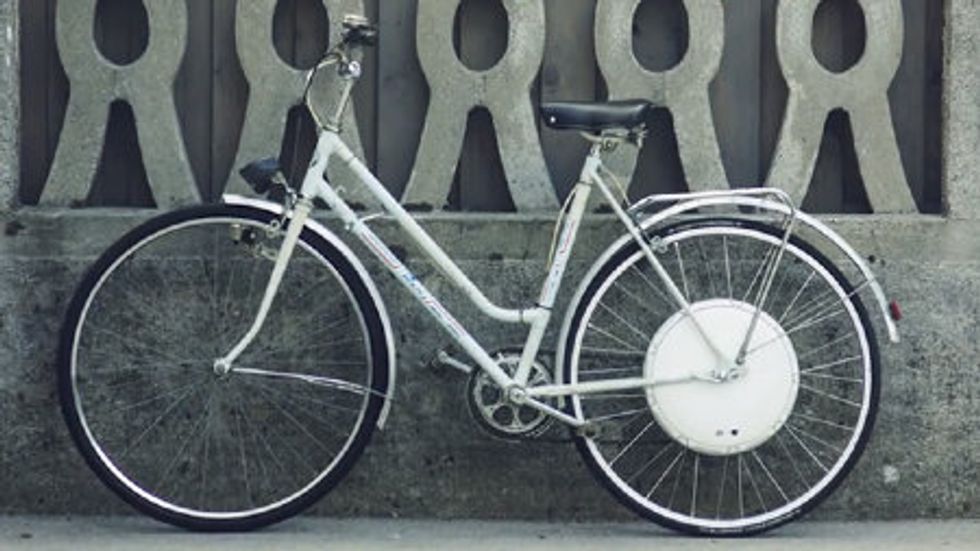 The push for more livable cities has meant an equal push for more flexible transportation options. In other words, more bicyclists, more bicycle infrastructure, and, well, more types of bicycles.
Two all-in-one electric conversion wheels are being developed by two different startups: the Copenhagen Wheel and the FlyKly Smart Wheel. Both promise an improved cycling experience without the need of a new frame.
<p> The Copenhagen Wheel is the work of Assaf Biderman, associate director at MIT's <a href="http://senseable.mit.edu/">SENSEeable City Lab</a>—a brain trust of sorts committed to designing and building tools for the increasingly connected, data-driven "<a href="http://www.good.is/posts/how-does-a-smart-city-happen">smart city</a>."</p><p> Unlike other <a href="http://www.nycewheels.com/electric-bicycle-conversion.html">electric conversion kits</a>, the Copenhagen Wheel is entirely self-contained, meaning the sensors, power and brake systems, and battery are tightly packed within a disc-shaped housing that sits where the rear wheel hub and cassette ought to be. Writes <em><a href="http://www.fastcoexist.com/3020315/the-copenhagen-wheel-makes-your-bike-electric-and-its-about-to-go-on-sale#6">Fast Company</a></em>: </p><blockquote> <p> The wheel can be fitted to almost any bike, and it has a power assist feature that doesn't require any work on the part of the rider (the wheel is automatically controlled by sensors in the pedals). Its range "will cover the average suburban commute, about 15 miles to and from work and back home," according to Biderman. A regenerative braking system stores energy for later use in a lithium battery. </p>\n</blockquote><p> <iframe allowfullscreen="" frameborder="0" height="360" src="//www.youtube.com/embed/S7y3qIQu3Gc" width="640"></iframe></p><p> Like the Copenhagen Wheel, New York City-based entrepreneur Niko Klansek's Flykly Smart Wheel, also comes in the "all-in-one" variety. </p><p> The designs look similar, but the difference is in both the hardware inside the hub and the system's use of smartphone software. Here's what FlyKly has said about the variance between the two bikes: </p><blockquote> <p> FlyKly Smart Wheel includes a completely new proprietary electric motor, which is internationally patented. By taking a new approach and not using standard gears and motor, we have created a Smart Wheel that is less than half the weight, yet still has more efficient energy output and storage. We've also added in multiple layers of intelligence, including a fully functional GPS module that monitors your routes and makes recommendations based on your preferences. </p>\n</blockquote><p> <iframe frameborder="0" height="480" scrolling="no" src="http://www.kickstarter.com/projects/flykly/flykly-smart-wheel/widget/video.html" width="640"></iframe></p><p> Both development teams have worked in smartphone-control over their wheels, which lets riders regulate the speed, lock the wheel, track it (if stolen), map journeys, and share locations. </p><p> So when will cyclists get to test out these wheels? After <a href="http://www.superpedestrian.com/">securing $2.1 million</a> in venture capital funding, the Copenhagen Wheel expects a commercial release as early as November. (The red-colored wheel also squeezed in some stealthy marketing with a <a href="http://www.fastcodesign.com/1665013/how-weeds-became-a-marketing-high-for-mits-hybrid-bike-wheel">spot on the television show</a> <em>Weeds</em>.) The FlyKly Smart Wheel is still running its <a href="http://www.kickstarter.com/projects/flykly/flykly-smart-wheel">Kickstarter</a> campaign, which already surpassed its $100,000 goal. The company hopes to be shipping their wheel by Spring 2014. No word yet on the price. </p><p> It's been more than 80 years since derailleur gears were officially introduced. It's a good time for a change. </p><br/><br/>