Articles
Hangzhou's Massive Bike-Share System Dwarfs All Others
China has, in a few short years, built a 50,000-bike system for a city of nearly 7 million people.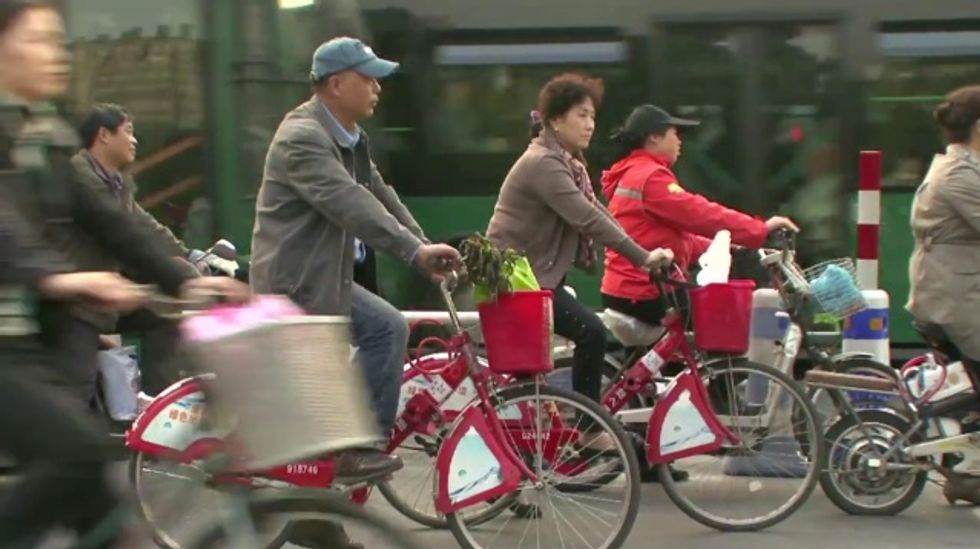 Bike-sharing isn't just for affluent, progressive Western cities anymore. A couple weeks ago, Dani Simons from the Institute for Transportation and Development Policy wrote about Mexico City's impressive pilot program, which is succeeding in the face of typical Third-World urban challenges. And now, as this video from Streetfilms and ITDP shows, a Chinese city is taking the bike-share concept and utterly dominating it.
---
Hangzhou, China has, in a few short years, built a 50,000-bike system that dwarfs all other noble contenders. Montreal, Mexico City, Washington D.C., London and Paris, all of which are regularly lauded for their systems, all launched with between 1,000 and 10,000 bikes, and Paris's Velib now has 20,000 bikes. Check out this amazing video.
[vimeo][/vimeo]
Now, let's drive home some of these ridiculous numbers, courtesy of Elizabeth Press at Streetfilms:
The 50,000-bike system in this southern China city of almost 7 million people (about 1.5 million people fewer than New York City) blows all other bike-shares off the map. As Bradley Schroeder of the Institute for Transportation and Development Policy said, "I don't think there is anywhere you can stand in Hangzhou for more than a minute or two where you wouldn't have a Hangzhou Public Bike go past you."
Hangzhou's 2,050 bike-share stations are spaced less than a thousand feet from each other in the city center, and on an average day riders make 240,000 trips using the system. Its popularity and success have set a new standard for bike-sharing in Asia. And the city is far from finished. The Hangzhou Bicycle Company plans to expand the bike-share system to 175,000 bikes by 2020!
175,000 bikes is an astonishingly ambitious number. And does anyone doubt that the Chinese authorities will pull it off?
Hangzhou, it's worth mentioning, is not to be confused with Guangzhou, the third largest city in China that has one of the world's best bus rapid transit systems.
Hangzhou also has some good bus rapid transit options, and the bike-share is wisely integrated with those stops and stations. Importantly, the bikes are also free for the first hour of use, and the city's more than 2,000 bike-share stations are spaced out less than 1,000 feet apart, making this the perfect option for short-distance errands and getting that "last mile" in daily commutes.
[Update: This post was updated to clarify the number of bikes in various bike shares around the world.]