Articles
The Hologram Center's "Holohouse" lets visitors play with, and learn about, a uniquely modern form of artistic expression.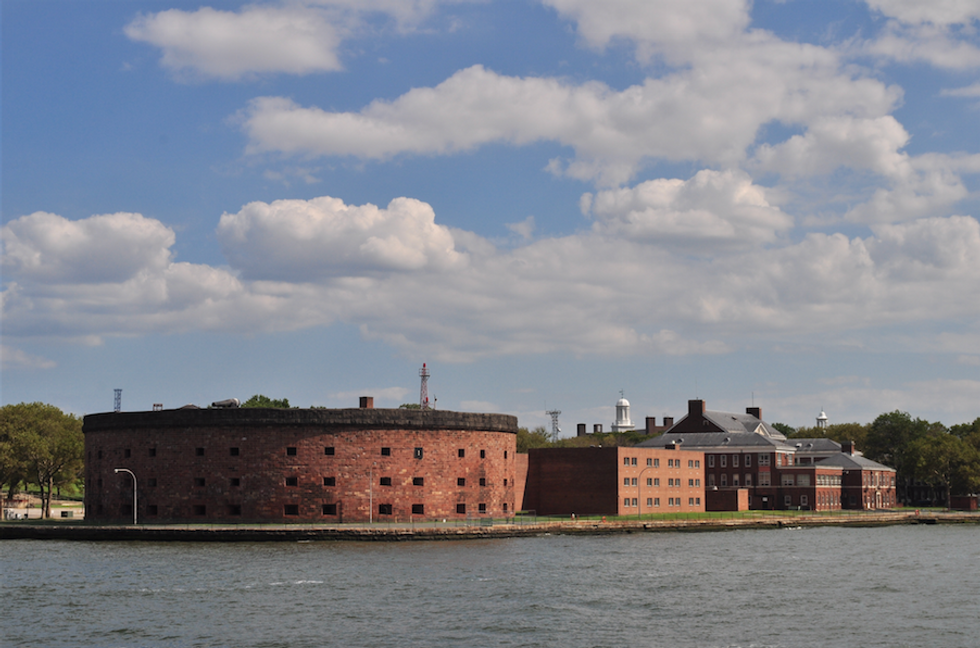 Castle William on Governor's Island, image via Wikicommons
New York City is huge. 8.4 million people huge to be exact, and, especially in the summer, it can feel like they are all squished directly next you on the subway. If you're new to the city you might be unaware that just a quick boat ride from Brooklyn Bridge Park there's a literal island of calm amongst the madness. First "discovered" in the 1600s by Dutch settlers, Governors Island was an important strategic base during the Civil War, and, later in the 20th century, home to the U.S. Coast Guard. In the 90s much of the area was turned into a national park (and occasional summer concert venue), and today those who want a taste of culture sans the lines come to the island to relax, take in the public art, and even catch a few ghosts. Yes! It's been rumored that parts of the island are haunted—especially the historic Nolan Park area. It's here that one of the world's only holographic museums has set up shop for the summer, bringing ephemeral art to match the translucent specters its host destination is known for. Now in its second year, visitors to the Holocenter House will be able to see, touch, and even walk through a wide array of holograms created by some of the pioneers of the art form. A true passion project by its creators, the museum has already succeeded in both turning an otherwise overlooked NYC landmark into a fun (and spooky) summer destination, and promoting while preserving an art form many have overlooked.
<p class="shortcode-media shortcode-media-rebelmouse-image"> <img class="rm-shortcode" data-rm-shortcode-id="f0e79d393f2ae46efabac3694e29ee0d" data-rm-shortcode-name="rebelmouse-image" id="1890a" type="lazy-image" data-runner-src="https://assets.rebelmouse.io/eyJhbGciOiJIUzI1NiIsInR5cCI6IkpXVCJ9.eyJpbWFnZSI6Imh0dHBzOi8vYXNzZXRzLnJibC5tcy8xOTg0MTc3OS9vcmlnaW4uanBnIiwiZXhwaXJlc19hdCI6MTYzOTI4OTYyN30.0qVXkX5U64B8POmxIt4YhJ-LrpYy6U3ZgEYhGDxy2Po/img.jpg?width=980"/> <small class="image-media media-caption" placeholder="add caption..."></small> <small class="image-media media-photo-credit" placeholder="add photo credit...">Inside the Holocenter House exhibition center.</small> </p><p>[new_image position="standard" id="null"][/new_image]</p><p>The Center for the Holographic Arts, aka the "<a href="http://www.holocenter.org/">Holocenter</a>," is something of a movable gallery, first <a href="http://www.dnainfo.com/new-york/20130905/long-island-city/hologram-exhibit-light-up-vacant-clock-tower-building-lic">popping up in Long Island City's legendary clock tower</a> before finding a temporary home on the island. During this evolution they've hacked both the concept of a pop-up gallery and piqued the interests of young urban explorers who hunt the "<a href="http://forgotten-ny.com/">hidden New York</a>" often with nothing more than an iPhone. The museum's mission to "bring virtual understanding into contemporary dialogues around media participation, technology and visual-spatial information" mixes an enthusiasm for the intersection of art and technology with good old-fashioned fun. It also might be one of the most original ideas to pop up in NYC, both literally and figuratively, in awhile.</p><p class="shortcode-media shortcode-media-rebelmouse-image"> <img class="rm-shortcode" data-rm-shortcode-id="a462f1ac7cbf0c0f430d0e5df15904f9" data-rm-shortcode-name="rebelmouse-image" id="8cfde" type="lazy-image" data-runner-src="https://assets.rebelmouse.io/eyJhbGciOiJIUzI1NiIsInR5cCI6IkpXVCJ9.eyJpbWFnZSI6Imh0dHBzOi8vYXNzZXRzLnJibC5tcy8xOTg0MTc4MS9vcmlnaW4uanBnIiwiZXhwaXJlc19hdCI6MTYyMDM0MDE3Nn0.YPIEyJy9EUw5Rmk2tUjl06fnNteUXYHEZHr63Q-Zksc/img.jpg?width=980"/> <small class="image-media media-caption" placeholder="add caption..."></small> <small class="image-media media-photo-credit" placeholder="add photo credit...">The Holocenter House staff.</small> </p><p class="shortcode-media shortcode-media-rebelmouse-image"> <img class="rm-shortcode" data-rm-shortcode-id="3c7d6eeba2426d11d9b20afd6cb62c06" data-rm-shortcode-name="rebelmouse-image" id="c63bf" type="lazy-image" data-runner-src="https://assets.rebelmouse.io/eyJhbGciOiJIUzI1NiIsInR5cCI6IkpXVCJ9.eyJpbWFnZSI6Imh0dHBzOi8vYXNzZXRzLnJibC5tcy8xOTg0MTc4Mi9vcmlnaW4uanBnIiwiZXhwaXJlc19hdCI6MTYwNTU4OTc5Mn0.1ZspS5yNHYnJrWbscx0Thi4LqPcCOiDoqbOunh39sBw/img.jpg?width=980"/> <small class="image-media media-caption" placeholder="add caption..."></small> <small class="image-media media-photo-credit" placeholder="add photo credit...">A walk through the halls of the Holocenter.</small> </p><p>The museum, founded by holographic artists Ana Maria Nicholson and Dan Schweitzer in 1998, is run by current Director Dr. <a href="http://www.martina-m.com/">Martina Mrongovius</a>, who works tirelessly to coordinate with arts institutions and holography studios internationally to bring fresh life to this somewhat retro genre. The museum, which is housed inside a historic Victorian home, manages to be both elegant and slightly dilapidated, the peeling paint and creaky bannisters only adding to the ambiance. On the dimly lit main floor will be a series of rotating holograms that will be swapped out throughout the summer. The display will feature pieces by Rudie Berkhout, Sam Moore, and <a href="http://www.rayhologramart.com/index_1e.html">Ray Park</a>, one of the leading contemporary holographic artists, whose work <em>Coexistence - Banana, 2013</em> is one of the most popular of all time, and depicts the 'light body' or soul of the banana; <em>"It is so vivid that people want to stick their hands inside the cyclical hologram," says Mrongovius.</em> Also on-view are portraits in laser light by Ana Maria Nicholson of Keith Haring, Walter Cronkite, and Tony Bennett (among others).</p><p class="shortcode-media shortcode-media-rebelmouse-image"> <img class="rm-shortcode" data-rm-shortcode-id="8cf66396fe1d768ae27e17512830d541" data-rm-shortcode-name="rebelmouse-image" id="b4fe0" type="lazy-image" data-runner-src="https://assets.rebelmouse.io/eyJhbGciOiJIUzI1NiIsInR5cCI6IkpXVCJ9.eyJpbWFnZSI6Imh0dHBzOi8vYXNzZXRzLnJibC5tcy8xOTg0MTc5MS9vcmlnaW4ucG5nIiwiZXhwaXJlc19hdCI6MTU5ODEwMTU0OH0.k3F0sp56kr6qckCKwwuPeQEDQulFL567txZ18L7iKjo/img.png?width=980"/> <small class="image-media media-caption" placeholder="add caption..."></small> <small class="image-media media-photo-credit" placeholder="add photo credit..."><em>Coexistence – Banana</em>, Ray Park, 2013</small> </p><p class="shortcode-media shortcode-media-rebelmouse-image"> <img class="rm-shortcode" data-rm-shortcode-id="bdff61cf867495a1337b8d7d0e1ab039" data-rm-shortcode-name="rebelmouse-image" id="9f70e" type="lazy-image" data-runner-src="https://assets.rebelmouse.io/eyJhbGciOiJIUzI1NiIsInR5cCI6IkpXVCJ9.eyJpbWFnZSI6Imh0dHBzOi8vYXNzZXRzLnJibC5tcy8xOTg0MTc4OC9vcmlnaW4uanBnIiwiZXhwaXJlc19hdCI6MTY1MDE1NDU2MX0.Oa-e_8A_Rk1o_0eitQGCfy3rPbMWYbNS9sSoajg2dEM/img.jpg?width=980"/> <small class="image-media media-caption" placeholder="add caption..."></small> <small class="image-media media-photo-credit" placeholder="add photo credit...">An urban explorer travels through the Holocenter.</small> </p><p class="shortcode-media shortcode-media-rebelmouse-image"> <img class="rm-shortcode" data-rm-shortcode-id="49393362a9da6f9b76533422692da794" data-rm-shortcode-name="rebelmouse-image" id="56115" type="lazy-image" data-runner-src="https://assets.rebelmouse.io/eyJhbGciOiJIUzI1NiIsInR5cCI6IkpXVCJ9.eyJpbWFnZSI6Imh0dHBzOi8vYXNzZXRzLnJibC5tcy8xOTg0MTc4OS9vcmlnaW4ucG5nIiwiZXhwaXJlc19hdCI6MTY0NzM3MTg2M30.AGcs6mfvZheEbaOK78ZmKDVNSscfMkcti09K98QejTM/img.png?width=980"/> <small class="image-media media-caption" placeholder="add caption..."></small> <small class="image-media media-photo-credit" placeholder="add photo credit...">Tony Coleman, 2011</small> </p><p>In addition to the exhibitions there will also be classes for children, as well as three on-premise studios where artists-in-residence can experiment with light and structure. Australian designer <a href="http://www.yandellwalton.com">Yandell Walton</a> has also created an interactive video projection that plays with the idea of haunting and shadows, and in late July artist and musician <a href="http://liquidlightlab.com/artwork/2440150_Liquid_Light_Lab_is_based_out_of_NYC_It.html">Steve Pavlovsky</a> will be demonstrating how to make liquid light shows. To add to this audio/ visual cornucopia, the center will have stereo-3D projection installations that include an exploration of surveillance with Maximus Clarke, and a piece by Robert Bowen developed from historical footage of Manhattan. (A full list of projects can be viewed <a href="http://holocenter.org/summer-museum/spacelight">here</a>.)</p><p class="shortcode-media shortcode-media-rebelmouse-image"> <img class="rm-shortcode" data-rm-shortcode-id="df0ec9d801176434116d4955cbb2efd7" data-rm-shortcode-name="rebelmouse-image" id="4a340" type="lazy-image" data-runner-src="https://assets.rebelmouse.io/eyJhbGciOiJIUzI1NiIsInR5cCI6IkpXVCJ9.eyJpbWFnZSI6Imh0dHBzOi8vYXNzZXRzLnJibC5tcy8xOTg5MzM1OC9vcmlnaW4uanBnIiwiZXhwaXJlc19hdCI6MTYzNDc4MzcyNH0.wwakEZEFSrys_mqlPmgJFRqkcD4ua8L7A3anf5fpID4/img.jpg?width=980"/> <small class="image-media media-caption" placeholder="add caption..."></small> <small class="image-media media-photo-credit" placeholder="add photo credit...">A scene from Australian designer Yandell Walton's interactive video.</small> </p><p class="shortcode-media shortcode-media-rebelmouse-image"> <img class="rm-shortcode" data-rm-shortcode-id="e1537d52079a4b1d94e85e2335817fb0" data-rm-shortcode-name="rebelmouse-image" id="4174c" type="lazy-image" data-runner-src="https://assets.rebelmouse.io/eyJhbGciOiJIUzI1NiIsInR5cCI6IkpXVCJ9.eyJpbWFnZSI6Imh0dHBzOi8vYXNzZXRzLnJibC5tcy8xOTg0MTc4NS9vcmlnaW4uanBnIiwiZXhwaXJlc19hdCI6MTYzNjk3NTI3OX0.HSuJ6H_4QgDkTjEuwZ8y5tzVMLphvK7C_-ZwGjztQW4/img.jpg?width=980"/> <small class="image-media media-caption" placeholder="add caption..."></small> <small class="image-media media-photo-credit" placeholder="add photo credit..."><em>RENDER</em>, Maxwell Clarke.</small> </p><p class="shortcode-media shortcode-media-rebelmouse-image"> <img class="rm-shortcode" data-rm-shortcode-id="ff429cf4aa876e50bd4bb24797507e9a" data-rm-shortcode-name="rebelmouse-image" id="c4cf8" type="lazy-image" data-runner-src="https://assets.rebelmouse.io/eyJhbGciOiJIUzI1NiIsInR5cCI6IkpXVCJ9.eyJpbWFnZSI6Imh0dHBzOi8vYXNzZXRzLnJibC5tcy8xOTg5MzM2NS9vcmlnaW4ucG5nIiwiZXhwaXJlc19hdCI6MTYyNDQ2NjEwMX0.bD66kAqGt7Y9wQHtI75wRlZBdBq7n8Evq8u8tVStnV8/img.png?width=980"/> <small class="image-media media-caption" placeholder="add caption..."></small> <small class="image-media media-photo-credit" placeholder="add photo credit..."><em>One Particular Wave</em>, Gerald Marks, 1987 (one of the first computer generated holograms ever made)</small> </p><p>Visiting the museum—and the island as a whole—is a trip, both metaphorically and physically. "Taking the ferry onto Governors Island is like stepping back in time," says Mrongovius, and, just like a hologram itself, this meaning is multifaceted depending on how you view it. "At the Holocenter Summer Museum time takes on other qualities. Holographic technology is still developing and holograms point towards how we could use optics in the future. In sculpting light holographic art can freeze time, or can capture a loop of time that is played mechanically or by you moving around," she tells <em>GOOD</em>. "Our experimental installations upstairs also establish strange dynamics with time." The Nolan Park house and gallery—the mystique of which is only heightened by the fact that visiting hours are confined to 12-6pm Saturdays and Sundays (until the September 28th closing)—is part of a curious breed of NYC landmarks. Some of these "forgotten" destinations include the <em>Broad City</em> punch line <a href="http://gothamist.com/2014/10/16/photos_north_brother_island.php#photo-1">North Brother Island</a>, former sailor's retirement home-turned-art-commune <a href="http://snug-harbor.org/">Snug Harbor</a>, and the condemned side of Ellis Island, which was recently <a href="http://www.nytimes.com/2014/09/25/arts/design/jr-brings-ellis-islands-abandoned-hospital-to-life.html">turned into an interactive, ghost-story-inspired series of murals</a> by French artist JR. They are part of a whole network of buildings, formerly intrinsic parts of NYC cultural or naval history, that have been left to decay. In this instance, it seems fitting that one should become home to a holographic banana suspended in time, unable to either rot or ripen.</p><p class="shortcode-media shortcode-media-rebelmouse-image"> <img class="rm-shortcode" data-rm-shortcode-id="267e548c45bf84fa9cc5def0c57d5652" data-rm-shortcode-name="rebelmouse-image" id="690ca" type="lazy-image" data-runner-src="https://assets.rebelmouse.io/eyJhbGciOiJIUzI1NiIsInR5cCI6IkpXVCJ9.eyJpbWFnZSI6Imh0dHBzOi8vYXNzZXRzLnJibC5tcy8xOTg0MTc4MC9vcmlnaW4uanBnIiwiZXhwaXJlc19hdCI6MTYxNTgwODk1OX0.a4qjBBPWO5a7xNKaXmBZFt70xQCeY0UamwialND3Mvw/img.jpg?width=980"/> <small class="image-media media-caption" placeholder="add caption..."></small> <small class="image-media media-photo-credit" placeholder="add photo credit...">Holocenter House (outside).</small> </p><p>So just why should we care about a bunch of psychedelic light pieces? "There is something magical about holograms," explains Mrongovius. "They allow us to peer around a space or interact with a scene—to see and experience something that is not tangible."</p><p class="shortcode-media shortcode-media-rebelmouse-image"> <img class="rm-shortcode" data-rm-shortcode-id="45b20be3aebef431c75e7669111c36aa" data-rm-shortcode-name="rebelmouse-image" id="48a54" type="lazy-image" data-runner-src="https://assets.rebelmouse.io/eyJhbGciOiJIUzI1NiIsInR5cCI6IkpXVCJ9.eyJpbWFnZSI6Imh0dHBzOi8vYXNzZXRzLnJibC5tcy8xOTg0MTc4Ni9vcmlnaW4ucG5nIiwiZXhwaXJlc19hdCI6MTYxOTMwMDM5MH0.dR98Kgf-DyO39gdafW2N-msWZKoGyU5ebvaBzIT4-qc/img.png?width=980"/> <small class="image-media media-caption" placeholder="add caption..."></small> <small class="image-media media-photo-credit" placeholder="add photo credit...">From a recent event at the Holocenter.</small> </p><p>Currently the group is working towards a permanent Museum of Holographic Art on Governors Island with studios for holographic portraiture and experimental optical technology. For now, however, you can bask in the glow of this magical art form at <a href="http://holocenter.org/summer-museum">The Summer Museum</a> on Governors Island, open weekends 12-6pm.</p>