Articles
If Bette Midler, Queen Latifah, and Bugs Bunny can't get you to recycle, then no one can.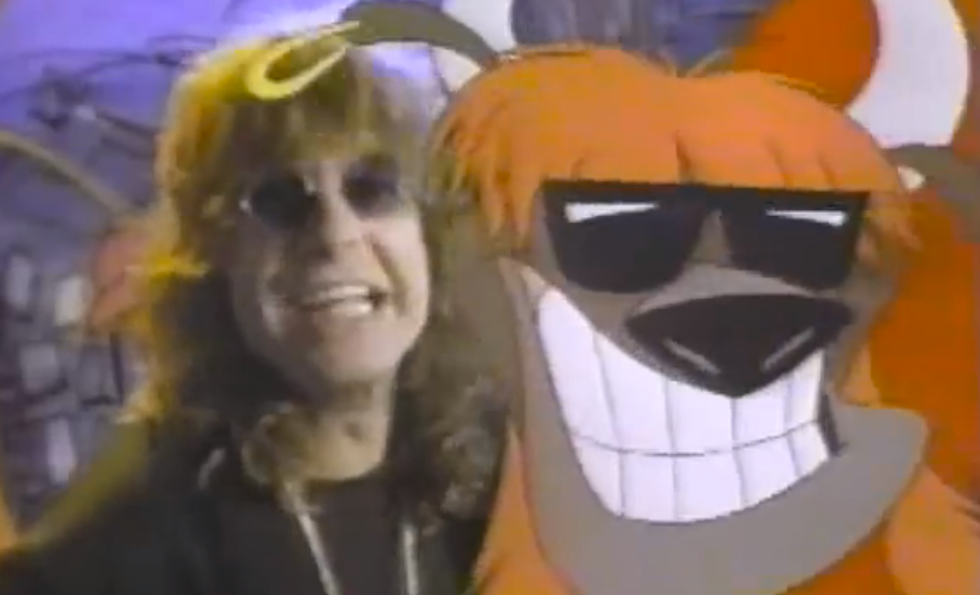 Ozzy Osbourne and a Cartoon Yak. Screenshot from "Yakety Yak-Take it Back" video
Recycling has come a long way since the early '90s. But let me take you back to the nascent days of curbside sorting, when no one knew the difference between different kinds of plastics, Everybody was Dancing Now, and a sincere young Michael Stipe was Losing his Religion. Jolie Jones, daughter of Quincy, and founder of the Take it Back Foundation, an environmental awareness group, had an idea for bringing the magic of other star-studded musical benefits like "We Are the World" to the issue of recycling. The result was "Yakety Yak—Take it Back," a recycling-themed send up of the Coasters' 1958 megahit "Yakety Yak (Don't Talk Back)," featuring some of the biggest musical stars of the day, along with a number of animated characters.
<p><a href="http://articles.latimes.com/1991-10-03/news/vw-4333_1_young-people">According to Jolie Jones</a>, the song—which was aired on MTV, as a preview at movie theaters, and as an extended 50 minute(!) home video—aimed to "create an entertaining, user-friendly message that can empower people, especially young people." It was released in time for Earth Day in 1991. Though the video's cheese level was through the roof, the roster of talent that Jones got together for this thing was certainly impressive. The list of musical celebs in the production includes Bette Midler, Ozzy Osbourne, Stevie Wonder, Barry White, Queen Latifah, Randy Newman, Pat Benatar, Dr. John, Natalie Cole, and Kenny Loggins. Bugs Bunny, beginning the career slide that would culminate in 1996's <em><a href="http://www.imdb.com/title/tt0117705/">Space Jam</a></em>, also featured, as did an ill-conceived cartoon cat rapper named MC Skat Kat, who got his start in a 1989 Paula Abdul video for her song "<a href="https://www.youtube.com/watch?v=xweiQukBM_k">Opposites Attract</a>."</p><p>Five years ago, the video <a href="http://www.stereogum.com/114691/the_21_worst_all-star_charity_music_videos_of_all/franchises/listomania/">was named</a> one of Stereogum's "21 Worst All-Star Charity Music Videos Of All Time," and admittedly, it is terrible by most standards. But in a world where cities all over the United States are experimenting with compost pickup, recycling is a way of life, and <a href="http://energyblog.nationalgeographic.com/2014/10/30/poll-finds-generation-gap-on-energy-issues-as-millennials-voice-climate-concerns/">most young people</a> are apt to vote for candidates that support environmental issues, this blast from the past is a notable benchmark. It shows us just how far we've come, and how this crazy notion called recycling was sold to the public, one wacky music video at a time. Besides, where else are you going to find Bette Midler, Ozzy Osbourne, and a cartoon yak in the same video? </p><p><span class="rm-shortcode" data-rm-shortcode-id="4cf9e3503528623c0dc005bc70ab2bc6" style="display:block;position:relative;padding-top:56.25%;"><iframe frameborder="0" height="auto" type="lazy-iframe" scrolling="no" data-runner-src="https://www.youtube.com/embed/CBE-DhbsnjY?rel=0" style="position:absolute;top:0;left:0;width:100%;height:100%;" width="100%"></iframe></span></p>