Articles
A plucky group of young artists have banded together to create a DIY tribute to the cheesy classic.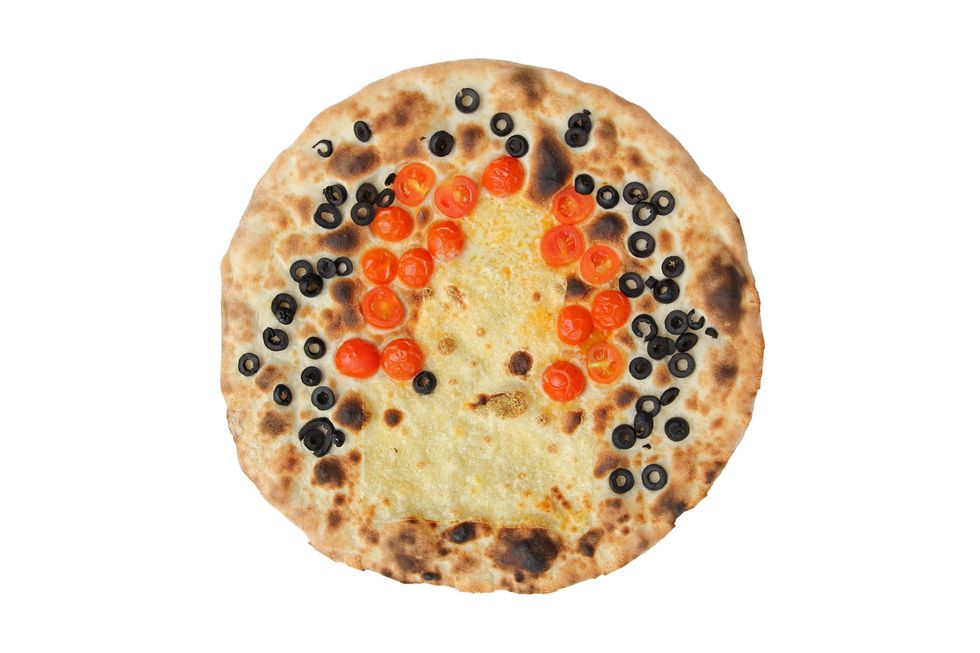 Bauhaus Pizza: Emmenthal, Fresh Tomato, Olives by Anthony Antonellis
A great slice of pizza, and the eating of said pizza, can often be a spiritual experience—but can it be art? This month, the world's first pavilion dedicated to "pizza as cultural canvas" went on display at the 56th Venice Biennale. A cheeky addition to an event often defeated by its own pretentiousness, the PIZZA PAVILION takes place at 'Pizza Al Volo,' a normal Italian pizzeria, for the duration of the showcase.
<p class="shortcode-media shortcode-media-rebelmouse-image"> <img class="rm-shortcode" data-rm-shortcode-id="71bfe10fafa2cec82e18c1128cd94286" data-rm-shortcode-name="rebelmouse-image" id="326f1" type="lazy-image" data-runner-src="https://assets.rebelmouse.io/eyJhbGciOiJIUzI1NiIsInR5cCI6IkpXVCJ9.eyJpbWFnZSI6Imh0dHBzOi8vYXNzZXRzLnJibC5tcy8xOTg0MDA5NS9vcmlnaW4uanBnIiwiZXhwaXJlc19hdCI6MTY2MDA4Mjk0Nn0.y2zoANWZ0Bh3DP9cxeJZdWA2XC5p63UWPoiw516FZvo/img.jpg?width=980"/> <small class="image-media media-caption" placeholder="add caption..."></small> <small class="image-media media-photo-credit" placeholder="add photo credit...">A peek inside the pizzeria installation</small> </p><p>The exhibition artists, including new media figures <a href="http://www.anthonyantonellis.com/">Anthony Antonellis</a> and <a href="http://www.digitalmediatree.com/sallymckay/LornaMillsImageDump/">Lorna Mills</a>, were invited to create personalized pizza-topping ideas, then their ideas were realized by an onsite pizza-expert. Many of the other 'pavilions' of the Biennale, propped up by blue chip galleries and ministries of culture, are out of reach for working artists. PIZZA PAVILION, however, has created a DIY platform for "young international artists at zero cost and effort" that's not just fun, but also functional.</p><p>In order to integrate seamlessly with daily life at the pizzeria, artists were only able to choose from toppings already on the menu. The result is nothing short of edible art:</p><p class="shortcode-media shortcode-media-rebelmouse-image"> <img class="rm-shortcode" data-rm-shortcode-id="9b2eccadcb948b11663b44e12997f8fa" data-rm-shortcode-name="rebelmouse-image" id="c66a4" type="lazy-image" data-runner-src="https://assets.rebelmouse.io/eyJhbGciOiJIUzI1NiIsInR5cCI6IkpXVCJ9.eyJpbWFnZSI6Imh0dHBzOi8vYXNzZXRzLnJibC5tcy8xOTg0MDA5MC9vcmlnaW4uanBnIiwiZXhwaXJlc19hdCI6MTYyNjMxNzMzMH0.Mt0O4jlEOIET2pSmhVX09PsdTL92yX9jBFfqYEqhFKY/img.jpg?width=980"/> <small class="image-media media-caption" placeholder="add caption..."></small> <small class="image-media media-photo-credit" placeholder="add photo credit..."><em>IRL: Single Tomato on Plain Cheese Crust</em> by Luc Fuller</small> </p><p class="shortcode-media shortcode-media-rebelmouse-image"> <img class="rm-shortcode" data-rm-shortcode-id="57e9f00e3e0ef5c9f6d3f9928cca55e9" data-rm-shortcode-name="rebelmouse-image" id="a07a1" type="lazy-image" data-runner-src="https://assets.rebelmouse.io/eyJhbGciOiJIUzI1NiIsInR5cCI6IkpXVCJ9.eyJpbWFnZSI6Imh0dHBzOi8vYXNzZXRzLnJibC5tcy8xOTg0MDA5MS9vcmlnaW4uanBnIiwiZXhwaXJlc19hdCI6MTYwOTg4MTIxM30.U5JYNa-k31yO40tFISlqZ_BLvWKV0TCvPX1jlg3Jpoc/img.jpg?width=980"/> <small class="image-media media-caption" placeholder="add caption..."></small> <small class="image-media media-photo-credit" placeholder="add photo credit..."><em>Doppeldecker: 2x Pizza Vendure</em> by Paul Barsch</small> </p><p class="shortcode-media shortcode-media-rebelmouse-image"> <img class="rm-shortcode" data-rm-shortcode-id="f4517f46e8fce89891476b06606f7ce7" data-rm-shortcode-name="rebelmouse-image" id="9ae1d" type="lazy-image" data-runner-src="https://assets.rebelmouse.io/eyJhbGciOiJIUzI1NiIsInR5cCI6IkpXVCJ9.eyJpbWFnZSI6Imh0dHBzOi8vYXNzZXRzLnJibC5tcy8xOTg0MDA5My9vcmlnaW4uanBnIiwiZXhwaXJlc19hdCI6MTY0MDMxNjM4Nn0.XBB4iAR2gCu9AJzUqAed_LWCVRDDevqFyhqcaihL0B4/img.jpg?width=980"/> <small class="image-media media-caption" placeholder="add caption..."></small> <small class="image-media media-photo-credit" placeholder="add photo credit..."><em>OK Google: Arugula, Asparagus, Chiodini, Red Peppers, Pepperoni, Mozzarella, Gorgonzola, Grated Cheese, Eggplant</em> by Jack Fisher</small> </p><p class="shortcode-media shortcode-media-rebelmouse-image"> <img class="rm-shortcode" data-rm-shortcode-id="7625b48fe7f59e68f4d5207b17e01bf5" data-rm-shortcode-name="rebelmouse-image" id="dfa0b" type="lazy-image" data-runner-src="https://assets.rebelmouse.io/eyJhbGciOiJIUzI1NiIsInR5cCI6IkpXVCJ9.eyJpbWFnZSI6Imh0dHBzOi8vYXNzZXRzLnJibC5tcy8xOTg0MDA5OC9vcmlnaW4uanBnIiwiZXhwaXJlc19hdCI6MTY2MDY3OTE0OH0.3Cc226J8kAdML4Uuq_UGTupCaqncCjViLvpp4fbp8kg/img.jpg?width=980"/> <small class="image-media media-caption" placeholder="add caption..."></small> <small class="image-media media-photo-credit" placeholder="add photo credit..."><em>Black Hole Sun: Anchovies, Olives, Eggplants, Olive Oil, Parmigiana</em> by Jason Hirata</small> </p><p class="shortcode-media shortcode-media-rebelmouse-image"> <img class="rm-shortcode" data-rm-shortcode-id="6363d7e1e6f14df8cbf8765be9653340" data-rm-shortcode-name="rebelmouse-image" id="a60af" type="lazy-image" data-runner-src="https://assets.rebelmouse.io/eyJhbGciOiJIUzI1NiIsInR5cCI6IkpXVCJ9.eyJpbWFnZSI6Imh0dHBzOi8vYXNzZXRzLnJibC5tcy8xOTg0MDEwMS9vcmlnaW4uanBnIiwiZXhwaXJlc19hdCI6MTYxMjQ4NTg1OX0.drocYAjPXm0Nq4m7HRIDf0UPiqo6Rlx_W8b6eqkDp64/img.jpg?width=980"/> <small class="image-media media-caption" placeholder="add caption..."></small> <small class="image-media media-photo-credit" placeholder="add photo credit..."><em>The Pizza is Ruined: Any Toppings, One Mistake</em> by Lorna Mills</small> </p><p class="shortcode-media shortcode-media-rebelmouse-image"> <img class="rm-shortcode" data-rm-shortcode-id="e3d9bc5512a40ddd38aa083a305ecaa5" data-rm-shortcode-name="rebelmouse-image" id="def2c" type="lazy-image" data-runner-src="https://assets.rebelmouse.io/eyJhbGciOiJIUzI1NiIsInR5cCI6IkpXVCJ9.eyJpbWFnZSI6Imh0dHBzOi8vYXNzZXRzLnJibC5tcy8xOTg0MDA5OS9vcmlnaW4uanBnIiwiZXhwaXJlc19hdCI6MTY0NzcyMDU3OX0.ZcwVFamUZ8CErRkwe2Ke5SMshT-g0zC0Jok2Tuw6tuk/img.jpg?width=980"/> <small class="image-media media-caption" placeholder="add caption..."></small> <small class="image-media media-photo-credit" placeholder="add photo credit..."><em>Compass Rose: Tomato, Mozzerella, Pepper, Arugala by Sydney Shen</em></small> </p>