Articles
The Washington Post explores the toll paid by workers during the past five years of desert construction.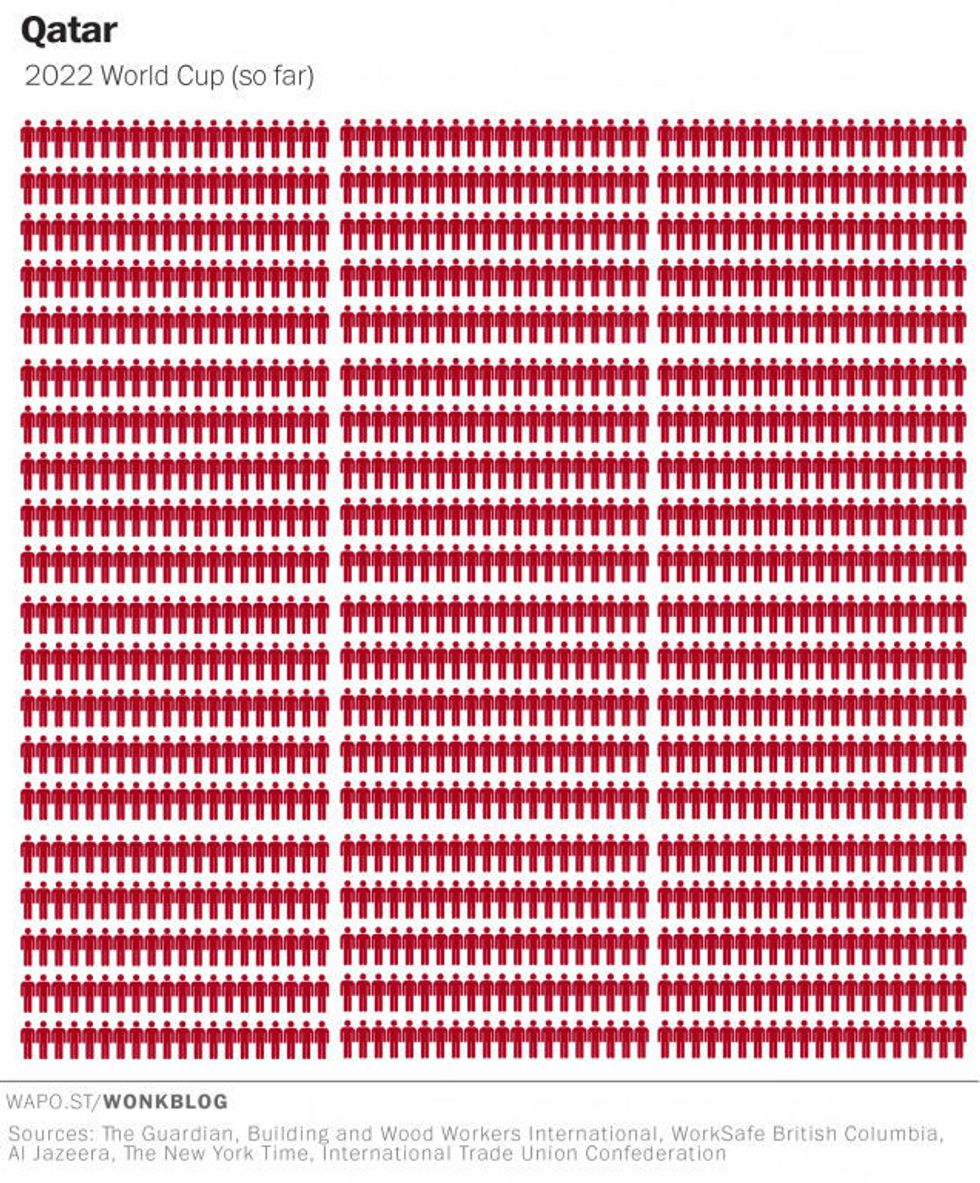 Image by the Washington Post. Click through for the full chart.
FIFA is in a ton of hot water over major corruption charges that implicate the organization's high-ranking officials and executives in money laundering, racketerring, and bribery schemes, among a number of other criminal indictments. This scandal may spell incredible losses for the international soccer association, which will hopefully (and finally) bring light to FIFA's other less palatable, yet legally ambiguous ventures like its decision to host the 2020 World Cup in Qatar.
<p><a href="http://www.washingtonpost.com/blogs/wonkblog/wp/2015/05/27/a-body-count-in-qatar-illustrates-the-consequences-of-fifa-corruption/"><em>The Washington Post</em> published a startling chart today</a> that highlighted the horrifying number of casualties in Qatar's construction industry by comparing them to the worker casualties of World Cups in other countries. The gulf state has a terrible reputation for its treatment of laborers, and the thousands of construction workers who have been building the infrastructure for the World Cup are no exception in that regard. They're exposed to major safety hazards, provided with meager food and living accomodations, treated poorly by their supervisors, and live in a constant state of fear of deportation. Worker deaths in the country are unfortunately very common, but their numbers have skyrocketed since they began constructing the new stadium and other World Cup-related facilities. <em>The Washington Post </em>based its numbers on estimates by the International Trade Union Federation, which counts more than 1,200 deaths since 2010. </p><p><a href="http://www.washingtonpost.com/blogs/wonkblog/wp/2015/05/27/a-body-count-in-qatar-illustrates-the-consequences-of-fifa-corruption/">Click the image</a> to go the Washington Post article for the full chart.</p>