Articles
Today's youth need to know how to work together and build cross-cultural teams that work out solutions that benefit all.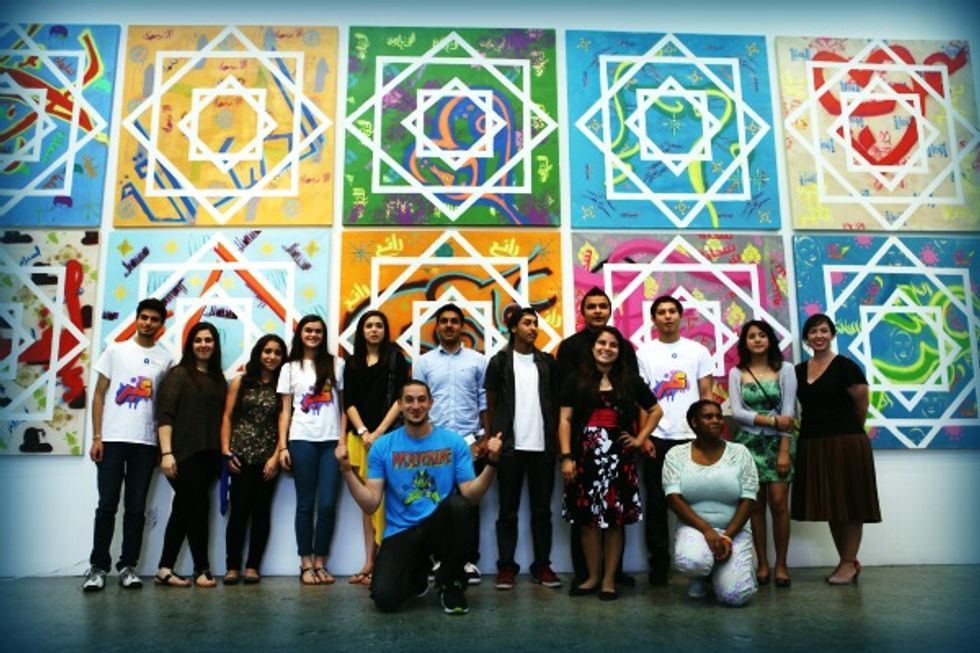 "They kind of look like us." That's what high school students from Los Angeles reported after first meeting their peers at public schools in Doha, Qatar over spring break in March. During
Áber: Expressions of Culture, Identity and Language
, a one-week educational program in Doha, Qatar, a diverse group of 60 students from Los Angeles, Portland, and Doha met and developed global citizenship skills such as cross-cultural collaboration, foreign language learning, and teamwork. Expecting more differences than similarities, all the youth were surprised to find how much they had in common.
The program is an initiative of the Arabic Language and Culture Initiative, which was launched 2009 by Qatar Foundation International with the goal of fostering deeper, more positive engagement between people living inside and outside the Arab world. The program provides opportunities for K-12 students from under-resourced communities to acquire basic Arabic, learn about the Arab world's history and culture, and meet their peers—both virtually and in person. Through daily interactions, facilitated language activities and cultural excursions, students gain a real appreciation for each other as well as for their own cultural traditions.
---
We live in a globalized world where borders are more like suggestions and migration and movement is the norm. Through technology and media, youth today are assaulted with images and sound bytes from a variety of cultures, countries, and people. Since anger and hostility overwhelm more moderate voices, much of what they see and hear is one-sided, a narrow sliver of the most extreme range of a particular viewpoint. At their best, such interactions offer a one-dimensional view of another culture, and at their worst they perpetuate negative stereotypes and misconceptions. The world beyond their community is at their fingertips and unreachable all at once.
We also know that young people crave the opportunity to be impactful, but all too often no one has challenged them to try. Speaking with complete strangers on a videoconference and then traveling 10,000 miles to meet them has transformed how QFI students view the world—and themselves.
Before meeting in person for the first time, this year's participants were all curious teenagers who spoke, at varying proficiency levels, Arabic. After a week exploring their diverse cultures, languages and identities, the trip culminated with the students creating collaborative cross-cultural canvases that expressed their experience through art.
With the guidance of L.A.-based artist and teacher Cynthia Herrera, these students used graffiti, spray paint, and stencils to collaborate on ten art panels. They were inspired not only by the immediate environment around them but also by their cross-cultural journey together, exploring Qatar, using Arabic and English to communicate, and discovering their similarities and differences. On each canvas, students stenciled Arabic words such as "smile," "togetherness,"and "love"—words that each group meaningfully chose together to express their feelings. They also stenciled symbols of their shared identities such as a picture of an arm decorated with henna and the Doha skyline.
"Through the exchange of language and art production, youth negotiated pre-existing notions and new experience, creating a space for dialogue and new ideas, turning misconceptions into intersections," said Herrera. "The project finds itself in identifying these intersections. Layered language, color, shapes and unifying iconography identified their collective experience while empowering individuals to mark the canvas with their own imprint."
They had also become, in that short time, truly global citizens.
These artworks are now part of a multi-city exhibition that invites people from around the world to share in the students' journey, to challenge their own perceptions (and perhaps even misconceptions) and to open their mind to a different culture or point of view. Premiering at the end of the students' time in a showcase at Qatar's Mathaf: Arab Museum of the Modern Art, the artworks are now on display the ADC Contemporary Art & Building Bridges gallery at the Bergamot Station in Santa Monica, California, until July 13, 2013, before the exhibit travels to Portland.
A globalized world with continuous access to the "other" via social media or popular culture creates noise and distraction, not truly global citizens. The youth of today will have to face shared global challenges such as climate change, access to quality education, rising non-communicable disease rates, as well as highly contagious ones. It is imperative they know how to work together, building cross-cultural teams that work out solutions that benefit all.
We don't teach the 21st century skills that are so often cited as necessary until students are already in the work place. That's a critical knowledge and experience gap that we must bridge in K-12 classes. From Qatar to Costa Rica, Brazil to the United States, we have witnessed hundreds of 'ah-ha' moments, barriers collapsing, and misconceptions totally shattered. As Carlos D., one of the L.A. students put it, "What I learned on this trip is that, although we live on other sides of the world, we still have so much in common."
Click here to add getting a passport to your GOOD "to-do" list.
Image of Los Angeles student artists and Syrian-American rapper Omar Offendum at Áber exhibit opening reception courtesy of Sara Al Hemaidi