Articles
The enduring crisis at Fukushima, plus some incredible long-form reads for the weekend, in today's roundup from GOOD Environment HQ.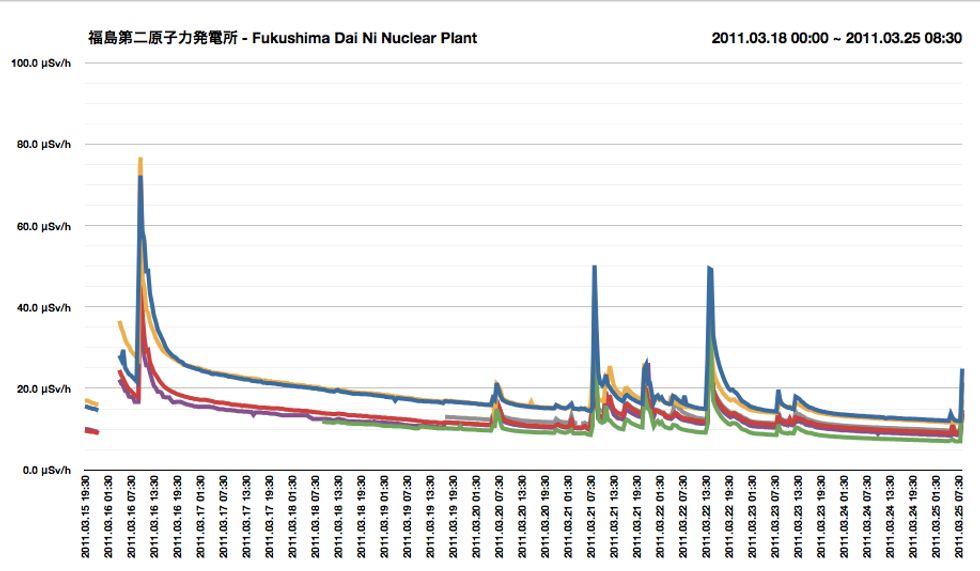 Every day since
these charts
were created, I wake up and check out the radiation levels from all around Japan, including just outside the Fukushima reactor (above).
Then I'll load up Jesse Jenkins' "nuclear crisis" Twitter feed for some wide-ranging and deep-diving updates of the situation at Fukushima.
<p> Elsewhere, <a href="http://seekingalpha.com/article/260133-the-5-companies-most-dependent-on-nuclear-power">these</a> are the five U.S. companies most dependent on nuclear power.</p><p> Some <a href="http://www.kansas.com/2011/03/24/1777561/discovery-of-artifacts-in-texas.html#ixzz1HXkwpHpc">new artifacts</a> are calling all of human history in the Americas into question.</p><p> I couldn't tell you why ABC News is compiling a maps of products that are "<a href="http://abcnews.go.com/WN/page?id=12896382">Made in America</a>," but I had some fun clicking around it.</p><p> Some longer reads for your weekend:</p><p> In <em>Discover</em>, David Kirby <a href="http://discovermagazine.com/2011/apr/18-made-in-china-our-toxic-imported-air-pollution">explains</a> how China is throwing up a toxic cloud that's way more dangerous than the trace radiation floating across the Pacific. And there's no end in site for China's manufacturing and industry-born plume.</p><p> George Black has <a href="http://www.onearth.org/article/patagonia-is-nothing-sacred">an intense three-part series</a> on energy development—dams and nukes—in the paradise of Patagonia for <em>OnEarth</em>.</p><p> Scary: In <em>Scientific American</em>, David Biello <a href="http://www.scientificamerican.com/article.cfm?id=safety-concerns-status-quo-at-us-reactors">says</a> safety concerns at American nuclear reactors are pretty much status quo.</p><p> <em>Overload is a daily round-up of what we're reading at <a href="../../../environment">GOOD Environment HQ</a>.</em></p><br/>