Articles
Many chocolates, diamonds, and flowers are made under unethical practices. Here's a guide to choosing wisely.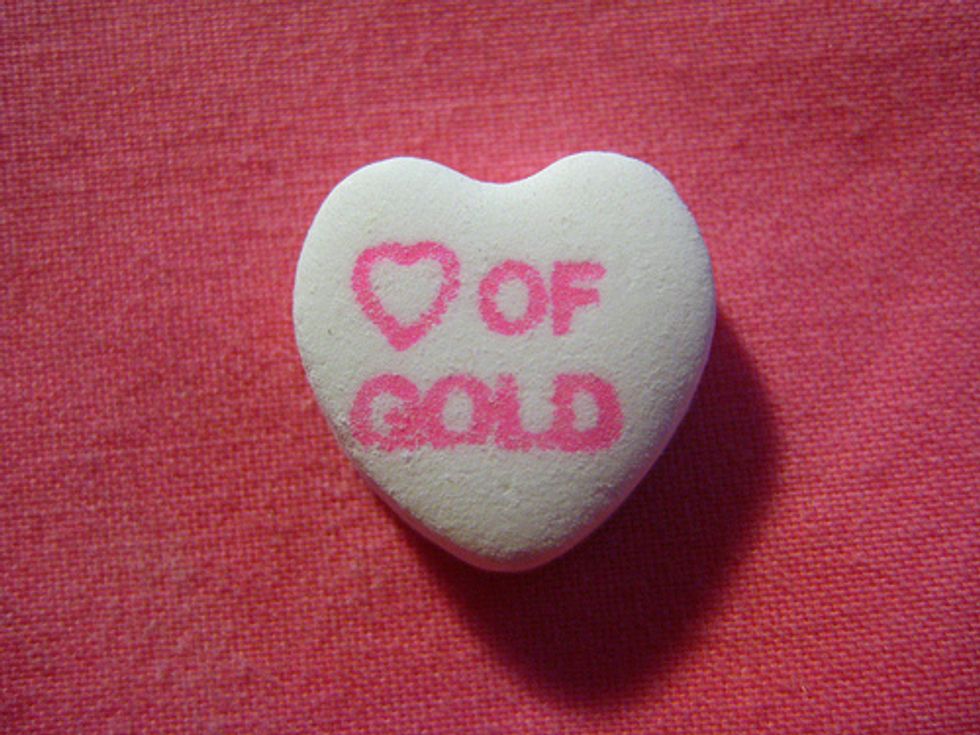 Speaking cynically, Valentine's Day is a holiday that encourages compulsory, conspicuous consumption in the name of love. Speaking practically, even the holiday's haters are likely to show affection with a floral arrangement or tennis bracelet at some point down the line. Unfortunately, many of Valentine's Day's standard romantic gifts are produced under unethical practices. (Might we suggest a simple handmade valentine?) If you're wedded to the holiday's traditional offerings, here's a guide to choosing wisely:
FLOWERS. Last year, we discussed the violent labor practices that make your romantic flower arrangement from major markets like Ecuador, Colombia, and Kenya. Flower farm workers around the world have reported sexual harassment, physical assault, rock-bottom wages, and dangerous working conditions while picking the roses in your Valentine's Day bouquet. Luckily, select florists do offer fair trade-certified flowers: Try One World Flowers or Inbloom Group. And recently, growing attention to these unethical working conditions has encouraged major flower companies to stock more ethically-sourced offerings, as well. 1-800-Flowers' "Planet Friendly Smile Collection" claims to offer flowers from "domestic and international flower farms that follow socially and environmentally responsible practices," while FTD's "Go Green Living" features fair trade-certified, "eco-friendly" bouquets. But the bulk of their business still relies on questionably-sourced flowers.
<p> <strong>DIAMONDS.</strong> According to the United Nations, conflict diamonds "are a crucial factor in prolonging brutal wars in parts of Africa," while "legitimate diamonds contribute to prosperity and development elsewhere on the continent." But conflict diamonds can be <a href="http://www.ethicalweddings.com/featured-articles/article/a-girls-best-friend-the-blood-diamond-debate/">difficult to distinguish</a> from all the other cubic crystal structures in the jewelry case, and efforts by governments, regulatory bodies, and diamond traders to eliminate their sale have been <a href="http://www.good.is/post/diamonds-101/">limited</a>. If you must invest in this particular gemstone, <a href="http://www.brilliantearth.com/">Brilliant Earth</a> offers "conflict-free diamonds" sourced from Canada, Namibia, and Botswana.</p><p> <strong>CHOCOLATES. </strong>Last Halloween, we <a href="http://www.good.is/post/child-slaves-made-your-halloween-candy-stop-buying-it/">highlighted</a> the major candy companies that have failed to eradicate child slave labor from their supply chains, and <a href="http://www.good.is/post/ethical-halloween-candy-that-doesn-t-suck/">suggested</a> you satisfy your sweet tooth with fair trade chocolates from companies like Sunspire, Sweet Earth, or Endangered Species Chocolate. We recently <a href="http://www.good.is/post/cuckoo-for-cocoa-processing-making-chocolate-not-just-picking-it-helps-madagascar-develop/">profiled</a> the business model behind <a href="http://madecasse.com/">Madecasse</a>, a Brooklyn-based chocolate company which offers improvements on the standard chocolate supply chain to offer sustainable and fairly-paid work to chocolate growers and processers in Madagascar. Head to <a href="http://madecasse.com/find-a-store.php">one of their retail stores</a> for a last-minute gift.</p><p> <em><a href="http://www.flickr.com/photos/75898532@N00/3275035423/sizes/m/in/photostream/">Photo </a>via (<a href="http://creativecommons.org/licenses/by-nd/2.0/">cc</a>) Flickr user <a href="http://www.flickr.com/photos/75898532@N00/">Flare</a></em></p><br/>