Articles
Greater usage may lead to larger muscles, but also larger risks, study finds.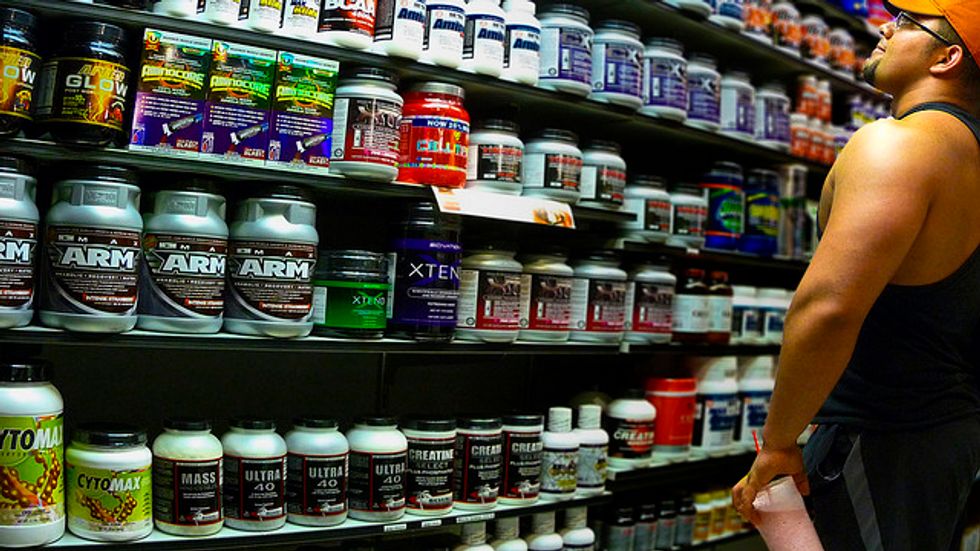 Image via Flickr user Noodles and Beef
Researchers can't explain why incidence of testicular cancer has risen from 3.7 cases per 100,000 men in 1975, up to 5.9 cases per 100,000 in 2011. In the United States, 8,500 men are diagnosed with the disease every year, and it is currently the most common form of cancer found in young men ages 15—35.
<p>Exactly what causes testicular cancer remains largely a mystery to the scientific community, but a new study published recently in the <em>British Journal of Cancer</em> has uncovered an unexpectedly high correlation between muscle-building supplements and the condition.</p><p>The study was conducted by interviewing 356 men who had been diagnosed with testicular germ cell cancer, and 513 men who had not. Researchers asked not only about their supplement use, but also about other factors such as smoking, drinking, exercise habits, family history of testicular cancer, and prior injury to the groin, in order to rule out confounding variables. "Supplement use" was defined as consuming one or more supplements—such as pills and powders containing creatine or androstenedione—at least once a week for four consecutive weeks or more.</p><p>After accounting for confounding influences, as well as age, race, and other demographics, researchers found that men who used supplements had a 65 percent greater risk of having developed testicular cancer than men who did not use supplements.</p><p>They also found evidence that application of supplements beyond the moderate definition of "supplement use" increased risk even further:</p><blockquote><ul class="ee-ul"> <li>Men who used more than one kind of supplement had a 177 percent greater risk.</li> <li> </li> <li>Men who used supplements for three years or longer had a 156 percent greater risk.</li> <li> </li> <li>Men who started using supplements at age 25 or younger had a 121 percent greater risk.</li></ul></blockquote><p>Inspired by mounting evidence that at least some supplement ingredients may damage the testes, the study is the <a href="http://www.sciencedaily.com/releases/2015/04/150413110632.htm">first of its kind</a> to explore the possible link between supplements and testicular cancer. The authors hope that future studies and experiments will substantiate their findings.</p><p>Until the study is confirmed, the question men everywhere should be asking themselves is, "are the gains worth the pain?"</p>