Articles
The tyranny of open office plans means less space per worker.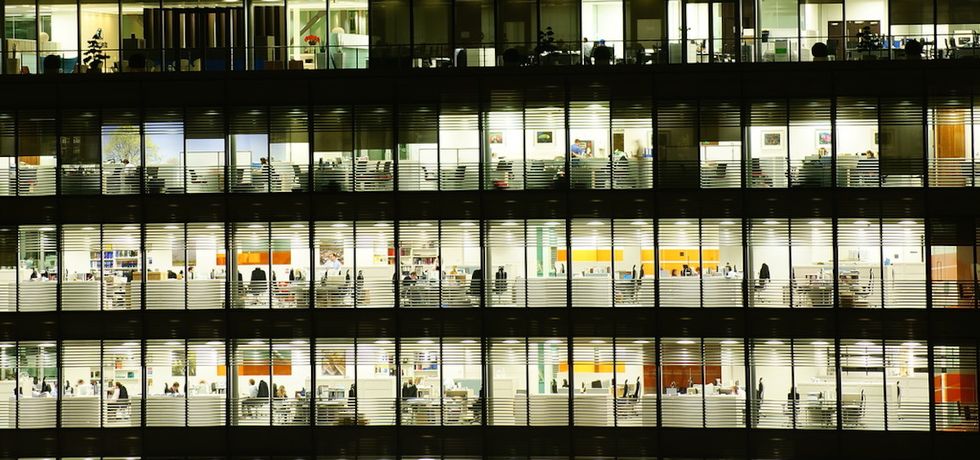 Photo by Flickr user John.
Capitalism has found a way to make your 9-to-5 office job even more miserable than it already is. According to CoreNet Global, an organization of corporate real estate and workplace professionals, American office spaces have shrunk drastically in the past two years. In 2010, the average American office worker had 225 square feet all to themselves. By 2012, that number was reduced to 176 square feet. That stifling sensation you're feeling every time you walk into the office is very, very real.
<p>"The balance between individual spaces and community spaces has changed drastically...with shared and community spaces taking up a greater proportion of space than they once did," said David Bright, a senior vice president of the office furnishing manufacturer Knoll, to <em>the New York Times. </em></p><p><em><a href="http://www.nytimes.com/2015/02/23/nyregion/as-office-space-shrinks-so-does-privacy-for-workers.html?hp&amp;action=click&amp;pgtype=Homepage&amp;module=second-column-region&amp;region=top-news&amp;WT.nav=top-news&amp;_r=0">The New York Times</a></em> pins the blame on the popularity of open offices—which are supposed to foster creativity and communication between workers but are actually just petri dishes of intra-office resentment. More than <a href="http://www.emeraldinsight.com/toc/f/21/1%2F2">70 percent of all workspaces have an open office plan</a>, but survey after survey shows that employees are not fans. Not only do they <a href="http://www.nytimes.com/2015/02/23/nyregion/as-office-space-shrinks-so-does-privacy-for-workers.html?hp&amp;action=click&amp;pgtype=Homepage&amp;module=second-column-region&amp;region=top-news&amp;WT.nav=top-news&amp;_r=0">impede productivity</a>, they also make privacy impossible. It means smaller personal spaces and fewer opportunities for solitude from your intrusive co-workers. This ultimately leads to high rates of <a href="https://www.youtube.com/watch?v=fjsSr3z5nVk">employee dissatisfaction</a>. </p>