Articles
Plus, it held a sentimental value that money can't buy.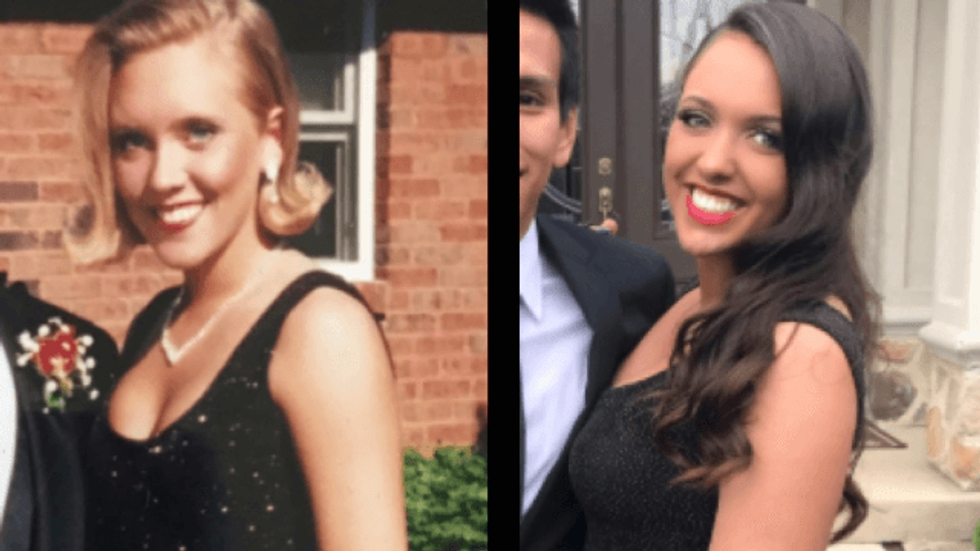 via Twitter / Ally Johnson
Prom is a pretty big deal for many high school students, and things can easily get pricey between the outfit, the corsage, the limo, the ticket...the list goes on. But instead of spending a small fortune on a brand new prom dress, senior Ally Johnson decided to wear her mother's 22-year-old gown to the big dance, and it looked just as gorgeous in 2017 as it did when her mother wore it back in 1995.
<p>Plus, it held a sentimental value that money can't buy.</p><p></p><div class="rm-shortcode" data-rm-shortcode-id="AQE4HF1576665349" id="86bde"><blockquote class="twitter-tweet twitter-custom-tweet" data-partner="rebelmouse" data-twitter-tweet-id="856299578781511681"><div style="margin:1em 0">Proud to wear my moms prom dress 22 years later ❤👯 #Prom2017 https://t.co/Qj8MuOzMMt</div> — ally johnson (@ally johnson)<a href="https://twitter.com/AllyJohnson11/statuses/856299578781511681">1492992703.0</a></blockquote></div><p></p><p>We have to say, we do miss those fabulous (and very '90s) long black gloves, though.</p><p class="shortcode-media shortcode-media-rebelmouse-image"> <img class="rm-shortcode" data-rm-shortcode-id="b9bd6f4adb11a4b33473cd790bb257e1" data-rm-shortcode-name="rebelmouse-image" id="dc772" type="lazy-image" data-runner-src="https://assets.rebelmouse.io/eyJhbGciOiJIUzI1NiIsInR5cCI6IkpXVCJ9.eyJpbWFnZSI6Imh0dHBzOi8vYXNzZXRzLnJibC5tcy8xOTg3MjcxMi9vcmlnaW4uanBnIiwiZXhwaXJlc19hdCI6MTYxODQ4MDQ1MX0.oE6D5Z56Iirx-Al55WAqhn9ravZRnq22LyzdFljUjjw/img.jpg?width=980"/> <small class="image-media media-caption" placeholder="add caption..."></small> <small class="image-media media-photo-credit" placeholder="add photo credit...">via <a href="http://%5Btwitter_embed%20https://twitter.com/AllyJohnson11/status/856299578781511681%20expand=1%5D" target="_blank">Twitter / Ally Johnson</a></small> </p><p><a href="https://www.huffpost.com/entry/this-teen-wore-the-same-dress-her-mom-wore-to-prom-22-years-ago_n_590b5524e4b0e7021e955053" target="_blank">The Huffington Post </a>reported that Ally's mother Lori offered up her now-vintage prom dress to her daughter for past dances, but Ally was never into the idea. However, after failing to find a gown she loved for her prom, she decided to give her mother's dress a go.</p><p>She then asked her grandmother, who had been saving the dress, if she could try it on. It fit like a glove and she fell in love with it instantly.</p><p class="shortcode-media shortcode-media-rebelmouse-image"> <img class="rm-shortcode" data-rm-shortcode-id="7249c99246e8d35978a729917fa2111c" data-rm-shortcode-name="rebelmouse-image" id="dc8b1" type="lazy-image" data-runner-src="https://assets.rebelmouse.io/eyJhbGciOiJIUzI1NiIsInR5cCI6IkpXVCJ9.eyJpbWFnZSI6Imh0dHBzOi8vYXNzZXRzLnJibC5tcy8xOTg3MjcxMy9vcmlnaW4uanBnIiwiZXhwaXJlc19hdCI6MTYyNDExMTQwNH0.pX2y5YknRoL7xHhFKXRR9UuZNHMf3ub8JkAflvRPgzU/img.jpg?width=980"/> <small class="image-media media-caption" placeholder="add caption..."></small> <small class="image-media media-photo-credit" placeholder="add photo credit...">via <a href="http://%5Btwitter_embed%20https://twitter.com/AllyJohnson11/status/856299578781511681%20expand=1%5D" target="_blank">Twitter / Ally Johnson</a></small> </p><p>"It is very stretchy, which made it fit perfectly," Ally told The Huffington Post. "I was surprised because my mom had a very different build than I did when she was in high school."</p><p>Now Ally says she plans on holding on to the dress just in case she one day has a daughter who wants to wear it.</p><p>"I feel like I started a tradition," she told HuffPost. "I'mm going to hold onto this dress and hopefully my daughter will be willing to wear it to her senior prom."</p>