Articles
Sludgy New York weather couldn't dampen spirits at this traveling exhibition, highlighting artists operating far outside the traditional gallery scene.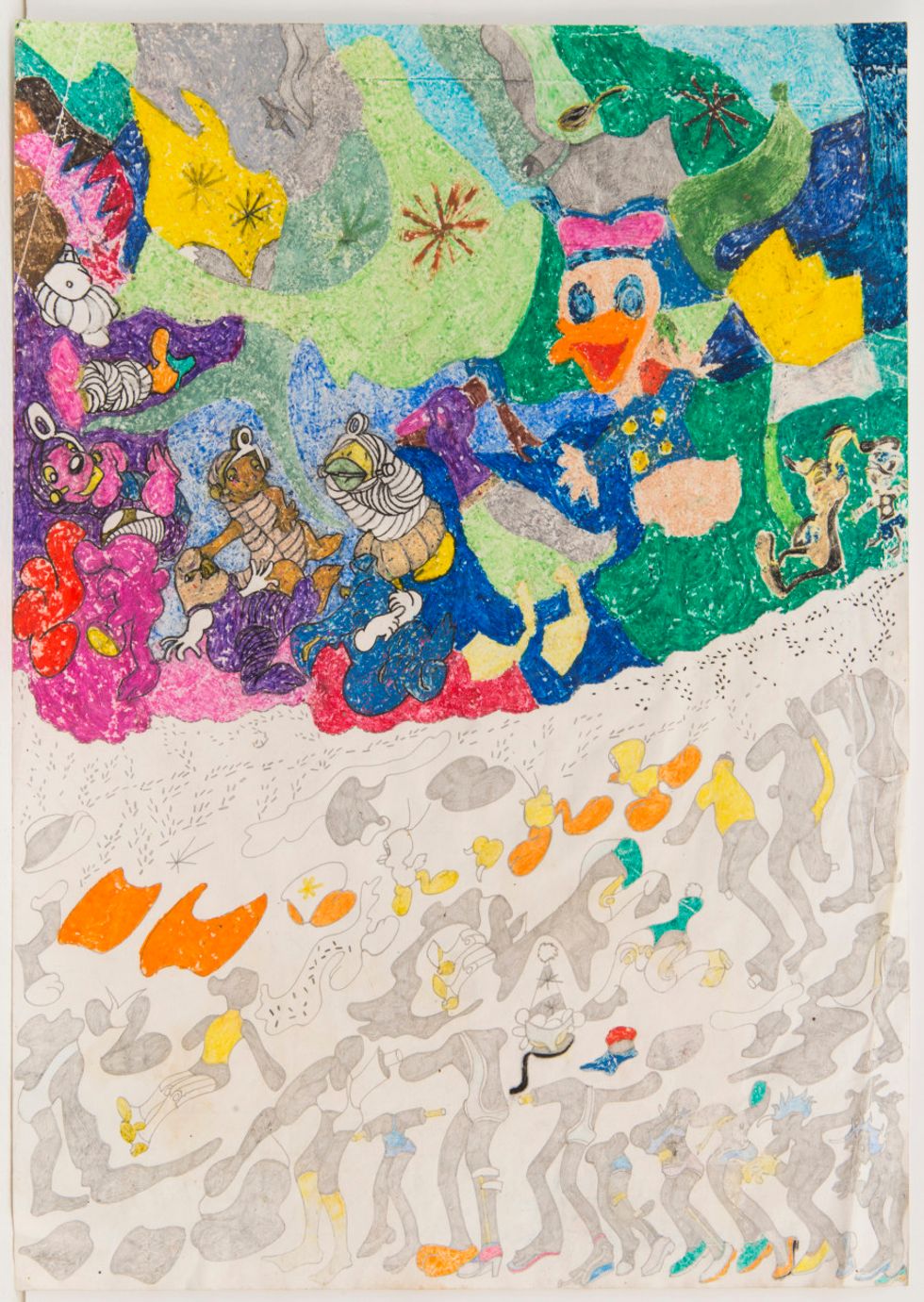 Susan Te Kahurangi King, Untitled, c. 1978, Graphite, ebony and crayon on paper
While New York's recent arctic weather has been a drag on the city's cultural life—not to mention its transportation—the art world has still managed to keep things vibrant. This past weekend Chelsea's Center548 hosted the 23rd edition of the Outsider Art Fair, an annual showcase featuring hundreds of international artists, highlighting the unique, marginalized, and often-visionary work of those acting outside the mainstream. With pieces ranging from the beautiful to the bizarre, this year's contributions included perennial favorites like Henry Darger and James Castle, to first-time exhibitor Arte del Pueblo, presenting Haitian works from the collection of Jonathan Demme, to capsule exhibition If I Had Possession Over Judgment Day, curated by Jay Gorney and Anne Doran. The latter featured the evocative images of five artists whose creations were inspired by the concept of paranoia, and was held in tandem with a panel on the pathological sources of artistic inspiration.
<p>The term "outsider art" encompasses many things. As Art Fair Director Rebecca Hoffman recently mentioned to the <a href="http://www.huffingtonpost.com/2015/01/30/what-does-outsider-art-mean_n_6574138.html">Huffington Post</a>,</p><blockquote><p>"I utilize the term 'outsider art' as an umbrella for a lot of different categories. Primarily, what we term outsider art is self-taught or non-academic work. So, that could be somebody who is a mathematician who has taught himself how to paint. That could be somebody who [has severe autism] and expresses himself through drawing. That could be a member of an aboriginal tribe in Western Australia, a herdsman for her entire life, who painted prolifically for her final 14 years of life. That could be someone who was drawing to escape violence in New Orleans. It could be someone who took to marble carving to express all of the diverse experiences he's undergone."</p></blockquote><p>For those curious, all of these unique figures were featured prominently in this year's fair. While in the past this term was applied to genre-defying artists ranging from Yayoi Kusama to the "primal" works of Jean-Michel Basquiat—today both are canonized in art history legend, almost as established as Monet or Van Gogh.</p><p>The fair, which offers the rare opportunity for those working outside the traditional art market to have their work shown, has become a breeding ground for new talent and, ironically, an institution. In short, it was not to be missed.</p><p>For rebellious art-lovers in Europe, don't worry if you weren't able to make it last weekend. After OAF leaves New York it will be making <a href="http://www.outsiderartfair.com/upcoming_fairs">a second appearance in Paris</a>, October 22–25. </p><p class="shortcode-media shortcode-media-rebelmouse-image"> <img class="rm-shortcode" data-rm-shortcode-id="e1105420cf1b48a4d9909826fba2325e" data-rm-shortcode-name="rebelmouse-image" id="4f13c" type="lazy-image" data-runner-src="https://assets.rebelmouse.io/eyJhbGciOiJIUzI1NiIsInR5cCI6IkpXVCJ9.eyJpbWFnZSI6Imh0dHBzOi8vYXNzZXRzLnJibC5tcy8xOTgzNTg4Ny9vcmlnaW4uanBnIiwiZXhwaXJlc19hdCI6MTY0NjUzODcwNH0.tSfrLNob4AOAXwWxuWCOd-yMAKJ2N6lb6EFQNnRrbp8/img.jpg?width=980"/> <small class="image-media media-caption" placeholder="add caption..."></small> <small class="image-media media-photo-credit" placeholder="add photo credit...">Mary Whitfield, Fleeing Darfur, 2006, Watercolor on Arches paper</small> </p><p class="shortcode-media shortcode-media-rebelmouse-image"> <img class="rm-shortcode" data-rm-shortcode-id="dfad198047f8a26b674b5050b800077b" data-rm-shortcode-name="rebelmouse-image" id="ac9bf" type="lazy-image" data-runner-src="https://assets.rebelmouse.io/eyJhbGciOiJIUzI1NiIsInR5cCI6IkpXVCJ9.eyJpbWFnZSI6Imh0dHBzOi8vYXNzZXRzLnJibC5tcy8xOTgzNTg4OC9vcmlnaW4uanBnIiwiZXhwaXJlc19hdCI6MTYzNzI3NDUyOX0.g-cClQlfTWvu81_EPx-cgSKhwpN8HuJlpold5CERuMA/img.jpg?width=980"/> <small class="image-media media-caption" placeholder="add caption..."></small> <small class="image-media media-photo-credit" placeholder="add photo credit...">Andy Dixon, Yellow Portrait, 2014, Acrylic and oil pastel on canvas</small> </p><p class="shortcode-media shortcode-media-rebelmouse-image"> <img class="rm-shortcode" data-rm-shortcode-id="145bd7131756c7b8aeaa2f5d0c9a238a" data-rm-shortcode-name="rebelmouse-image" id="9a6c2" type="lazy-image" data-runner-src="https://assets.rebelmouse.io/eyJhbGciOiJIUzI1NiIsInR5cCI6IkpXVCJ9.eyJpbWFnZSI6Imh0dHBzOi8vYXNzZXRzLnJibC5tcy8xOTgzNTg5MC9vcmlnaW4uanBnIiwiZXhwaXJlc19hdCI6MTYwOTk1MDQyNn0.t_PEO3_5B9tdtM9gmSpcV1bXvB0WCKF17TPLqkAxE2c/img.jpg?width=980"/> <small class="image-media media-caption" placeholder="add caption..."></small> <small class="image-media media-photo-credit" placeholder="add photo credit...">Marianne Schipaanboord, Jan Runhaar, 2006, watercolor and pencil on paper</small> </p>