Articles
"From Piss to Pilsner" is closing the loop on two of the most recognizable features of large outdoor concerts: beer and urine.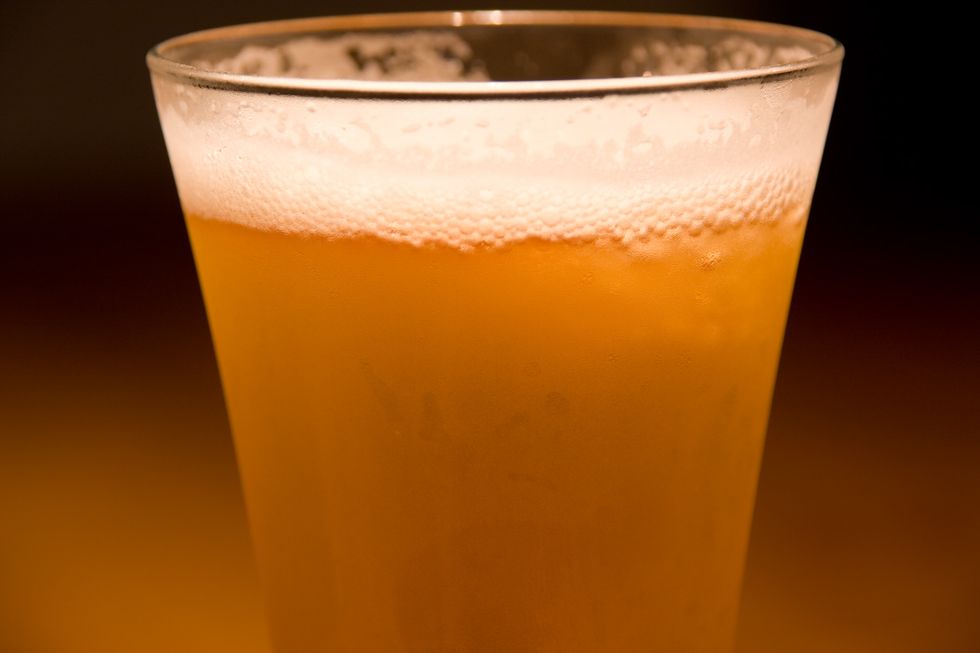 image via (cc) flickr user landfeldt
Typically, when someone says their beer tastes like piss, that's taken to be a bad thing. But for attendees at a recent music festival, comparing a sudsy brew with its biologically inevitable after-effect isn't an insult at all. In fact, that's exactly what festival organizers are aiming for.
<p>"<a href="http://www.agricultureandfood.dk/News_and_Press/News/From_Festival_pee_to_Festival_beer.aspx#">From piss to pilsner</a>" is a unique initiative in which the urinary byproduct of a reported 100,000 beer-drinking festival-goers is collected, and used to help fertilize the very crops that will be used to brew more beer. Created in partnership between the Denmark's <a href="http://www.roskilde-festival.dk/">Roskilde Festival</a>, and that country's Agriculture and Food Council, From piss to pilsner is an example of what the project's organizers call "beercycling." <a href="http://www.agricultureandfood.dk/News_and_Press/News/From_Festival_pee_to_Festival_beer.aspx#">Explains</a> AFC communications head Leif Nielsen: </p><div id="upworthyFreeStarVideoAdContainer"><div id="freestar-video-parent"><div id="freestar-video-child"></div></div></div><blockquote><p>"Beercycling is about changing our approach to waste, from being a burden to being a valuable resource. Today, the huge amount of urine produced at the festival is having a negative impact on the environment and the sewage system and treatment plant in Roskilde. Beercycling will turn those many litres of urine into a resource."</p></blockquote><p>To do so, <a href="http://www.theguardian.com/world/2015/jul/02/danish-festival-recycle-urine-beer-roskilde-barley-beercycle">reports</a> <em>The Guardian</em>, festival attendees were directed to specially built collection urinals—both male, and female versions—designed to store pee until transported to nearby farmland, where it will be used to fertilize malting barley, a key beer brewing ingredient.</p><p class="shortcode-media shortcode-media-rebelmouse-image"> <img class="rm-shortcode" data-rm-shortcode-id="1e414d79fde21d9638c28753a4696bcf" data-rm-shortcode-name="rebelmouse-image" id="35732" type="lazy-image" data-runner-src="https://assets.rebelmouse.io/eyJhbGciOiJIUzI1NiIsInR5cCI6IkpXVCJ9.eyJpbWFnZSI6Imh0dHBzOi8vYXNzZXRzLnJibC5tcy8xOTg0MTg2NC9vcmlnaW4uanBnIiwiZXhwaXJlc19hdCI6MTY1NDEwNzAxNH0.1_hl4ro8i0rQ6LqoqG2VvSiUYhL3X-0zrx7mtilj4-I/img.jpg?width=980"/> <small class="image-media media-caption" placeholder="add caption..."></small> <small class="image-media media-photo-credit" placeholder="add photo credit...">image via (cc) flickr user donna sutton</small> </p><p>Human urine, it turns out, contains high levels of both nitrogen and phosphorous—two chemicals which farmers use to strengthen their planting soil. Using pee to boost crop production is actually not a <a href="http://magazine.good.is/articles/pee-cycling-urine-fertilizer">wholly new phenomenon</a>, either, with evidence to suggest that it dates back to the mid-1800s, at least. Still, it's hard to imagine the collection of urine specifically for the purpose of growing crops—particularly crops that will ultimately create even more urine—having ever taken place on this large of a scale.</p><p>Beyond simply fertilizing brewers' crops, though, the initiative can also be seen as serving to ease the burden on local water management infrastructure, and the local ecosystem as a whole. Directing concert-goers to offer their pee for the cause means it is less likely for water to be wasted with unnecessary urinal flushing, and attendees become less likely to waste their "donation" behind a bush should nature call. </p><p>The From piss to pilsner initiative is not intended to simply be a novel, one-off project either. At least, not entirely. It will <a href="http://www.agricultureandfood.dk/News_and_Press/News/From_Festival_pee_to_Festival_beer.aspx#">reportedly</a> occupy a major portion of a forthcoming Danish Agriculture and Food Council promotional film, and advertisements touting the project remain on display in Roskilde, as well as the capital city of Copenhagen, despite the festival's having ended days ago. <a href="http://www.agricultureandfood.dk/News_and_Press/News/From_Festival_pee_to_Festival_beer.aspx#">Says</a> Henrik Rasmussen, festival managing director: </p><blockquote><p>"The beercycling project is certainly a fascinating proposal for a sustainable solution where urine isn't just sent down the drain, but becomes a useful resource. It is a project which extends beyond the festival itself and it underlines that the Roskilde Festival is a fantastic laboratory for testing new sustainable solutions that could benefit society."</p></blockquote><p>We can all drink to that. </p><p style="text-align: right;">[<em>via <a href="http://inhabitat.com/from-piss-to-pilsner-beercycles-pee-into-brews/">inhabitat</a></em>]</p>