For People Who Give a Damn.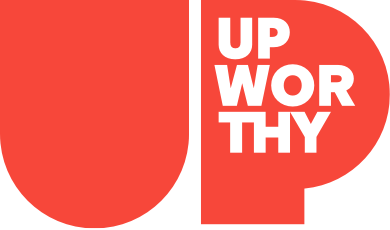 Stories Worth Sharing.
Sign up for the Good newsletter:
(c) GOOD Inc. All Rights Reserved.
PS. You are doing great. Keep it up :<)
This website uses cookies in order to enhance your experience. Please review our Privacy Policy to learn how we may use cookies and how you can change your browser settings to disable cookies. By continuing to use this website without changing your settings, you consent to our use of cookies.
THE DAILY GOOD
Start your day with
Syosset, New York, superintendent Carole Hankin rakes in over $500,000 per year. Where do we draw the line on school district compensation?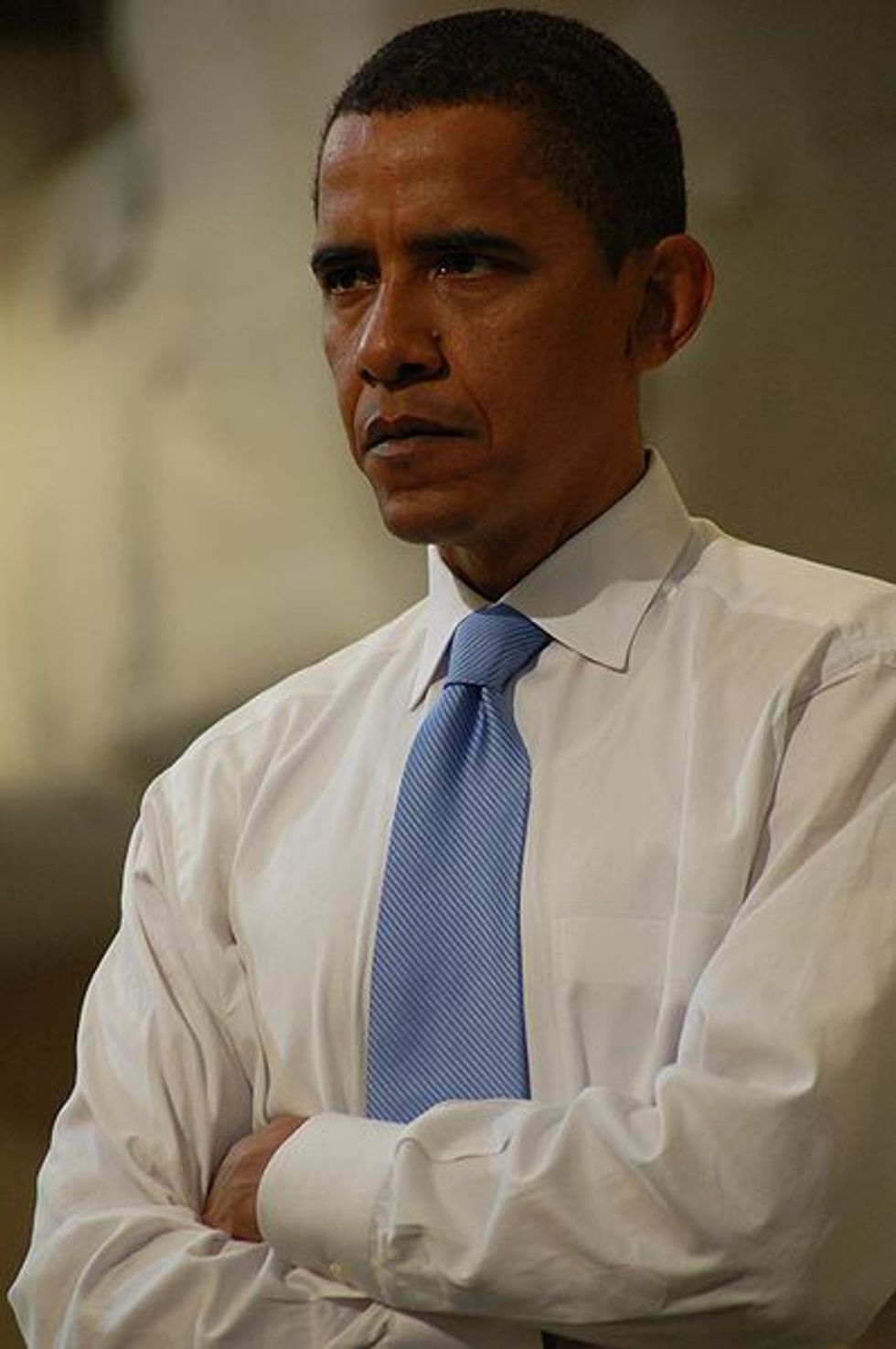 With teacher pay and benefits coming under increasing scrutiny, it was only a matter of time till the salary of school district higher-ups also came under fire—especially when some superintendents are pulling down more in salary and benefits than the President of the United States. Case in point: New York's Syosset Central High School District Superintendent Dr. Carole Hankin rakes in $506,322 in total compensation to oversee 10 schools serving 6,687 students. In comparison, President Obama only gets $400,000 in salary—and he's running an entire nation.
Hankin also makes more than New York City Chancellor Cathie Black, who oversees 1.1 million students at 1,600 schools. Clearly, Black does far more work, but she's only getting $250,000 in salary plus benefits and a driver. Hankin's, as well as other high-salaried school district heads' take-home pay, has drawn the attention of New York Governor Andrew Cuomo. He's proposing capping salaries for superintendents outside New York City at $179,000.
Articles
Don't worry, she only made the joke because she's kind of inexperienced.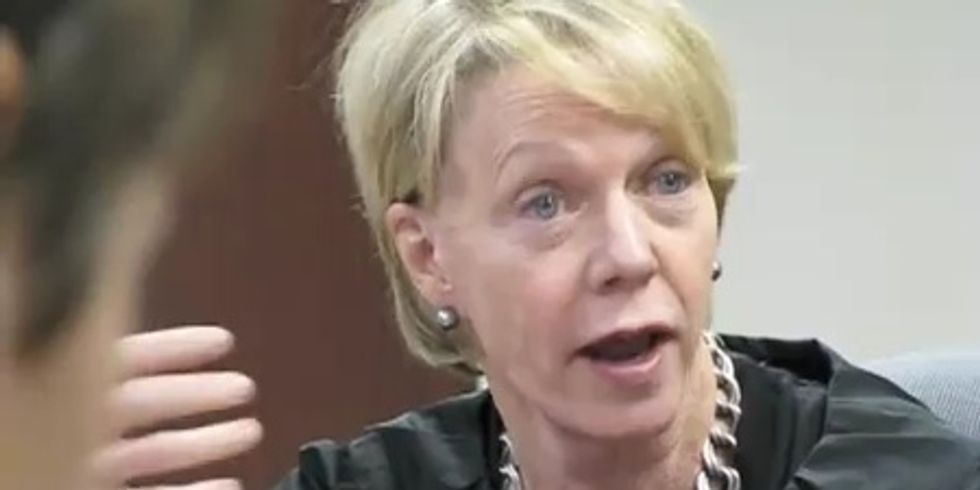 Less than two weeks into her job as New York City Schools Chancellor, Cathie Black found herself in hot water when she suggested at a meeting that the solution to the city's notoriously overcrowded schools was birth control. Now the heat is being turned up on Black's lack of education expertise—she spent her entire career in media and publishing—due to both her comments and Mayor Michael Bloomberg's refusal to let her explain her remarks.
Last Thursday, Black made her now infamous, "couldn't we just have some birth control for a while? It could really help us out a lot," wisecrack. Unfortunately for Black, New York parents aren't laughing. Overcrowding, particularly in lower Manhattan where massive development has led to a doubling of the school-age population in the last five years, means the community needs actual solutions.

"Those kinds of comments show a lack of understanding of what parents are going through," Community Board Chair Julie Menin told the New York Post. "The parents I spoke with after the meeting were very concerned about the comments she made because we're grappling with real issues."

When a reporter at yesterday's district press conference to announce a $10 million increase in student tutoring funding asked Black if she was sorry for the comments, Bloomberg immediately stepped to the mic to respond on her behalf.
Articles
On her first day on the job, Cathie Black barely talked to reporters. Now her office won't respond to press requests about her schedule. What gives?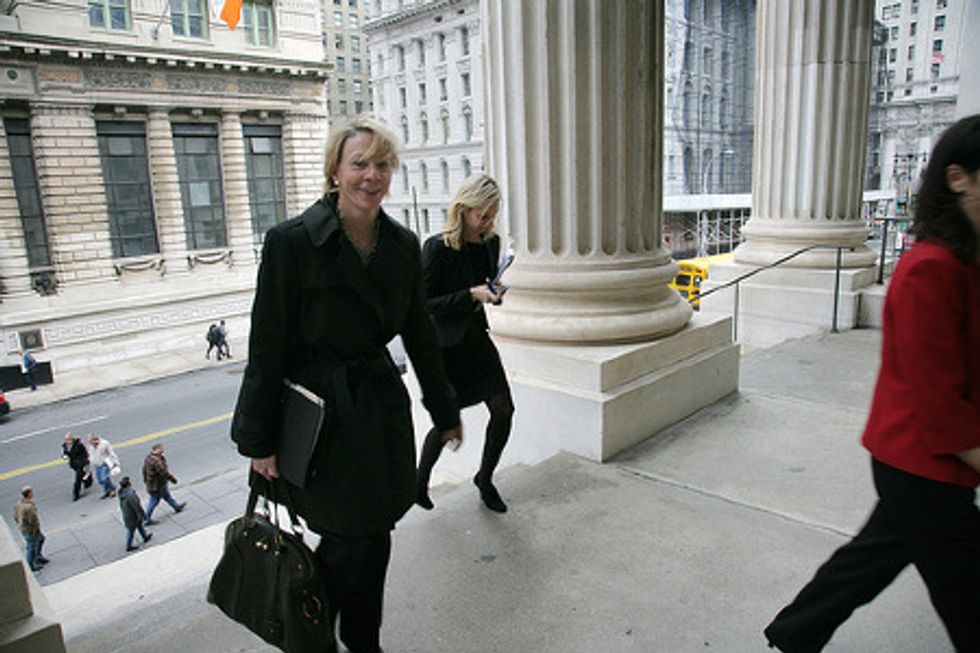 Given that she comes from a media background you would think the Chancellor-designee of New York City's public schools, former Hearst Magazines Chairman Cathie Black, would be comfortable talking to the press. But on her first day on the job, Black barely spoke to reporters, and side-stepped more substantive questions from a crowd of parents. Now Black's office reportedly
isn't responding to requests from New York City media
about her schedule and public appearances.
According to the New York Daily News, the city's education department press secretary Natalie Ravitz said they wouldn't reveal Black's schedule because:
Articles
Cathie Black's lack of education bona fides threatened to sink her candidacy for schools chancellor. A new appointment will likely save the bid.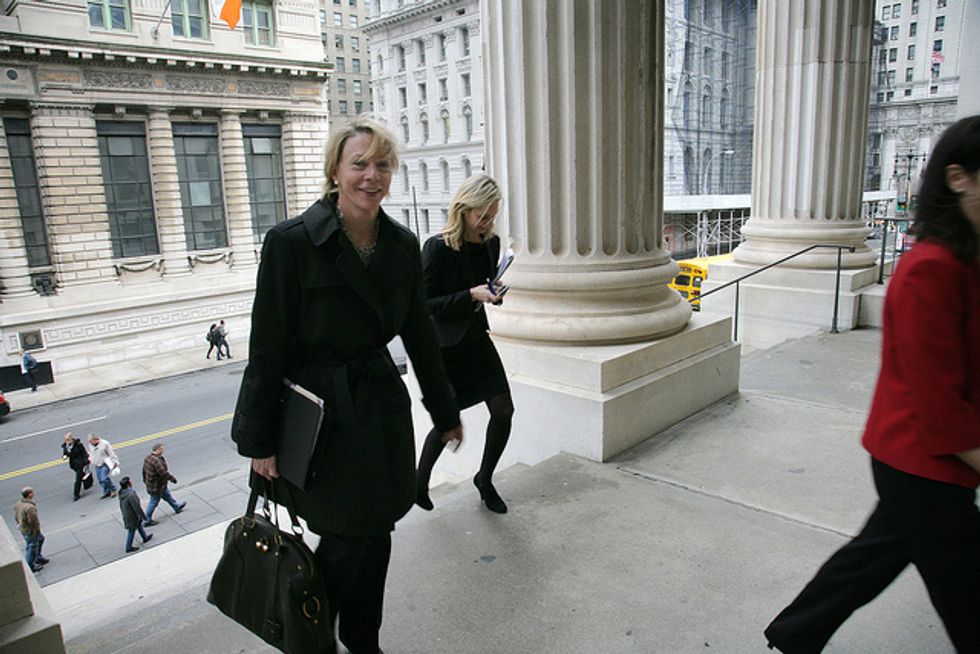 Apparently
Cathie Black's highly touted Shaolin management skills
weren't enough to make her New York City's new schools chancellor. The former media executive needed a waiver from the New York State education commissioner in order to take the post that Mayor Michael Bloomberg tapped her for, due to her lack of experience in education.
After initially denying the waiver request, Education Commissioner David Steiner appears ready to grant it now that Black will have a deputy serving in the role of "chief academic officer." The new deputy will be Shael Polakow-Suransky, 38, who has spent his entire career working in the city's schools, rising from a middle school math teacher to a founding principal of a school in the Bronx to an executive in the city's Department of Education. The Gothamist blog likens the co-management arrangement to that between Michael Scott and Jim Halpert on the NBC sitcom The Office.
Articles
THE DAILY GOOD
Start your day with
THE DAILY GOOD
Start your day with something GOOD.