Articles
Every Tuesday and Thursday in 2011, the GOOD team has pledged to take turns to cook and share a big bowl of soup or salad.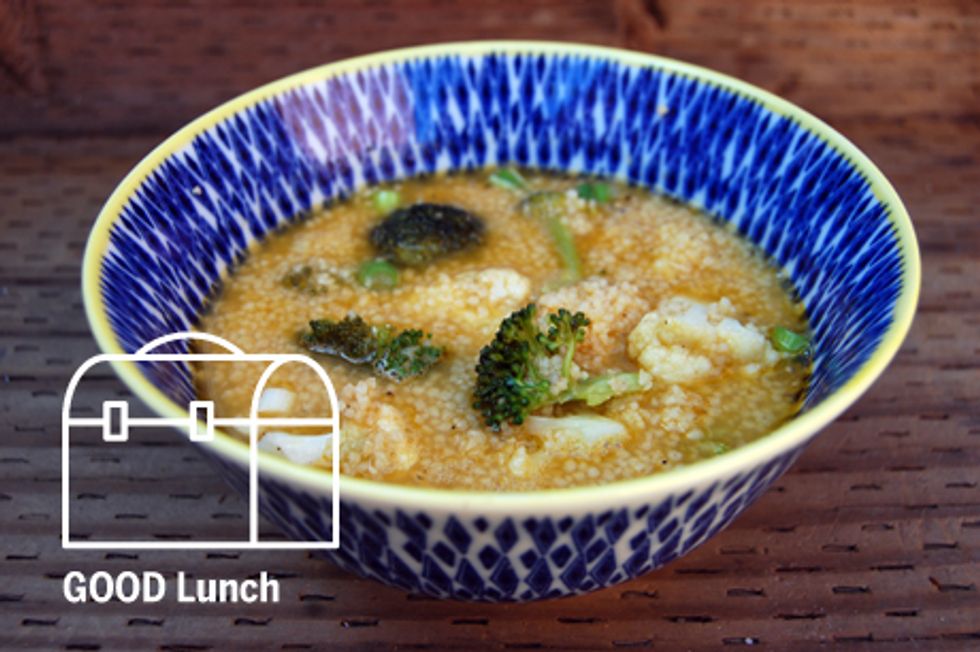 Today's
GOOD Lunch
salad can also be served as a soup—we called it a "saloup." It was prepared by Amanda Ehrman and was inspired by
101 cookbooks "10 minute Couscous Soup"
recipe.
Couscous "Saloup"
<p> <strong>The Ingredients</strong>:</p><p> • 8 cups vegetable broth
<br/> • 2 or 3 pinches crushed red pepper flakes<br/> • 4 tablespoons extra virgin olive oil
<br/> • 2 cups whole wheat or regular couscous (I used whole wheat)<br/> • 2 cups broccoli florets, cut into tiny pieces (about the size of, or smaller than your thumb)<br/> • 2 cups cauliflower florets, cut into tiny pieces (about the size or smaller than your thumb)<br/> • Sun-dried tomatoes, chopped (optional; to garnish)<br/> • 4 green onions, thinly sliced
<br/> • Goat cheese to top (optional)<br/><br/><strong>The Method</strong>:<br/> This soup is best eaten immediately after making. Read through for tips on what to do if you are transporting it to work and are unable to cook it there<br/><br/><br/><br/><br/><br/><br/><br/><br/><br/><br/></p><p> • In a large pot heat the broth, red pepper flakes, and olive oil.<br/> • Bring to a boil and remove from the heat<br/> • Stir in the couscous for about 3 minutes.<br/> • Next, stir in the broccoli and cauliflower.<br/> • Stir together allowing the heat of the broth and couscous to cook the vegetables slightly<br/> • Top each bowl with some sun-dried tomatoes, green onions, and a bit of goat cheese when ready to serve and enjoy!<br/><br/><strong>The Breakdown</strong>:<br/> How did our dish rate in terms of taste, cost, and prep time?<br/><br/><br/><br/><br/><br/><br/><br/></p><p class="shortcode-media shortcode-media-rebelmouse-image"> <img class="rm-shortcode" data-rm-shortcode-id="98225ff0db721d0a871a91abd6c95e79" data-rm-shortcode-name="rebelmouse-image" id="c4049" type="lazy-image" data-runner-src="https://assets.rebelmouse.io/eyJhbGciOiJIUzI1NiIsInR5cCI6IkpXVCJ9.eyJpbWFnZSI6Imh0dHBzOi8vYXNzZXRzLnJibC5tcy8xOTg2NzExOC9vcmlnaW4uanBnIiwiZXhwaXJlc19hdCI6MTY0ODczNTYzMH0.feGJYawQctYXVvBwa5pmaZ9XdOfRFd-Dm-FPEilVEe8/img.jpg?width=980"/> <small class="image-media media-caption" placeholder="add caption..."></small> <small class="image-media media-photo-credit" placeholder="add photo credit..."></small> </p><p> <strong>Cost</strong>: $22 ($2 per serving)<br/><strong>Prep Time</strong><br/><strong>Taste</strong>: 3 stars<br/> This soup/salad is best eaten immediately after cooking (and topping with sun dried tomatoes, green onions, and goat cheese). However, if you are bringing it to work to be eaten a few hours later, I suggest separating the solid from the liquid and bringing to work in separate containers. When ready to serve, you can eat the couscous as a hot or cold salad, OR re-heat the broth and top each bowl of couscous with it. Because this dish can either be eaten as a soup or a salad, we have categorized this dish as a "Saloup!"<br/><br/><em>Every Tuesday and Thursday during 2011, the GOOD team will cook and share a big bowl of healthy, vegetarian, seasonal soup or salad. </em><em>This time last week we were enjoying <a href="http://www.good.is/post/the-good-lunch-pear-cinnamon-couscous/">Pear Cinnamon Couscous</a>. </em><em>The <a href="../../../tag/the-good-lunch">GOOD Lunch</a> will explore new recipes that are easy to bring, serve and share in the workplace. We hope this will inspire you to make your office lunch a GOOD Lunch. </em><br/><br/><br/><br/><br/></p><br/>