Articles
The GOOD Lunch: Golden Cauliflower Couscous
Every Tuesday and Thursday in 2011, the GOOD team has pledged to take it in turns to cook and share a big bowl of soup or salad.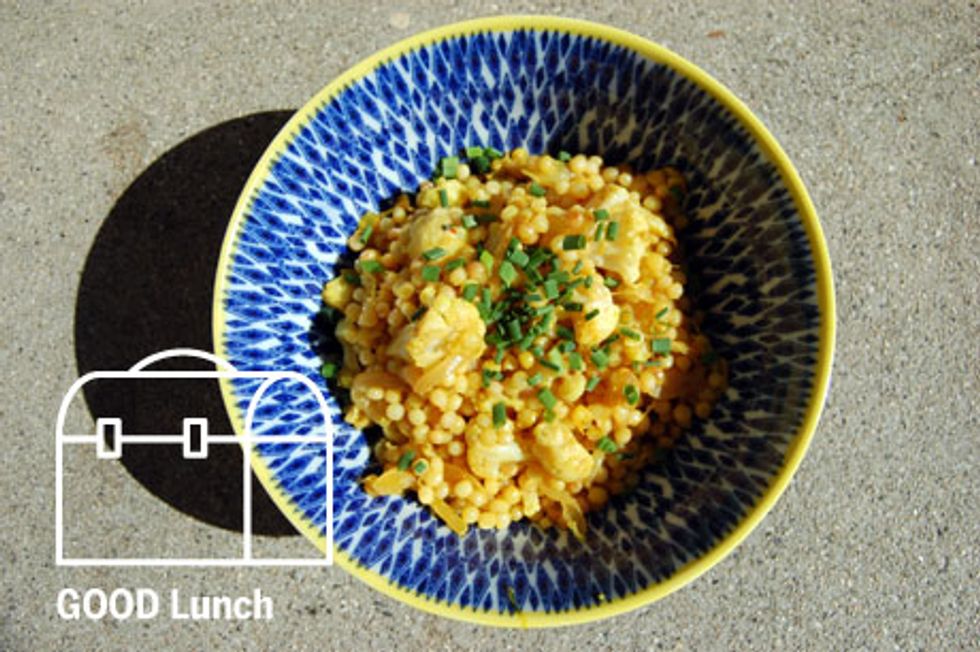 Welcome back to
the GOOD Lunch
. Today's recipe is an original, created and prepared by Isis Krause.
Golden Cauliflower Couscous

The Ingredients:
Makes 10-12 servings

5 large onions, sliced into thin strips
2 tablespoons olive oil
1 tablespoon butter
1 tablespoon brown sugar
3 large heads cauliflower
4 cups dried Israeli couscous
1-3 tablespoons turmeric
1 tablespoon dried chili pepper
Extra olive oil, salt and pepper













---
The Method:
• Melt butter and olive oil in a large pot.
• Boil a large pot of salted water and cook couscous to package instructions, drain and reserve.
• Saute onions in butter or olive oil, brown sugar, and salt and pepper for 25 minutes on medium to low heat till they are caramelized. Set aside the onions.
• Break the cauliflower into very small trees with your fingers until they are the size of a dime.
• Saute the cauliflower with the turmeric and chili pepper in the leftover juices from the onions and butter on medium high until they get lightly brown on the edges, about 7 minutes.
• Add the onions back in and stir to combine.
• Finally add to the couscous and mix together. Season with additional chili flakes, salt, pepper and turmeric to taste.
• Sprinkle with chives for a burst of green. Add a drizzle of high quality olive oil and a squeeze of lemon on top for extra flavor.

The Breakdown:
How did our salad rate in terms of taste, cost, and prep time?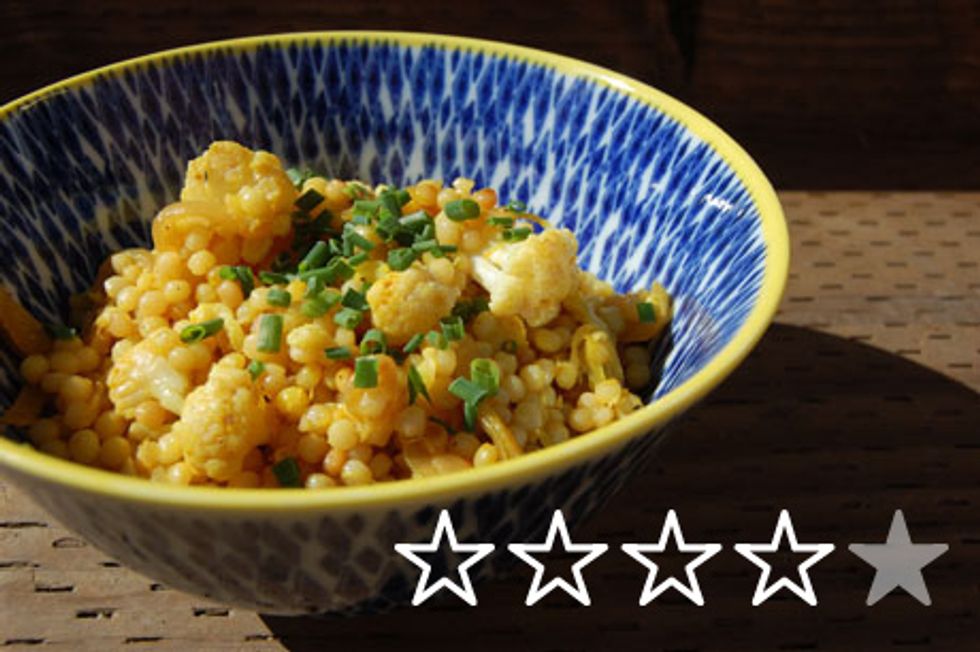 Cost
: $20 ($2 each at 10 servings)
Prep Time
: 45 minutes prep
Taste
: 4 stars
Excellent served either hot or cold. Each ingredient, while individually very distinct in flavor, melded deliciously together creating a beautiful golden dish. Might be fun to add more vegetables for a nice color pop (cherry tomatoes or baby spinach, perhaps).
Every Tuesday and Thursday in 2011, the GOOD team will cook and share a big bowl of healthy, vegetarian, seasonal soup, or salad. The GOOD Lunch is exploring new recipes that are easy to bring, serve and share in the workplace—this time last week we were enjoying Blood Orange, Fennel, Pistachio, and Arugula Salad. We hope this will inspire you to make your office lunch a GOOD Lunch.