Articles
There are less than 2,000 giant pandas in the world. A daycare seeks to bring this dying species back to life.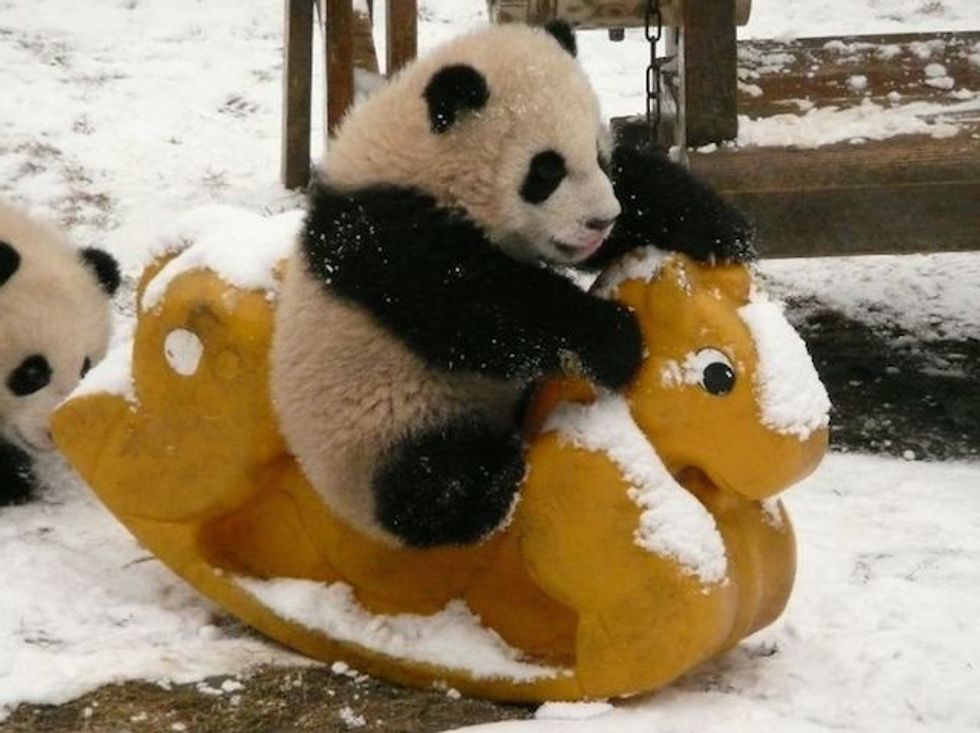 Image via panda.org.cn
To say that pandas are cute is to say nothing at all. Next to cats and dogs with neck problems, they're one of the most posted about animals on the internet. But they're also deeply endangered, with about 1,826 left in the wild. That's why the Chengdu Research Base in China decided to come up with their very own giant panda daycare, seeking to breed, nurture, and release pandas into the wild. The base hopes to slowly re-populate a rapidly diminishing species.
<p>It can be a challenge to breed pandas, which only give birth to one cub about every two years. Forest destruction in China's Yangtze Basin region has killed thousands of pandas by both eliminating their food sources and disrupting their homes. Pandas are often hunted for their fur and many are killed accidentally.</p><p>Thanks to the efforts of Chengdu and organizations like it, the panda population grew by 17% in recent years. Check out photos from their story below (Did you know that baby pandas are the size of a stick of butter?) and learn more about the awesome organization <a href="http://www.panda.org.cn/english/">here</a>.</p><p class="shortcode-media shortcode-media-rebelmouse-image"> <img class="rm-shortcode" data-rm-shortcode-id="15ea133241c06fae29545ca67f5595dc" data-rm-shortcode-name="rebelmouse-image" id="ad461" type="lazy-image" data-runner-src="https://assets.rebelmouse.io/eyJhbGciOiJIUzI1NiIsInR5cCI6IkpXVCJ9.eyJpbWFnZSI6Imh0dHBzOi8vYXNzZXRzLnJibC5tcy8xOTg0MTkwMC9vcmlnaW4uanBnIiwiZXhwaXJlc19hdCI6MTY0NDk4Njk2Mn0.BNalnFmZGC6XhPPCfRWL_PY764VnEA1qeroxyk27CJ0/img.jpg?width=980"/> <small class="image-media media-caption" placeholder="add caption..."></small> <small class="image-media media-photo-credit" placeholder="add photo credit...">Image via panda.org.cn</small> </p><p class="shortcode-media shortcode-media-rebelmouse-image"> <img class="rm-shortcode" data-rm-shortcode-id="8351c0ecab3ecf6deb2f9fcda1ae7ebe" data-rm-shortcode-name="rebelmouse-image" id="a53d0" type="lazy-image" data-runner-src="https://assets.rebelmouse.io/eyJhbGciOiJIUzI1NiIsInR5cCI6IkpXVCJ9.eyJpbWFnZSI6Imh0dHBzOi8vYXNzZXRzLnJibC5tcy8xOTg0MTkwMi9vcmlnaW4uanBnIiwiZXhwaXJlc19hdCI6MTYyNTQ4Mzk4MX0.aBVUJI-2IodIaGNyBODZfJIs6A441ouHvnxZal8uP_Q/img.jpg?width=980"/> <small class="image-media media-caption" placeholder="add caption..."></small> <small class="image-media media-photo-credit" placeholder="add photo credit...">Image via panda.org.cn</small> </p><p class="shortcode-media shortcode-media-rebelmouse-image"> <img class="rm-shortcode" data-rm-shortcode-id="0e57189e1be51ca18e26dadbaa504436" data-rm-shortcode-name="rebelmouse-image" id="f95b8" type="lazy-image" data-runner-src="https://assets.rebelmouse.io/eyJhbGciOiJIUzI1NiIsInR5cCI6IkpXVCJ9.eyJpbWFnZSI6Imh0dHBzOi8vYXNzZXRzLnJibC5tcy8xOTg0MTkwNS9vcmlnaW4uanBnIiwiZXhwaXJlc19hdCI6MTY0NDU2MzI2Nn0.yWekxAnooze2bIhBbYs4j6Pus_zfXqHLcfPHMnC50Ls/img.jpg?width=980"/> <small class="image-media media-caption" placeholder="add caption..."></small> <small class="image-media media-photo-credit" placeholder="add photo credit...">Image via panda.org.cn</small> </p><p class="shortcode-media shortcode-media-rebelmouse-image"> <img class="rm-shortcode" data-rm-shortcode-id="1c436fddf73ba6008463ee0196ecce61" data-rm-shortcode-name="rebelmouse-image" id="15b7c" type="lazy-image" data-runner-src="https://assets.rebelmouse.io/eyJhbGciOiJIUzI1NiIsInR5cCI6IkpXVCJ9.eyJpbWFnZSI6Imh0dHBzOi8vYXNzZXRzLnJibC5tcy8xOTg0MTkwMy9vcmlnaW4uanBnIiwiZXhwaXJlc19hdCI6MTYyMzU0NjI3NH0.KWdjZuvcV7jRMqcOvDpAomo7G53HWQAICWMnVWKh7zo/img.jpg?width=980"/> <small class="image-media media-caption" placeholder="add caption..."></small> <small class="image-media media-photo-credit" placeholder="add photo credit...">Image via panda.org.cn</small> </p>