Articles
The magical festival that magically escaped state tax must now pay.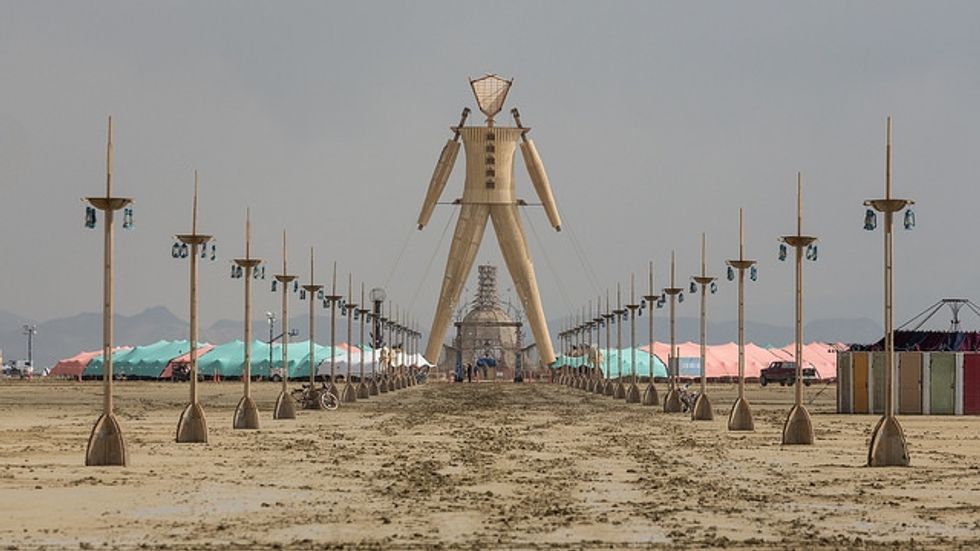 Image via Flickr user Duncan Rawlinson
Every year, over 60,000 people come to Burning Man for reasons that scientists have yet to understand. Tickets to this communal festival of radical self-expression hover around $390, and place a big drain on state resources. So Nevada decided to take action and impose a 9% tax on all of the state's large-ticket events, including Burning Man and The Electric Daisy Carnival. Festival organizers are not pleased.
<p>"Burning Man participants contribute more than $40 million annually to the Nevada economy," a spokesperson for the festival <a href="http://www.bbc.com/news/business-33001485">told the BBC</a>, adding, "They pay their fair share of sales and gas taxes, and they are tremendously supportive of local businesses." <a href="http://magazine.good.is/articles/burning-man-more-relevant-than-ever">Burning Man </a>estimates that the tax will cost them up to $2.8 million, and a spokesperson for The Electric Daisy Festival called the law "extremely detrimental." But lawmakers noted that, prior to the passage of the law, Burning Man enjoyed a <a href="https://fortune.com/2015/06/03/burning-man-tax/">wonderful little tax loophole</a>, and weren't subject to any government-mandated fees.</p><p>Burning Man lists "civic responsibility" as one of their ten guiding festival principles, so it'll be interesting to explore their resistance to "paying their taxes." But it's a big step forward for states seeking to profit from the festivals that profit from them. As of now, it's unclear if the cost of the tax will be passed onto the festival's fine-feathered friends, pictured in all their body-painted glory, below.</p><p class="shortcode-media shortcode-media-rebelmouse-image"> <img class="rm-shortcode" data-rm-shortcode-id="451e798cea8098340ada57f02368365a" data-rm-shortcode-name="rebelmouse-image" id="edd2c" type="lazy-image" data-runner-src="https://assets.rebelmouse.io/eyJhbGciOiJIUzI1NiIsInR5cCI6IkpXVCJ9.eyJpbWFnZSI6Imh0dHBzOi8vYXNzZXRzLnJibC5tcy8xOTg0MDc1Ni9vcmlnaW4uanBnIiwiZXhwaXJlc19hdCI6MTY0NzI4NjIxN30.YdlhsuQSNTzG-_6sjNLIsKXhe8GVUVmaOf5pWLIAyNI/img.jpg?width=980"/> <small class="image-media media-caption" placeholder="add caption..."></small> <small class="image-media media-photo-credit" placeholder="add photo credit...">Image via Flickr user Duncan Rawlinson</small> </p><p class="shortcode-media shortcode-media-rebelmouse-image"> <img class="rm-shortcode" data-rm-shortcode-id="5aacdc122956f2aa26b393e5c161bf08" data-rm-shortcode-name="rebelmouse-image" id="1a492" type="lazy-image" data-runner-src="https://assets.rebelmouse.io/eyJhbGciOiJIUzI1NiIsInR5cCI6IkpXVCJ9.eyJpbWFnZSI6Imh0dHBzOi8vYXNzZXRzLnJibC5tcy8xOTg0MDc1Ny9vcmlnaW4uanBnIiwiZXhwaXJlc19hdCI6MTY2MTYyNDk5OH0.4SHuF-jsNA1EasfCIxNTpYVClYRhRYfkhdfEq4VWSNk/img.jpg?width=980"/> <small class="image-media media-caption" placeholder="add caption..."></small> <small class="image-media media-photo-credit" placeholder="add photo credit...">Image via Flickr uer Neil Girling</small> </p><p class="shortcode-media shortcode-media-rebelmouse-image"> <img class="rm-shortcode" data-rm-shortcode-id="23e3ed59574298c322bdffe9a1e9a838" data-rm-shortcode-name="rebelmouse-image" id="9b001" type="lazy-image" data-runner-src="https://assets.rebelmouse.io/eyJhbGciOiJIUzI1NiIsInR5cCI6IkpXVCJ9.eyJpbWFnZSI6Imh0dHBzOi8vYXNzZXRzLnJibC5tcy8xOTg0MDc1OS9vcmlnaW4uanBnIiwiZXhwaXJlc19hdCI6MTY0MTEzNDUyMH0.qY3426THDaqcnJTdOXWA0cB28pE1iU2EdTeohEE7tMg/img.jpg?width=980"/> <small class="image-media media-caption" placeholder="add caption..."></small> <small class="image-media media-photo-credit" placeholder="add photo credit...">Image via Flickr user Neil Girling</small> </p><p class="shortcode-media shortcode-media-rebelmouse-image"> <img class="rm-shortcode" data-rm-shortcode-id="1628bcda06ea3f970d1d7a350039737a" data-rm-shortcode-name="rebelmouse-image" id="b92b9" type="lazy-image" data-runner-src="https://assets.rebelmouse.io/eyJhbGciOiJIUzI1NiIsInR5cCI6IkpXVCJ9.eyJpbWFnZSI6Imh0dHBzOi8vYXNzZXRzLnJibC5tcy8xOTg0MDc2Mi9vcmlnaW4uanBnIiwiZXhwaXJlc19hdCI6MTY0ODk3NzUyOH0.byMDEQDqeWnH7Nu3Bmtw9-CcUgHw57Yox3sF3MpVCv8/img.jpg?width=980"/> <small class="image-media media-caption" placeholder="add caption..."></small> <small class="image-media media-photo-credit" placeholder="add photo credit...">Image via Flickr user Neil Girling</small> </p><p class="shortcode-media shortcode-media-rebelmouse-image"> <img class="rm-shortcode" data-rm-shortcode-id="f5d4bd372726c3b4bc75f4dd532ee2e3" data-rm-shortcode-name="rebelmouse-image" id="3491c" type="lazy-image" data-runner-src="https://assets.rebelmouse.io/eyJhbGciOiJIUzI1NiIsInR5cCI6IkpXVCJ9.eyJpbWFnZSI6Imh0dHBzOi8vYXNzZXRzLnJibC5tcy8xOTg0MDc2MS9vcmlnaW4uanBnIiwiZXhwaXJlc19hdCI6MTYzOTg5MDgyNH0.7OybMurC7hTLGmH_m7dy7CoaNENHicOP_4lhKyRIpgI/img.jpg?width=980"/> <small class="image-media media-caption" placeholder="add caption..."></small> <small class="image-media media-photo-credit" placeholder="add photo credit...">Image via Flickr User Duncan Rawlinson</small> </p>