Articles
Has Burning Man Fallen On Its Sword?
The Burning Man Festival stumbles under its ever-growing weight.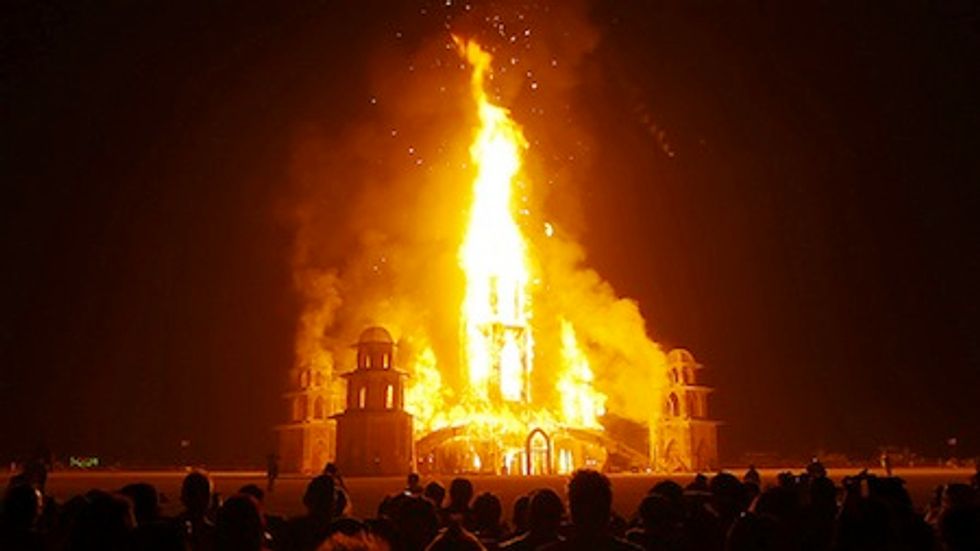 If you were standing in the vast expanse of Black Rock desert in northern Nevada last Thursday evening, you would have witnessed little else besides a pretty sunset. Funny, as it was the focus of a massive revolt.
---
Citizens of Black Rock City—the metropolis that rises in that desert for one week a year as the site of the magical fever dream that is Burning Man—were furious. That's a bit of a foreign attitude for the Burning Man community, whose commitment to "radical inclusion" (to welcome and respect all) results in a sense of cheery goodwill and laidback acceptance. Even stranger: The object of their ire was Burning Man itself—namely, the controversial new ticketing system implemented by administrators as a way to democratically handle ever-increasing demand for the gathering.
Last year, Burning Man sold all 53,000 tickets before the event—a first—using the first-come-first-serve methodology employed since the festival began. Back then, getting a ticket simply required a little bit of personal responsibility. This year, however, expectant Burners, even the saltiest veterans, were forced to enter a ticket lottery, surrendering their attendance to chance. With a crushing demand for tickets and a high initial value (original ticket prices range from $240 to $420, depending on the attendee's ability to pay), abuse was inevitable. Scalpers—who this author pictures as a cross between Gollum and Rush Limbaugh—began circling early, undoubtedly registering multiple times and boxing out genuine Burners.
Scalping is a cardinal sin in the Burning Man community. Burners nobly adhere to a code dictating the resale of tickets only at face value (or often less). Unsurprisingly, by the time the lottery wrapped late Thursday, most Burner communities were reporting that only about 25% of their members had been blessed with tickets. Messages of lament and fury swamped social media sites. Meanwhile, tickets immediately appeared on Stubhub and Ebay for double or triple their face value. Cue the slow-clap.
The problem, however, threatens to go deeper than just a logistical snafu. Burning Man is unique among festivals in that its main attraction is the community itself (unlike Coachella, which draws audiences based on a lineup). Burners are fanatical about that special week late in August, often putting thousands of their dollars and hours into creating incredible art projects, art cars, themed camps, and all things unexpected to make the event the experience that it is. Their participation and creative contributions are the beating heart of Burning Man, and with the failure of the lottery system, administrators have unwittingly placed the festival itself in jeopardy.
Indeed, some Burners have declared that their beloved festival has jumped the shark. As one Twitter user put it: "Burning Man sold out. These jokes write themselves."
Practical solutions suggested to Burning Man administrators before the lottery system was deployed, such as registering each ticket to an individual for resale only possible at face value on a proprietary website, were ignored. Yet organizers certainly have the assets to create such a system; income from 2011 ticket sales alone totalled over $18 million. Even after the failure of the lottery, organizers issued the naive response that between resales and the remaining 10,000 tickets released on March 28 for purchase, "things will work out." If this were a presidential campaign, that quote would appear in an opponent's attack ad the following day.
Burning Man administrators are still scrambling to find a real solution to the shortfall and the scalping. But with the lottery completed and Burners already outraged, any fix may be akin to striking up the band as the ship sinks. At best, Burning Man administrators will have lost the confidence of the faithful and learned a painful lesson. At worst, they'll face an open revolt that may be the beginning of the end. Let us hope that it is only the former, and that next year everything will be as it was.
Because yes, I got iced by the lottery.
Photo via (cc) Flickr user Ahmed ElHusseiny