Articles
How the singer's moody music video is helping create an astonishing sixty-eight story tower in one of Australia's biggest cities.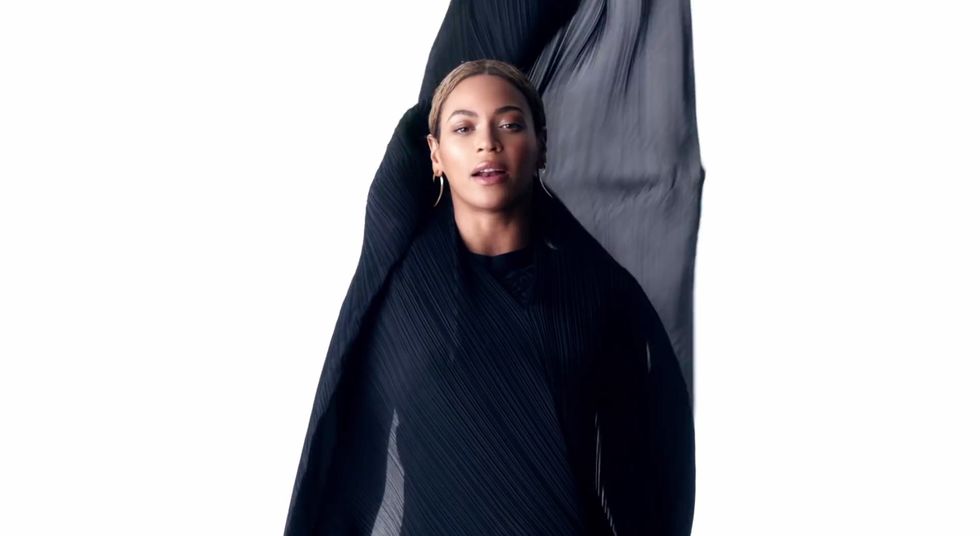 image via youtube screen capture
All hail queen Bey! Is there anything she can't do? Trailblazing pop star, feminist thinker, social justice supporter, freakishly always on beat meme-machine… Beyoncé Knowles-Carter is one of those rare icons who has been able to transcend her art form, and apply her celebrity toward any number of other lofty pursuits, inspiring legions of devoted fans along the way. And inspire them she has, including a team of architects who are using Beyoncé's notoriously curvaceous figure as the basis for their just-approved sixty-eight story skyscraper, set to tower over the streets of Melbourne, Australia in the near future.
<p class="shortcode-media shortcode-media-rebelmouse-image"> <img class="rm-shortcode" data-rm-shortcode-id="180d1699dbe770ff50aa626546336f88" data-rm-shortcode-name="rebelmouse-image" id="41e65" type="lazy-image" data-runner-src="https://assets.rebelmouse.io/eyJhbGciOiJIUzI1NiIsInR5cCI6IkpXVCJ9.eyJpbWFnZSI6Imh0dHBzOi8vYXNzZXRzLnJibC5tcy8xOTg0MTc1NS9vcmlnaW4uanBnIiwiZXhwaXJlc19hdCI6MTYyNDQzMzg3M30.B5Q4COr93fHeSMHuI43XXZNCjqt65dUvYZAFBArdyZU/img.jpg?width=980"/> <small class="image-media media-caption" placeholder="add caption..."></small> <small class="image-media media-photo-credit" placeholder="add photo credit...">image via elenberg frasier</small> </p><p>At seven hundred and forty feet tall, the Premiere Tower will feature graceful swells and curves in frozen undulation along the side of its massive facade. As a mixture of architectural prowess and aesthetic beauty, the tower would be interesting in its own right, but it's the building's R&amp;B roots which make it truly unique. <a href="http://elenbergfraser.com/">Elenberg Fraser</a>, the design firm behind the skyscraper, <a href="http://elenbergfraser.com/#!/project/13012_premier-tower">explains</a> on their website: </p><blockquote><p>The complex form – a vertical cantilever – is actually the most effective way to redistribute the building's mass, giving the best results in terms of structural dispersion, frequency oscillation and wind requirements. Art and science? You betcha. For those more on the art than science side, we will reveal that the form does pay homage to something more aesthetic – we're going to trust you've seen the music video for <a href="https://www.youtube.com/watch?v=aY9vZv7HCvo&amp;list=UU9zX2xZIJ4cnwRsgBpHGvMg" target="_blank" title="Beyonce Ghost">Beyoncé's Ghost</a>.</p></blockquote><p class="shortcode-media shortcode-media-rebelmouse-image"> <img class="rm-shortcode" data-rm-shortcode-id="8e21dd73ce358ea41d743cec30de367f" data-rm-shortcode-name="rebelmouse-image" id="84450" type="lazy-image" data-runner-src="https://assets.rebelmouse.io/eyJhbGciOiJIUzI1NiIsInR5cCI6IkpXVCJ9.eyJpbWFnZSI6Imh0dHBzOi8vYXNzZXRzLnJibC5tcy8xOTg5MzMxMC9vcmlnaW4uanBnIiwiZXhwaXJlc19hdCI6MTU5NTc5NjM1Nn0.zS2QG7_ZDD9S82VSamiRlSJsTwCBmT173Kg_YegiXek/img.jpg?width=980"/> <small class="image-media media-caption" placeholder="add caption..."></small> <small class="image-media media-photo-credit" placeholder="add photo credit...">image via elenberg frasier</small> </p><p><span class="rm-shortcode" data-rm-shortcode-id="04e246ca4840e4d71dc5169034b745f2" style="display:block;position:relative;padding-top:56.25%;"><iframe frameborder="0" height="auto" type="lazy-iframe" scrolling="no" data-runner-src="https://www.youtube.com/embed/aY9vZv7HCvo?start=23&amp;rel=0" style="position:absolute;top:0;left:0;width:100%;height:100%;" width="100%"></iframe></span></p><p>See the resemblance? </p><p><em>Dezeen</em> <a href="http://www.dezeen.com/2015/07/06/premiere-tower-beyonce-inspired-skyscraper-melbourne-elenberg-fraser/">points out</a> that the Premiere Tower would not be the first mega-structure to be compared to someone notable. The <a href="http://www.dezeen.com/2012/12/12/absolute-towers-by-mad/">Absolute Towers in Mississauga, Canada</a>, have been dubbed the "Marilyn Monroe" towers by locals, due to their shapely structure calling to mind the iconic actress. The Premier Tower, however, seems to be the first structure of this sort to deliberately pay direct visual homage to a celebrity. </p><p>The Premiere Tower does not currently have a set construction date. Once completed, though, it will be home to over six hundred residences, as well as a 160-room hotel. The tower is also being built with an eye on the surrounding neighborhood. <a href="http://elenbergfraser.com/#!/project/13012_premier-tower">Writes</a> Elenberg Frasier: "[...]the whole precinct is designed with a more long-term view to urban design, creating a self-sustaining development. With three street frontages the building's podium steps down from the tower's lofty heights to respond to its heritage surrounds."</p><p>As cities around the world contemplate how new building additions might affect their skylines, and as advancements in building techniques afford architects further measures of creativity in their designs, perhaps we will one day find ourselves surrounded by more and more celebrity-inspired structures. And if the Premiere Tower becomes the first in this future line of constructional homages to our icons? Well, it'll be just one more example of Beyoncé leading the way. </p><p style="text-align: right;">[<em>via <a href="http://www.dezeen.com/2015/07/06/premiere-tower-beyonce-inspired-skyscraper-melbourne-elenberg-fraser/">dezeen</a></em>]</p>