Articles
For the past three years, The Daily Show host has secretly trained vets on the ins and outs of the entertainment game.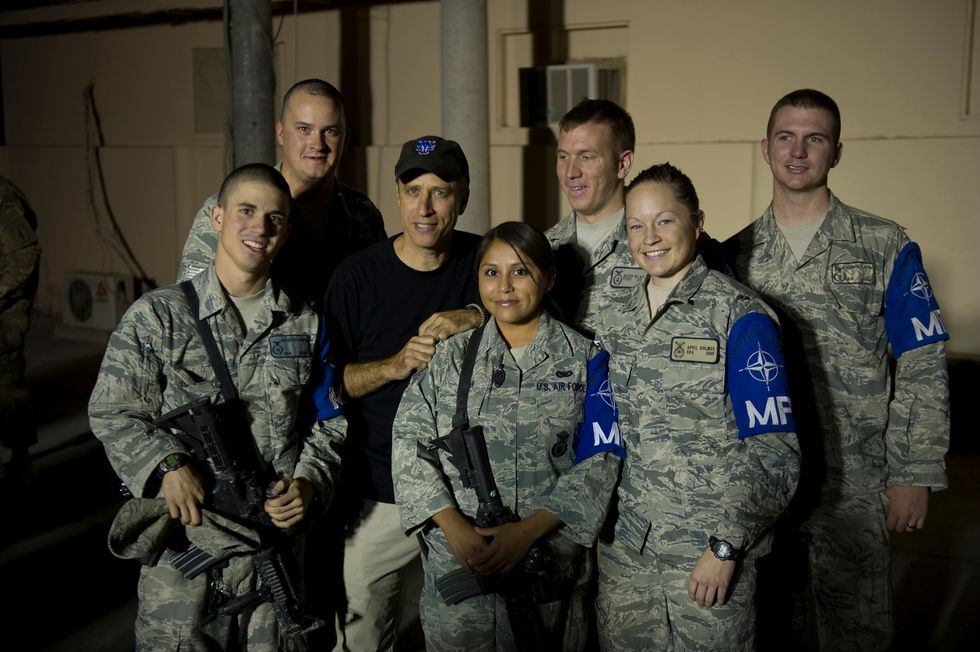 image via (cc) flickr user thejointstaff
Despite being a longstanding, and particularly vocal, critic of the wars in both Iraq and Afghanistan, Daily Show host Jon Stewart has long been an equally vocal supporter of those who serve in our country's armed forces. He's performed for the troops in Afghanistan, visited wounded vets at military hospitals, and is even the recipient of the United Service Organization's Merit Award. For someone so publicly opposed to the last decade's worth of major military action, Stewart has remained remarkably steadfast in his commitment to men and women in uniform. While Stewart has never hidden his respect and admiration for this country's soldiers, the degree to which he has actively supported them not only as an entertainer, but also as a personal mentor and career counselor is just beginning to be brought to light.
<p><em>The New York Times</em> <a href="http://www.nytimes.com/2015/05/26/arts/television/jon-stewart-iraq-war-critic-runs-a-program-that-helps-veterans-enter-tv.html?smid=fb-nytimes&amp;smtyp=cur&amp;bicmp=AD&amp;bicmlukp=WT.mc_id&amp;bicmst=1409232722000&amp;bicmet=1419773522000">reveals</a> that, for the past three years, the outgoing <em>Daily Show</em> host has been privately running a five-week crash course designed to help military veterans break into the seemingly impenetrable television industry. Only now, with his departure from Comedy Central looming, has Stewart made public his efforts to train and place vets in the TV biz, all in the hopes that others in positions similar to his will do the same. As he <a href="http://www.nytimes.com/2015/05/26/arts/television/jon-stewart-iraq-war-critic-runs-a-program-that-helps-veterans-enter-tv.html?smid=fb-nytimes&amp;smtyp=cur&amp;bicmp=AD&amp;bicmlukp=WT.mc_id&amp;bicmst=1409232722000&amp;bicmet=1419773522000">told</a> the <em>Times</em>' Dave Philipps: "This is ready to franchise. Please steal our idea. It isn't charity. To be good in this business you have to bring in different voices from different places, and we have this wealth of experience that just wasn't being tapped."</p><p class="shortcode-media shortcode-media-rebelmouse-image"> <img class="rm-shortcode" data-rm-shortcode-id="1b4e05ba663915105ac8afc04eabc373" data-rm-shortcode-name="rebelmouse-image" id="e5c0b" type="lazy-image" data-runner-src="https://assets.rebelmouse.io/eyJhbGciOiJIUzI1NiIsInR5cCI6IkpXVCJ9.eyJpbWFnZSI6Imh0dHBzOi8vYXNzZXRzLnJibC5tcy8xOTg0MDQwNi9vcmlnaW4uanBnIiwiZXhwaXJlc19hdCI6MTU5NjY5ODYyNX0.AbdTCnc_PWvf62INtbWnakCxEI2jMjZKZhn1yOIAuto/img.jpg?width=980"/> <small class="image-media media-caption" placeholder="add caption..."></small> <small class="image-media media-photo-credit" placeholder="add photo credit...">image via (cc) flickr user thejointstaff</small> </p><p><em>The Times</em> explains that after being approached by a nonprofit mentoring program about possibly finding a job in television for a veteran in 2013, Stewart instead turned to his <em>Daily Show</em> team, and created an in-depth boot camp to train former members of the armed services on the various ins and outs of TV. Many veterans, who are instead typically connected with government or corporate jobs upon completing their military service, often find the industry closed to them. But, Stewart himself has put his money where his mouth is, hiring several veterans on his staff, including, reports <em>The Times</em>, <em>Daily Show</em> production coordinator and warm-up comedian Justine Cabulong.</p><p>Stewart is certainly not alone in his efforts to help veterans break into the entertainment industry. Groups such as <a href="http://www.gotyour6.org/">Got Your 6</a> have long relied on supporters within the entertainment industry to help normalize impressions of military veterans as civic leaders and productive community members through depictions in film and television. Stewart, however, seems unique in his ability to balance his very public opposition to recent military action with a (no longer) private commitment to those soldiers whose boots were on the ground. It's a heartening reminder that behind his comedic bluster, and away from his televised soap-box, Stewart is keenly aware of how to use his celebrity for a worthwhile cause, not just a punch line. </p><p>This is just the latest in a series of recent insights into Stewart's life and post-<em>Daily Show</em> plans. Earlier this year it was reported that Jon and his wife Tracey had <a href="http://magazine.good.is/articles/jon-stewart-farm-animal-rescue-sanctuary-after-daily-show">purchased a farm</a>, on which they planned to run an animal sanctuary. </p>