Articles
Coca-Cola's 1971 "Hilltop" ad helped redefine the soda for a new generation. Now, doctors hope their version can do the same.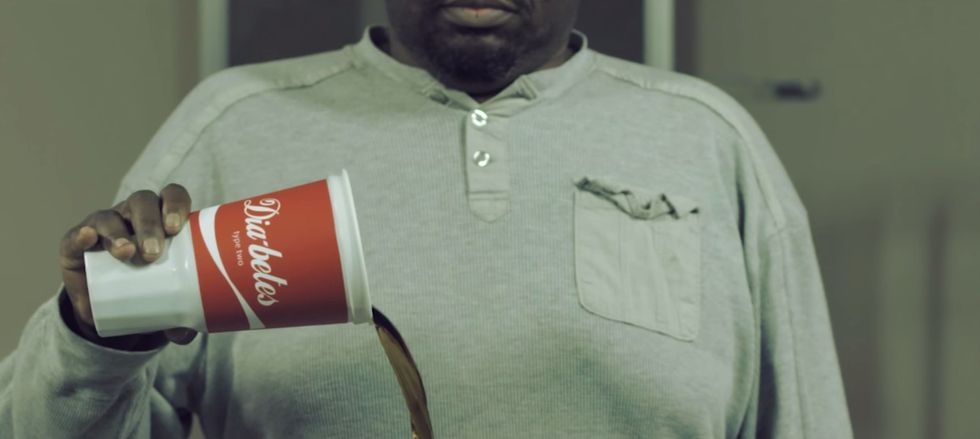 image via youtube screen capture
When it first aired in 1971, Coca-Cola's "Hilltop" ad was the most expensive commercial ever recorded, launching not only the careers of The Hillside Singers, but also a new era in advertising altogether. It has since gone down in history as one of the most effective commercials of all time, earning both industry accolades, and a coveted spot as the ultimate Don Draper creation in the final moments of TV's Mad Men. Armed with a message of global feel-good-ness and an impossibly catchy jingle, Coke's Hilltop commercial sold more than just bottles of pop (though it sold plenty of those)—it sold a lifestyle in which the product became synonymous with multi-cultural good vibes. And who wouldn't want to get some of that?
<p><span class="rm-shortcode" data-rm-shortcode-id="21895edf04b2380834e86c136823efec" style="display:block;position:relative;padding-top:56.25%;"><iframe frameborder="0" height="auto" type="lazy-iframe" scrolling="no" data-runner-src="https://www.youtube.com/embed/1VM2eLhvsSM?rel=0" style="position:absolute;top:0;left:0;width:100%;height:100%;" width="100%"></iframe></span></p><p>Now, over 40 years after "Hilltop" first splashed itself across our TV screens and into our hearts, a new video from the <a href="http://cspinet.org/">Center for Science in the Public Interest</a> is hoping their take of Coke's iconic ad can sell a very different sort of lifestyle. Their version isn't about how good a can of pop can make you feel, quite the opposite, in fact. Dubbed "Change The Tune," CSPI's video uses Coke's familiar melody and visuals to highlight, often with brutal frankness, the extreme health risks associated with the high sugar levels found in most sodas. </p><p><span class="rm-shortcode" data-rm-shortcode-id="509876f9fd03e2063b3c05da6a433920" style="display:block;position:relative;padding-top:56.25%;"><iframe frameborder="0" height="auto" type="lazy-iframe" scrolling="no" data-runner-src="https://www.youtube.com/embed/3F1U95v0JPs?rel=0" style="position:absolute;top:0;left:0;width:100%;height:100%;" width="100%"></iframe></span></p><p>CSPI executive director Michael F. Jacobson explains in a <a href="http://cspinet.org/new/201506231.html">statement</a> accompanying the video:</p><blockquote><p>"For the past 45 years, Coca-Cola and other makers of sugar drinks have used the most sophisticated and manipulative advertising techniques to convince children and adults alike that a disease-promoting drink will make them feel warm and fuzzy inside. It's a multi-billion-dollar brainwashing campaign designed to distract us away from our diabetes with happy thoughts. We thought it was time to change the tune."</p></blockquote><p>Indeed, the health risks associated with habitual, excessive soda ingestion are both frightening and all too real. Harvard's School of Public Health <a href="http://www.hsph.harvard.edu/nutritionsource/healthy-drinks/soft-drinks-and-disease/">warns</a> that soda drinkers risk increased odds of developing heart disease, diabetes, and can be almost 75 percent more likely to develop gout. Dr. Jeffrey Gerber, who appears in the CSPI spoof, <a href="http://cspinet.org/new/201506231.html">concurs</a>: </p><blockquote><p>"Soda is just one of several contributors to diet-related disease, but it's a major one. As a physician who asks all of my patients about the foods and drinks they choose, I see the connection between soda consumption and chronic conditions like diabetes, heart disease, and obesity every day of the week. It's hard to ask patients to practice moderation when all of the advertising, marketing, and overall ubiquity of soda rewires people to overconsume sugary drinks."</p></blockquote><p>It should be noted that this is not the first time CSPI has turned Coke's own iconography against itself. In 2012 the group released a short animated video called "The Real Bears," in which a familiar family of animated polar bears show the grim realities of living with sugar-related health problems. </p><p><span class="rm-shortcode" data-rm-shortcode-id="6fb290b7e17f5f23999ece6d27327ceb" style="display:block;position:relative;padding-top:56.25%;"><iframe frameborder="0" height="auto" type="lazy-iframe" scrolling="no" data-runner-src="https://www.youtube.com/embed/myxwCEGcBYc?rel=0" style="position:absolute;top:0;left:0;width:100%;height:100%;" width="100%"></iframe></span> </p><p>While the debate over whether it's "soda," or "pop" continues to rage, no matter what you call your sugary, carbonated beverage, you're probably better off just going with water, instead. </p><p style="text-align: right;">[<em>via <a href="http://adage.com/article/cmo-strategy/alex-bogusky-takes-coke-hilltop-ad-spoof/299164/">adage</a></em>]</p>