Articles
"If you go to any beach on the globe, there are plastics on it," says the CEO of Surfrider Foundation. He's on a mission to clean our coasts.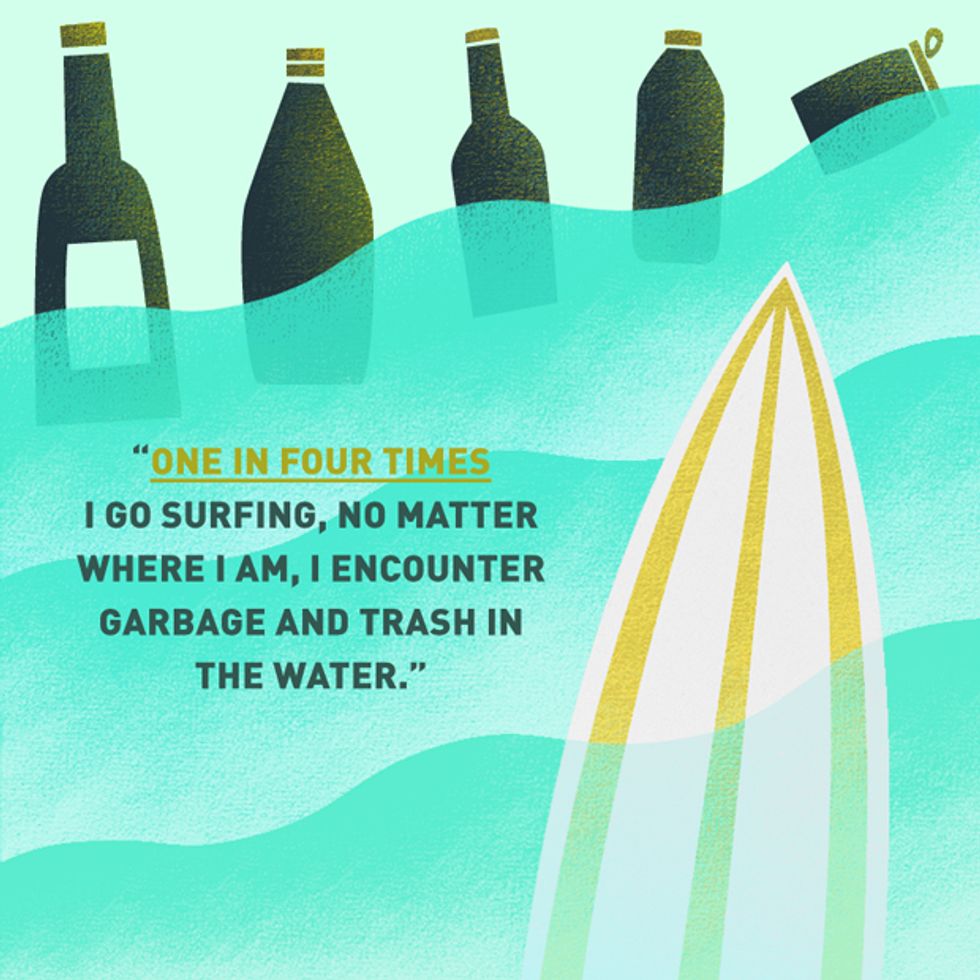 This content is brought to you by GOOD, with support from IBM. Click here to read more stories from The Fact That Changed Everything series and here to read about other Figures of Progress.
When Jim Moriarty began surfing around 1995, he noticed a big difference between riding waves and skateboarding. "When you skateboard, you choose the piece of concrete you want to be on, but when you surf, you don't choose the condition or the health of the water—you're immersed in it," Moriarty says.
<p> One day when he went surfing, he dove down into the water and when he rose back up he found a candy wrapper stuck to him. "That's when you have to ask, 'How did this get here, and how can I fix this problem?'" Determined to be a part of the solution, he joined <a href="http://surfrider.org/">Surfrider Foundation</a> as a member in 1998, and became CEO in 2005.</p><p> To this day, one out of every four times Moriarty goes surfing, no matter where he might be, he encounters pieces of trash and plastics in the water. "I routinely come back with plastics that I stuff in my wetsuit," he says. This simple objective of clean coasts and beaches is what inspires Moriarty each day. "It's the current that rides through everyone involved at Surfrider—that this water should be clean but it's not, and I should do something about it."</p><p> The mission to protect coastlines, beaches and waves has not changed since three people founded Surfrider in 1984 to preserve the First Point wave, an iconic and beloved wave in Malibu that was set to be destroyed. Through organization and meetings with the Malibu City Council, Surfider eventually succeeded <a href="http://www.surfrider.org/jims-blog/entry/what-does-it-mean-to-protect-a-wave2">in protecting and preserving First Point</a>.</p><p class="shortcode-media shortcode-media-rebelmouse-image"> <img class="rm-shortcode" data-rm-shortcode-id="b09b0830415317316063c6bb8b08f08b" data-rm-shortcode-name="rebelmouse-image" id="714b0" type="lazy-image" data-runner-src="https://assets.rebelmouse.io/eyJhbGciOiJIUzI1NiIsInR5cCI6IkpXVCJ9.eyJpbWFnZSI6Imh0dHBzOi8vYXNzZXRzLnJibC5tcy8xOTgxOTc1NC9vcmlnaW4uanBnIiwiZXhwaXJlc19hdCI6MTYyMjEzMDczNX0.Uw6kjEvy3PoELQzPAJWkFZuAPxM15D9u6mmWqMtU0B4/img.jpg?width=980"/> <small class="image-media media-caption" placeholder="add caption..."></small> <small class="image-media media-photo-credit" placeholder="add photo credit..."></small> </p><p> "In a sense, nothing has changed since then," Moriarty says. "We're still fighting for conservation of the coast, and doing that via engaging people and organizing activists." The volunteer-fueled organization has 85 chapters in 18 different countries. In the US and Canada, various local chapters are currently running 89 active campaigns, ranging from banning or charging for single-use plastic bags in various cities, including <a href="http://www.surfrider.org/campaigns/entry/chicago-bag-ban">Chicago</a>, <a href="http://www.surfrider.org/campaigns/entry/city-of-santa-cruz-bag-ban">Santa Cruz, California</a>, and <a href="http://www.surfrider.org/campaigns/entry/galveston-tx-bring-the-bag-campaign">Galveston, Texas</a>; fighting development that will <a href="http://www.surfrider.org/campaigns/entry/asbury-park-nj-keep-north-beach-a-beach">decrease public access to beaches in Asbury Park, New Jersey</a>; or petitioning for right-to-know legislation that <a href="http://www.surfrider.org/campaigns/entry/stop-sewage-dumping-in-reynolds-channel-long-beach-ny">requires agencies to report raw sewage spills or discharge violations, as in Central Long Island, New York</a>.</p><p> The 28-year-old organization has been affected by one change: The rise of the Internet and social media platforms such as Twitter, which have made outreach and recruiting volunteers easier. "The Internet now allows us to engage with up to 100,000 people a month. It has really further enabled our efforts in bringing people together—it's an amplifier and an accelerator," Moriarty says. </p><p> Despite successful campaigns and support, the battle for clean coasts continues. "More and more people are aware of how personal habits impact beautiful places like our oceans, but what's disconcerting is that if you go to any beach on the globe, there are plastics on it," he says.</p><p> He believes the farther you go away from development, the worse the trash is. "Places like Miami have pristine beaches because there's a general level of awareness, but when you're snorkeling in the Maldives, you'll see a plastic bag."</p><p> The focus now more than ever is on connecting with more people: "We absolutely want to engage with as many people as possible—millions and millions of people—and ask them to use less plastic, not dump their oils down the drain, and shift their consumer habits. This is the change I want to see," he says.</p><br/>