Articles
Is in-flight mindfulness the right tool to soothe the fear of flying?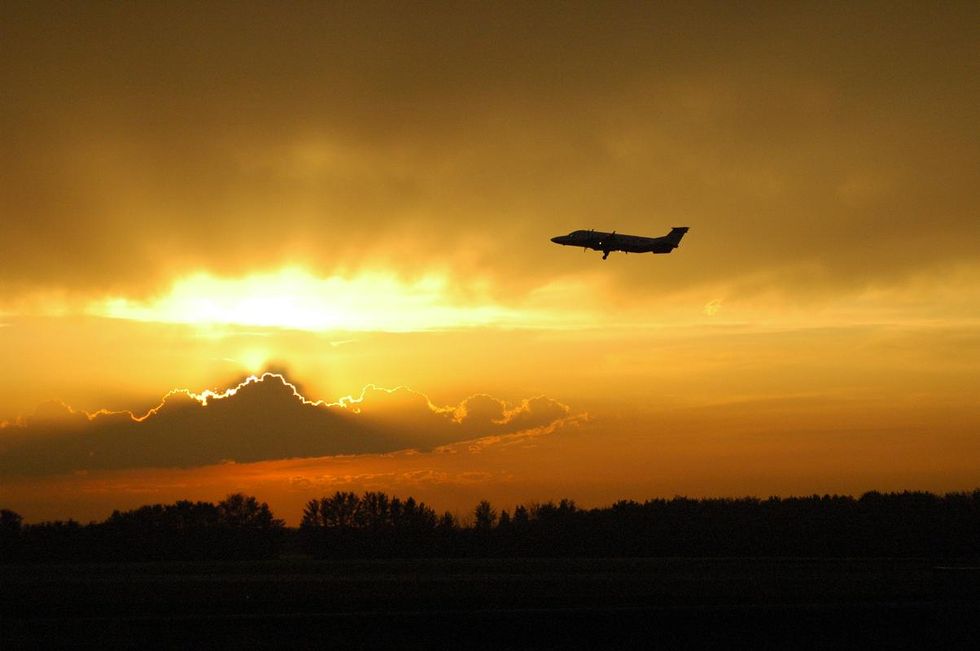 image via (cc) flickr user two8five
I feel sorry for anyone stuck sitting next to me on a flight (usually my wife). I am not, in general, particularly great on airplanes. Something about the combined indignities of airport security (stand in line, take your shoes off, get a pat down, put your shoes on, stand in another line) coupled with my body's atavistic rejection of being 30,000 feet above ground turns me into a white-knuckled wreck the moment my plane hits the slightest hint of choppy air. I know airplanes are safe. I know the anxiety is entirely in my head. But try as I might, I simply can't relax on airplanes.
<p>Thankfully, my days of mid-air panic attacks may be coming to an end. </p><p>British Airways, <a href="http://www.psfk.com/2015/05/british-airways-in-flight-meditation-program-afraid-of-flying.html">reports</a> <em>PSFK</em>, has begun testing a triptych of mindfulness meditation videos to be watched by nervous passengers, in the hopes of calming their frazzled flying nerves. The videos, made in partnership with <a href="http://themindfulnessinstitute.com/">The Mindfulness Institute</a>, apply meditative techniques to the uniquely nerve-wracking experience of air travel by incorporating the feelings of flying into the mindfulness exercises.</p><p>Each video is just a few minutes long, and features Mindfulness Institute founder <a href="http://themindfulnessinstitute.com/our-team/">Mark Coleman</a> leading a series of guided meditations that help passengers center themselves and "<a href="http://www.britishairways.com/en-gb/information/health-and-wellbeing">set a positive tone for the rest of [their] trip.</a>" According to <em>PSFK, </em>the videos will be available to travelers via the in-flight entertainment systems found on British Airways' planes. </p><p>There's one for boarding:</p><p><span class="rm-shortcode" data-rm-shortcode-id="394aa034466156434850a68938c0e4cb" style="display:block;position:relative;padding-top:56.25%;"><iframe frameborder="0" height="auto" type="lazy-iframe" scrolling="no" data-runner-src="https://www.youtube.com/embed/K39GMZqbRLo?rel=0" style="position:absolute;top:0;left:0;width:100%;height:100%;" width="100%"></iframe></span></p><p>Mid-flight:</p><p><span class="rm-shortcode" data-rm-shortcode-id="6598ba6c87ff3ea87ef3369d0c77fc6f" style="display:block;position:relative;padding-top:56.25%;"><iframe frameborder="0" height="auto" type="lazy-iframe" scrolling="no" data-runner-src="https://www.youtube.com/embed/zJs2EF5M5W8?rel=0" style="position:absolute;top:0;left:0;width:100%;height:100%;" width="100%"></iframe></span></p><p>And preparing to land:</p><p><span class="rm-shortcode" data-rm-shortcode-id="db97af42baed0bfc5865eedfe5ec7f63" style="display:block;position:relative;padding-top:56.25%;"><iframe frameborder="0" height="auto" type="lazy-iframe" scrolling="no" data-runner-src="https://www.youtube.com/embed/y8w0qn2etX8?rel=0" style="position:absolute;top:0;left:0;width:100%;height:100%;" width="100%"></iframe></span></p><p>The videos are part of British Airways' ongoing efforts to calm the nerves of freaked out fliers. The airline also <a href="http://www.britishairways.com/en-gb/information/health-and-wellbeing">offers tips</a> for healthy eating, drinking, and relaxation exercises to ease the experience of air travel. There's even a <a href="http://www.britishairways.com/en-gb/information/special-assistance/flying-with-confidence">dedicated course</a>, led by airline crew along with a clinical psychologist, to help travelers overcome the most extreme cases of flying phobia. </p><p>Of course, there may be only so much "centering" a person can do before the realities of air travel burst their serene bubble. What's more, the very practice of mindfulness may contain within it <a href="http://magazine.good.is/articles/when-meditation-is-bad-for-you">unexpected psychological effects</a>. Still, for airline passengers, such as myself, who have a hard time calming their anxieties the moment they break the bonds of gravity, a little guided meditation (and maybe an in-flight drink drink or two) could make a world of difference. </p>