Articles
British toymaker Makies gives kids a way to play with toys that reflect a more inclusive reality.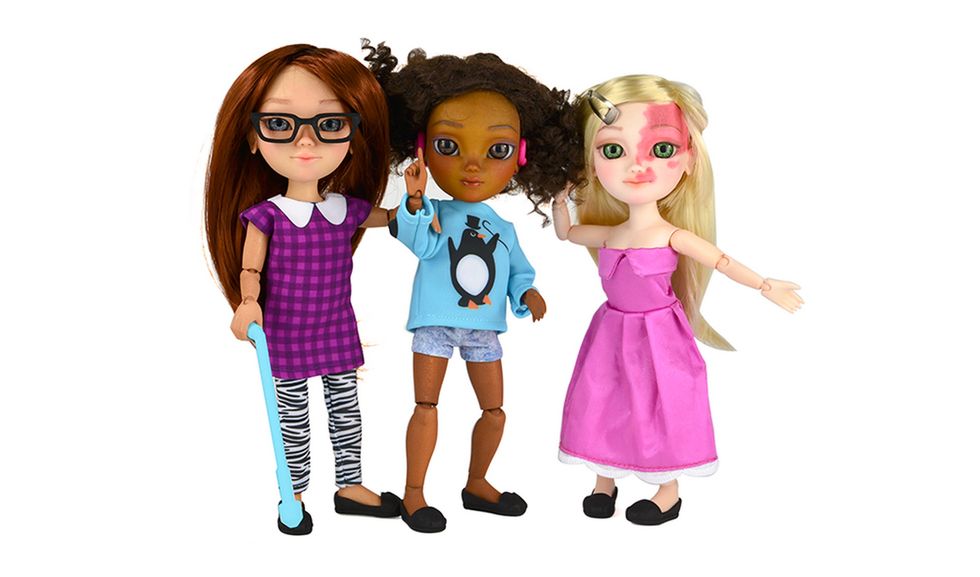 Image via MyMakie.com
Childhood toys straddle a strange line between "encouraging fantasy" and "reflecting reality." Ideally, a toy—especially an action figure or doll—should both inspire unbounded flights of imagination, while still being realistic and recognizable enough that a child playing with it can form some sort of attachment to the toy. That can be a tough needle to thread, and more often than not, toymakers count on the former trumping the latter, opting not to produce toys that accurately depict the full spectrum of shapes, colors, and physical features that kids likely see every day in their friends, family, and community.
<p>Thanks to British toymaker <a href="https://mymakie.com">Makies</a>, children playing with its line of 3D-printable dolls will be able to accessorize the toys with small but significant elements such as walking canes, hearing aids, and even birthmarks. Explains Makies in a <a href="https://mymakie.com/blog/2015-05-13/alice-toy-like-me/">blog post</a> published last week: </p><p class="shortcode-media shortcode-media-rebelmouse-image"> <img class="rm-shortcode" data-rm-shortcode-id="4571b9eef8b7845d623c547bd06deabc" data-rm-shortcode-name="rebelmouse-image" id="e5b18" type="lazy-image" data-runner-src="https://assets.rebelmouse.io/eyJhbGciOiJIUzI1NiIsInR5cCI6IkpXVCJ9.eyJpbWFnZSI6Imh0dHBzOi8vYXNzZXRzLnJibC5tcy8xOTg5MDk4Ni9vcmlnaW4uanBnIiwiZXhwaXJlc19hdCI6MTY0MDU0MjMxOH0.8eH4tDcDu49ADAECMkVhZi6z4GmAk9QEDLfnhe0mEFc/img.jpg?width=980"/> <small class="image-media media-caption" placeholder="add caption..."></small> <small class="image-media media-photo-credit" placeholder="add photo credit...">Image via MyMakie.com</small> </p><blockquote><p>In recent weeks, the <a href="https://www.facebook.com/toylikeme">Toy Like Me</a> Facebook campaign (#toylikeme) has rallied for greater 'diversity in the toy box', calling for toys that reflect children in more inclusive ways than the market currently offers. Toy Like Me's Facebook posts of toy 'makeovers' by parents of disabled children have been widely shared, reaching an audience of 50,000 and rising - thanks to enthusiastic support from parents eager for positive representation of disability in toys. <br/><br/>British-based toy developer MakieLab has responded to the call by creating a selection of Makie doll-sized impairment aids and accessories, using 3D printing to deliver them within days of demand.<br/><br/></p></blockquote><p>Toy Like Me is a growing, grassroots movement, in which "parents of disabled kids makeover toys in call for better representation and diversity in the toy box," according to their <a href="https://www.facebook.com/toylikeme/timeline">Facebook page</a>. The toy hacks created by these crafty parents are truly impressive, but it's one thing for a few people here and there to modify existing products. It's quite another for an entire company to address the issue of diversity in the toy industry head-on.</p><p>Makies, whose line of 3D-printed toys is predicated on hyper-customization, was in a unique position to respond to the Toy Like Me campaign. Here's Makies CTO Matthew Wiggins, in the same blog post: </p><p class="shortcode-media shortcode-media-rebelmouse-image"> <img class="rm-shortcode" data-rm-shortcode-id="55b286eb0edcc626431f5227f5907ef7" data-rm-shortcode-name="rebelmouse-image" id="cc04f" type="lazy-image" data-runner-src="https://assets.rebelmouse.io/eyJhbGciOiJIUzI1NiIsInR5cCI6IkpXVCJ9.eyJpbWFnZSI6Imh0dHBzOi8vYXNzZXRzLnJibC5tcy8xOTg0MDExOC9vcmlnaW4uanBnIiwiZXhwaXJlc19hdCI6MTYxNDExMDk2N30.mPXUYnJ0-Ua5_cRtD5hF-Yb1Uqd3PRfTmz2TMfOZptI/img.jpg?width=980"/> <small class="image-media media-caption" placeholder="add caption..."></small> <small class="image-media media-photo-credit" placeholder="add photo credit...">Image via MyMakie.com</small> </p><blockquote><p>"It's fantastic that our supercharged design and manufacturing process means we can respond to a need that's not met by traditional toy companies. We're hoping to make some kids—and their parents!—really happy with these inclusive accessories."</p></blockquote><p>Responses to Makies' new rollout have been uniformly positive. The company's <a href="https://www.facebook.com/OfficialMakies/photos/a.135094373232667.32509.124667857608652/937359713006125/?type=1&amp;theater">Facebook page</a> has been flooded with comments from people praising the company as well as suggestions for future inclusive accessories, such as wheelchairs (Makies <a href="https://www.facebook.com/OfficialMakies/photos/a.135094373232667.32509.124667857608652/937359713006125/?type=1&amp;comment_id=939290349479728&amp;reply_comment_id=939299966145433&amp;total_comments=2&amp;comment_tracking=%7B%22tn%22%3A%22R9%22%7D">says</a> they're working on that now), cochlear implants and insulin pumps. </p><p>While Makies' effort is truly wonderful, it's but a single step toward a larger goal of more wide-ranging representation in toys. Still, as far as single steps go, this is a great one, headed firmly in the right direction. </p><p style="text-align: right;">[<em>via <a href="http://designtaxi.com/news/375821/3D-Printed-Dolls-With-Disabilities-Come-With-Walking-Sticks-Hearing-Aids-Scars/">design taxi</a></em><a href="http://designtaxi.com/news/375821/3D-Printed-Dolls-With-Disabilities-Come-With-Walking-Sticks-Hearing-Aids-Scars/">]</a></p>