Articles
The minds behind Project M and the B-Cycle bike sharing program are joining forces to start a business incubator for social entrepreneurs.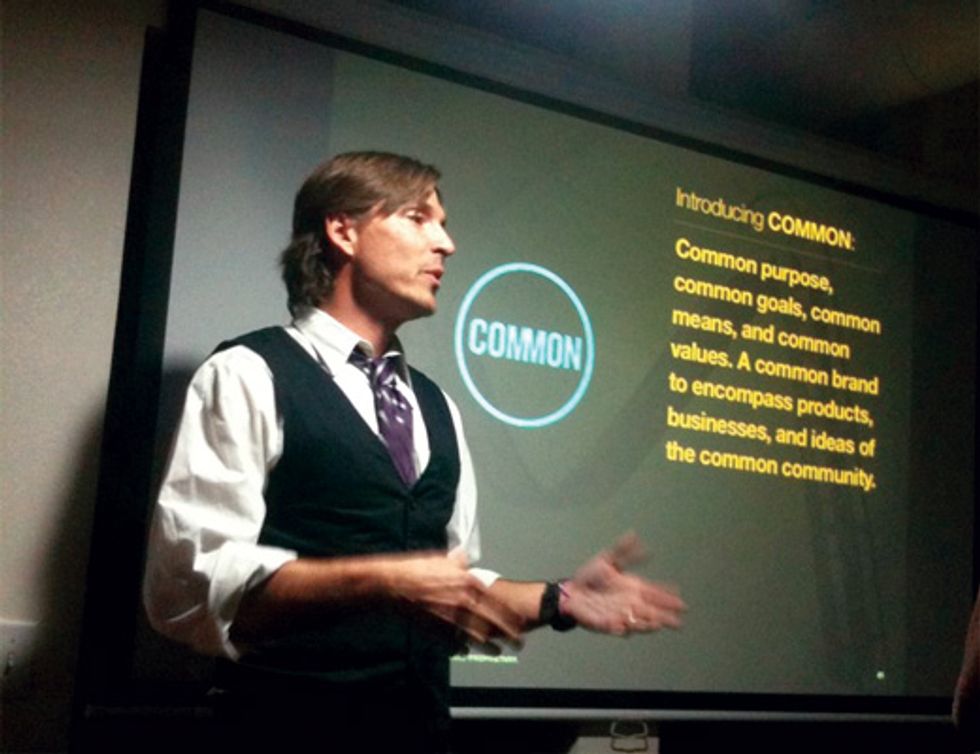 John Bielenberg and Alex Bogusky are two creative bigwigs who left behind the traditional ad and design worlds to do their own thing. One thinks wrong and one is all about thinking fearlessly. They've both been spending plenty of time in Boulder, Colorado. So it was really only a matter of time before they started working together. Yesterday, Bielenberg and Bogusky announced
COMMON
, part business incubator, part creative community that they say can foster a "new brand of capitalism."
<p> Bogusky, creative mind behind both the <a href="http://www.bcycle.com/">B-Cycle bike sharing systems</a> and those<a href="http://www.bk.com/"> creepy Burger King ads</a>, left his post at ad agency <a href="http://www.cpbgroup.com/#/">Crispin Porter + Bogusky</a> last year to start <a href="http://fearlessrevolution.com/">The FearLess Cottage</a> with Rob Schuham, head of the marketing agency <a href="http://www.action-marketing-group.com/">AMG</a> and founder of think tank <a href="http://undercurrent.com/">Undercurrent</a>. Now the duo has teamed with Bielenberg, who started the global design collective <a href="http://www.projectmlab.com">Project M</a>, creators of <a href="http://www.pielab.org">PieLab</a>, <a href="http://www.buyameter.org">Buy a Meter</a>, and design interventions from <a href="http://www.youtube.com/watch?v=pU9hTSD8fQQ&amp;eurl">Iceland</a> to <a href="http://projectm09detroit.blogspot.com/">Detroit</a>. COMMON hopes to take the entrepreneurial, startup mentality of FearLess and apply it to Project M's approach of "thinking wrong" to arrive at powerful creative solutions.</p><p class="shortcode-media shortcode-media-rebelmouse-image"> <img class="rm-shortcode" data-rm-shortcode-id="ed778b28b3ea9f425e98222d710cf2b7" data-rm-shortcode-name="rebelmouse-image" id="8de20" type="lazy-image" data-runner-src="https://assets.rebelmouse.io/eyJhbGciOiJIUzI1NiIsInR5cCI6IkpXVCJ9.eyJpbWFnZSI6Imh0dHBzOi8vYXNzZXRzLnJibC5tcy8xOTg0ODQyOS9vcmlnaW4uanBnIiwiZXhwaXJlc19hdCI6MTYxNTE5MjUwOH0.O2oNdpanqdjRgY5JVe0iX8qGJA_cVKB_z3Dr9APYJY4/img.jpg?width=980"/> <small class="image-media media-caption" placeholder="add caption..."></small> <small class="image-media media-photo-credit" placeholder="add photo credit..."></small> </p><p> At the core of COMMON is collaboration, Bielenberg says. Like Project M, which gathers small groups of design thinkers for intense bursts of problem solving, COMMON will bring together people who can rapidly prototype solutions for social problems. Projects will be treated and conceived as small startups in publicly-facing "out-cubators" (not "in"-cubators, get it?).</p><p class="shortcode-media shortcode-media-rebelmouse-image"> <img class="rm-shortcode" data-rm-shortcode-id="99b3e4e1299c50b222415a17c761a054" data-rm-shortcode-name="rebelmouse-image" id="97806" type="lazy-image" data-runner-src="https://assets.rebelmouse.io/eyJhbGciOiJIUzI1NiIsInR5cCI6IkpXVCJ9.eyJpbWFnZSI6Imh0dHBzOi8vYXNzZXRzLnJibC5tcy8xOTkyNjI2MS9vcmlnaW4uanBnIiwiZXhwaXJlc19hdCI6MTYyMjkzODI4OH0._XrBmlpln7Uej-MJnRqMM_9d9svNwPuy6G75AbNsKto/img.jpg?width=980"/> <small class="image-media media-caption" placeholder="add caption..."></small> <small class="image-media media-photo-credit" placeholder="add photo credit..."></small> </p><br/><br/> Their first initiative is re-launching the <a href="http://www.bicyclelaboratory.org/index.php?/alabamboo/">Alabamboo Bike Lab</a> project started by Project M as Common Cycles. Inspired by the <a href="http://www.bamboobikestudio.com/">Bamboo Bike Studio</a> in Brooklyn, the bikes use fast-growing bamboo as the primary material in sustainable, sturdy rides. The project was initially created to bring affordable transportation and employment opportunities to rural areas of Greensboro, Alabama. This summer, members of COMMON and Project M will be leading a cross-country bike ride on the bamboo bikes to raise awareness for their new endeavor.<p> Currently, COMMON exists as a presentation deck, which you can download here (<a href="http://www.slideshare.net/FearLessRevolution/introducing-common-final">PDF</a>) and an <a href="http://fearlessrevolution.com/fearless-force/">email</a> where you can sign up for updates. But Bielenberg says to stay tuned for some interesting developments. "This is really exciting," says Bielenberg. "Like Project M attached to a Saturn rocket."</p><br/><br/><br/><br/>