Articles
The future of Bolivia's public transportation takes to the skies.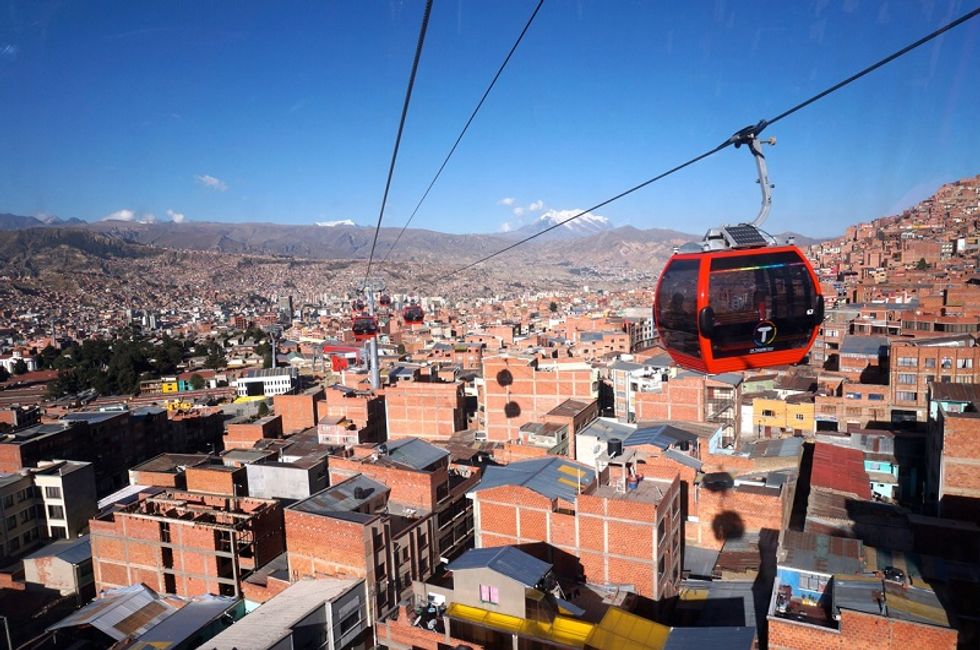 Photo courtesy of Gwen Kash, The City Fix
A high-flying cable car system called Mi Teleférico now connects El Alto, the world's highest and Bolivia's second largest city, with La Paz, the capital that sits in the canyon below. The $234 million project's first line opened at the end of May, offering an affordable route for the 85 to 90 percent of the population that relies on public transportation. Before Mi Teleférico, the only way to travel between the two cities was the winding, congestion-ridden La Paz-El Alto Highway.
<p class="shortcode-media shortcode-media-rebelmouse-image"> <img class="rm-shortcode" data-rm-shortcode-id="cf079a36b966599647af3a0e0a78c1bf" data-rm-shortcode-name="rebelmouse-image" id="c04ac" type="lazy-image" data-runner-src="https://assets.rebelmouse.io/eyJhbGciOiJIUzI1NiIsInR5cCI6IkpXVCJ9.eyJpbWFnZSI6Imh0dHBzOi8vYXNzZXRzLnJibC5tcy8xOTgzMTgwMC9vcmlnaW4uanBnIiwiZXhwaXJlc19hdCI6MTYyOTc0NjAwMX0.4wKzPQVim_CxRLVniKgwt9_ytXCwAUXlevig4KlrhA8/img.jpg?width=980"/> <small class="image-media media-caption" placeholder="add caption..."></small> <small class="image-media media-photo-credit" placeholder="add photo credit...">Photo courtesy of Gwen Kash, The City Fix</small> </p><p>Less the iconic red streetcars of San Francisco or the sleek, driverless People Movers in Venice, Mi Teleférico scales the Andean mountain skies more like a ski lift, transporting commuters between El Alto's cliffs and the heart of La Paz with an aerial system strung around one thousand feet above the ground. So far, daily ridership has averaged around 42,000 people, saving riders between 15 and 40 minutes per trip, according to the <a href="http://www3.abi.bo/nucleo/noticias.php?i=2&amp;j=20140530092127">Bolivian Information Agency</a>. Public officials hope that <a href="http://thecityfix.com/blog/in-photos-cable-car-system-takes-transport-new-height-bolivia-el-alto-la-paz-mi-teleferico-gwen-kash/">two tweaks</a> to the program—reloadable fare cards and half-priced tickets for physically disabled commuters—will further increase adoption as cabling on the two remaining green and yellow lines finishes off over the next two months. When all three lines are running, Mi Teleférico will be the largest urban cable car system in the world.</p>