Articles
The FAA recently approved requests to use the unmanned vehicles to expedite insurance claims after natural calamities.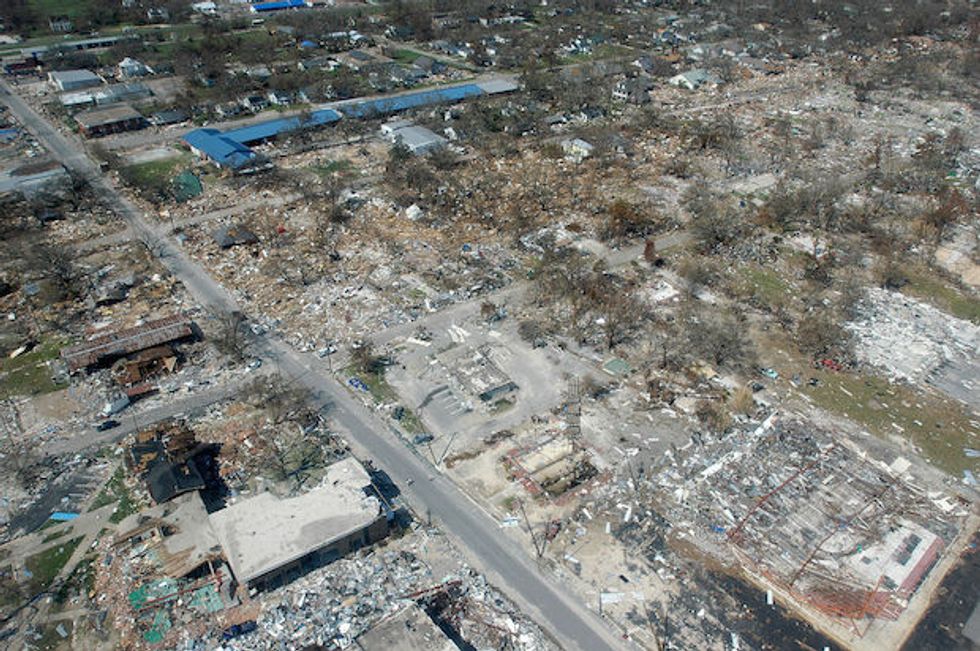 The scope of damage caused by Hurricane Katrina
Search & rescue, relief, and insurance are usually the first groups on the scene after a large disaster hits. While drones may one day replace all three of these responders, insurance companies have recently raced ahead in applying the vehicles to disaster aid.
<p>On April 6, the Federal Aviation Administration <a href="http://www.insurancejournal.com/news/national/2015/04/08/363647.htm">approved the requests</a> of insurance companies USAA and AIG for testing drones as first responders to process claims after a disaster. State Farm has previously tested drones for similar use.</p><div id="upworthyFreeStarVideoAdContainer"><div id="freestar-video-parent"><div id="freestar-video-child"></div></div></div><p>Tornadoes, hurricanes, oil spills, and earthquakes can all potentially cause <a href="http://en.wikipedia.org/wiki/List_of_disasters_by_cost">billions of dollars in damage</a>, as well as complete geographic turmoil. Drones excel in responding to disasters because they are able to safely fly over inaccessible or unpredictable areas that can be hazardous for humans. They are also able to fly higher than a crane can stretch, and lower than a helicopter. In areas scattered with debris, <a href="http://www.dronesforgood.ae/en/award/finalists/worlds-first-collision-resistant-drone-search-and-rescue">specific drones</a> are being developed to poke around areas otherwise inaccessible to humans, like interior spaces partially blocked by a building collapse.</p><p class="shortcode-media shortcode-media-rebelmouse-image"> <img class="rm-shortcode" data-rm-shortcode-id="d3f4d340e8a7de895d4b50feb4a8cd84" data-rm-shortcode-name="rebelmouse-image" id="a840e" type="lazy-image" data-runner-src="https://assets.rebelmouse.io/eyJhbGciOiJIUzI1NiIsInR5cCI6IkpXVCJ9.eyJpbWFnZSI6Imh0dHBzOi8vYXNzZXRzLnJibC5tcy8xOTgzODYwMi9vcmlnaW4ucG5nIiwiZXhwaXJlc19hdCI6MTYxMjM1NDM5Mn0.qW3QMWzvlFa7C3EzaNTD9H2M3pmh-Jyk-dyOSsXNni0/img.png?width=980"/> <small class="image-media media-caption" placeholder="add caption..."></small> <small class="image-media media-photo-credit" placeholder="add photo credit...">Image via YouTube screencapture (click image to check out the video!)</small> </p><p>When USAA submitted its <a href="http://www.popsci.com/faa-gives-usaa-okay-drone-research">application in October</a>, it cited work done by <a href="http://www.popsci.com/technology/article/2013-09/drone-company-helps-colorado-emergency-until-fema-says-no">PrecisionHawk drones</a> in 2013 to map massive flooding in Boulder County, Colorado as an example of recent success. Equipped with sensors and tools, drones were able to scan terrain from a bird's eye view in order to give responders the strategic information they required to assist areas in need.</p><p>As a bonus, check out this footage from <em><a href="http://www.wsj.com/articles/SB10001424052702304434104579378963704311446">The Wall Street Journal</a>,</em> captured by a drone used to survey a 40-foot-wide, 30-foot-deep sinkhole that opened up at the National Corvette Museum in Kentucky, swallowing up eight vintage vehicles in its wake.</p><p><span class="rm-shortcode" data-rm-shortcode-id="71bda2656797d716bb69f5c13b1f7ca3" style="display:block;position:relative;padding-top:56.25%;"><iframe frameborder="0" height="auto" type="lazy-iframe" scrolling="no" data-runner-src="https://www.youtube.com/embed/vkEDwOidW_Q?start=38&amp;rel=0" style="position:absolute;top:0;left:0;width:100%;height:100%;" width="100%"></iframe></span></p>