Articles
Kiva's new Kiva U project provides tools for teaching and engaging students in microfinance and entrepreneurship.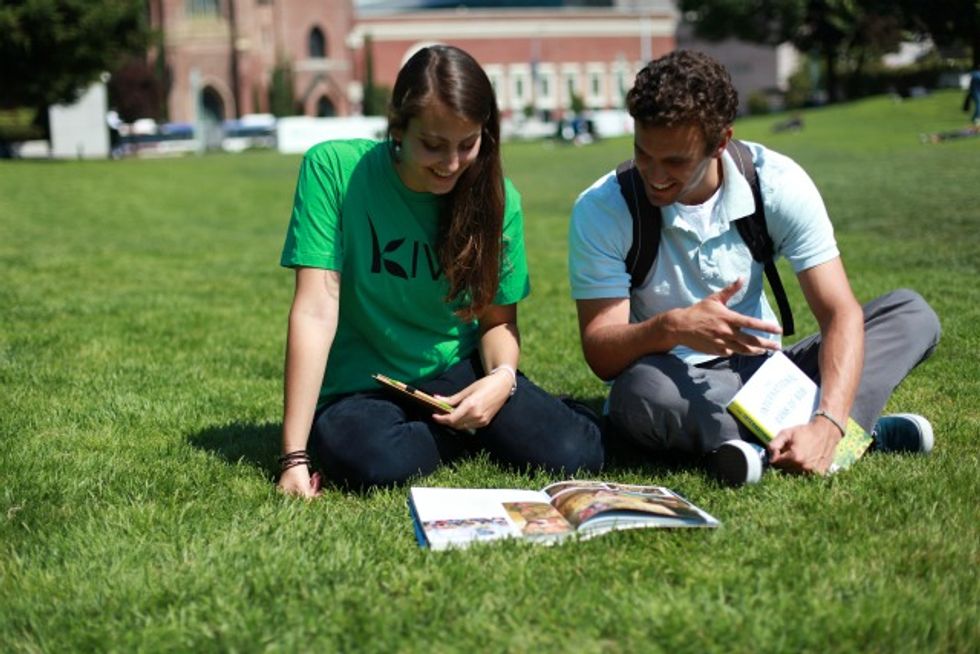 Imagine you are a high school or university teacher. What would you consider an effective tool for teaching and engaging students about entrepreneurship? How about a tool that goes beyond textbooks to teach students about the daily working life of entrepreneurs from around the world?
Or imagine you are a student interested in microfinance. Where would you go you build your knowledge about the challenges faced by those trying to access finance, the opportunities for the broader microfinance sector itself, and to participate in real solutions while you learn?
<p> The belief that microfinance has the potential to positively impact the lives of both the borrower through access to capital <em>and</em> the lender through education is the driving mission of <a href="http://www.kivau.org/">Kiva U</a>, a major new education initiative launched by <a href="http://www.kiva.org/">Kiva</a> and <a href="http://www.citi.com/citi/microfinance/">Citi</a>.</p><p> Kiva, started in 2005, is a nonprofit organization that has helped nearly one million individuals, families, and groups lend jointly to small-scale borrowers via microfinance institutions in 72 countries. Kiva U marks an expansion of Kiva's work by connecting and mobilizing microfinance clubs at high schools, colleges, and youth groups across the United States, and providing access to free microfinance learning toolkits and resources. These tools can empower students and educators to become informed and effective agents of change. And all of this means more opportunities to assess and invest in someone that is striving to start or expand their own businesses, to finance a community water well or green energy source, or to further their education.</p><p> The principles of microfinance and financial inclusion—the provision of innovative financial services designed particularly for low-income individuals and micro-entrepreneurs that do not typically have access to banking or other formal financial services—present compelling opportunities for learning that can benefit lenders as well as borrowers.</p><p> For the microfinance client—the borrower—the benefits can be many: access to formal and more predictable financing to purchase supplies, funding for expanding a small business or to smooth out cash flows, or a community investment in safe water or green energy. Importantly, many microfinance institutions are also focused on providing access to other critical financial services, such as savings and insurance products, while some even provide clients with access to healthcare.</p><p> For individual lenders, beyond the high probability of being repaid, the benefits are no less compelling. Once a lender—in this case, a student—has decided to participate in a loan, he or she often becomes invested in more than the loan. They become invested in the borrower's business, community, and challenges. This is an opportunity to learn more about the broader social, economic, or business context of the borrower, to discuss the entrepreneurs, their environments, and initiatives to support, and be inspired and build knowledge along the way.</p><p> Over the past several years, and with only limited formal curriculum or guidance available, teachers, parents, and students around the country have discussed the principles of microfinance, its impact, and the challenges the sector faces in many classrooms. Kiva U expands these learning opportunities by offering experiential education tools that go beyond textbooks to teach students in a way that is unimpeded by the walls of a classroom.</p><p> Kiva U enables students and teachers alike to share their approaches and research, build from a common curriculum, and co-design the use of microlending as an innovative learning tool. Over time, Kiva U will evolve and benefit from the feedback from students, teachers, researchers, and practitioners, while also providing important links to the many other resources and institutions focused on analyzing and expanding microfinance and financial inclusion.</p><p> Kiva's model for supporting entrepreneurship and alleviating poverty relies on two very powerful forces: people's desire to empower one another, and the internet's ability to support that desire in innovative ways and on an unprecedented scale. Our hope is that educators will use Kiva U as a resource to teach students about microfinance, financial inclusion, and the multitude of different subjects that microfinance touches: geography, politics, economics, sustainable development, social entrepreneurship, and so much more. We also hope that Kiva U's tools and resources encourage youth lenders to share what they're learned with their peers, parents, their teachers, and their communities.</p><p> <em>Have you made a loan on Kiva yet? <a href="http://www.good.is/posts/have-you-made-a-loan-on-kiva-yet">Click here</a> to say you'll do it. </em></p><br/>