Articles
After the quake, Fonkoze stepped up and took deposits, doling cash out as remittances—all the while keeping the hole in its vault hush-hush.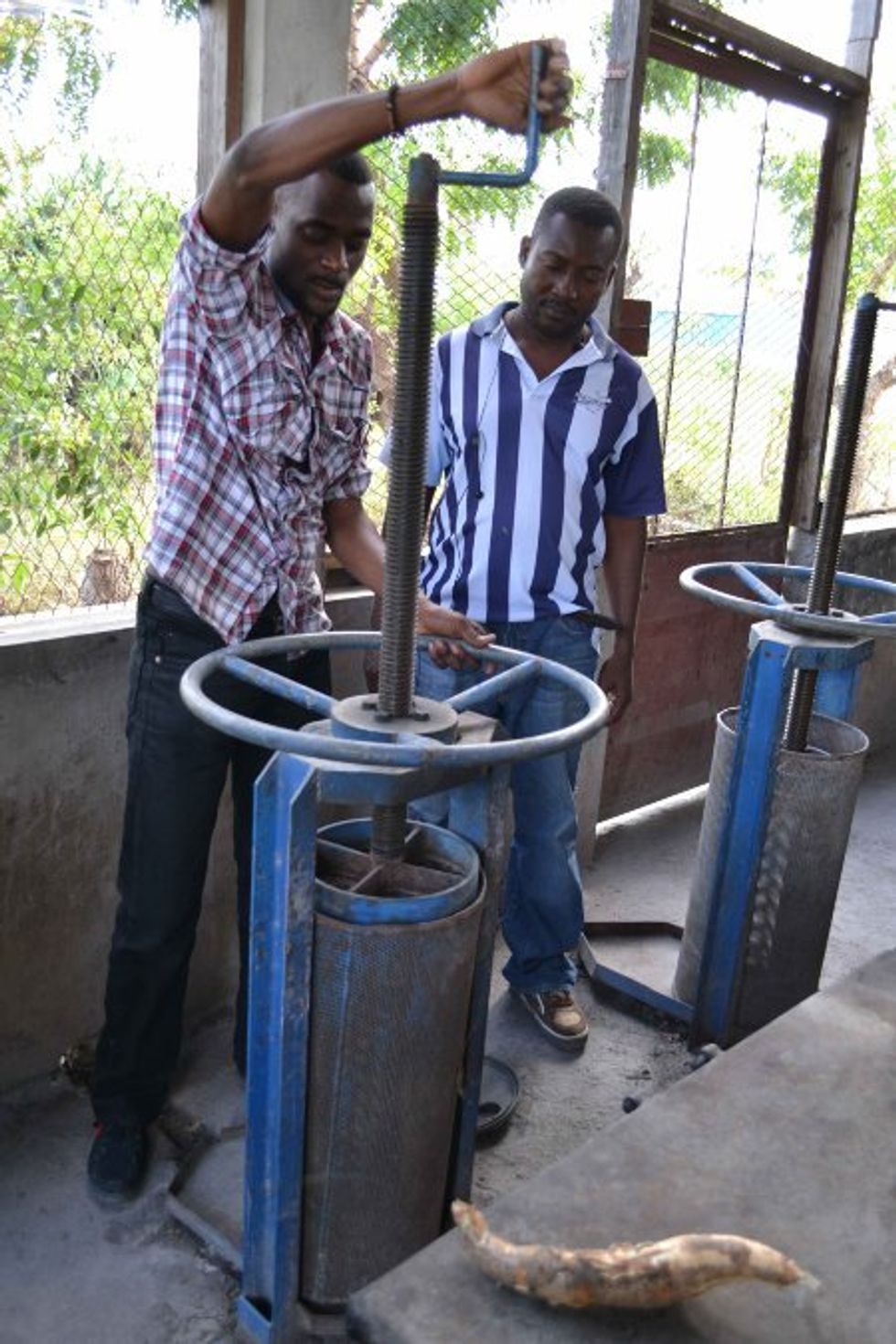 In Port-au-Prince, Haiti, where 80 percent of people live in poverty, serving the poor has proven a growth strategy for microlender Fonkoze.
---
With more than a quarter-million customers, Fonkoze, a Creole abbreviation of "the Shoulder to Shoulder Foundation," is Haiti's largest microfinance group. Fonkoze is a full-service nonprofit bank for the poor, offering financial services from credit to insurance and savings. The average savings account has just $60 in it.
When a 7.0 earthquake rattled already-struggling Haiti two years ago, banking services crumbled to a halt. "ATMs don't get refilled in disasters," says Carine Roenen, Fonkoze's director. "Access to cash is an overlooked aspect of relief."
Commercial banks were closed for weeks, but Haitians in the U.S. and elsewhere desperately wanted to send money back to family members. Fonkoze had always offered remittances; giving clients access to that money through at least one re-opened Port-au-Prince branch was the first goal.
Even that was a challenge. "We were pretty badly hit," Roenen says. "We lost our three buildings in the metropolitan area. Five of our staff members died." Plus, the bank vault was so damaged you could walk into it through a hole in the wall. Hundreds of Fonkoze staff members were living outside in the streets, but a week later, the bank re-opened.
Remittances poured in, so many that the group had to fly in $2 million in cash to pay them. While the country's central bank was still closed, gas stations had re-opened. With nowhere to put money, Fonkoze stepped up and took deposits, doling the cash out as remittances—all the while keeping the hole in the vault hush-hush. "It earned us a lot of new clients," Roenen says. Filling that need for cash in a crisis helped her group grow 20 percent since the quake, despite crumbled branches and displaced employees.
Even before the quake, Fonkoze was defying conventional wisdom. Many academics have argued that microfinance isn't effective for the very poorest populations because the costs of administering small loans are too high and lending in broken states is too risky. But, as Alex Counts of the Grameen Foundation has documented, conventional wisdom on poverty reduction could use a shakeup from Fonkoze.

The group distributed $96 million in remittances in 2010, the year of the quake, a record accomplishment. That number has come down a bit since, but it's still more than 20 percent above 2009 levels. The number of Haitians seeking microloans has also shot up 20 percent since the quake, with than 50,000 loans on the books at a given time. "Our average loan is $200; it's really microfinance, so we didn't need a lot of extra capital," Roenen says of growing so fast at a turbulent time. "If you want to help a lot of people in a crisis moment, you have to scale up what you already do."


More than one recipient of Fonkoze loans credit the bank with saving their businesses. MAPDEN, a Creole abbreviation for 'Support Movement for National Development,' is a famers' cooperative that used to grow mangos for export near Léogâne, the epicenter of the quake outside Port-au-Prince. Founder Frantz Duval says he had to give the farm up after displaced people began living under the mango trees, hampering his ability to pack and export quality fruit. Instead, MAPDEN began growing manioc flour for local consumption on different plots of land, but Duval needed cash for working capital—especially after aid agencies began giving away free flour, trimming his profit margins.

He received help in the form of a three-part $10,000 loan from Fonkoze in partnership with Zafèn, a program for small and medium-sized businesses that have a positive impact on their communities. Modeled on Kiva, Zafèn filters funds from internet lenders. Loans are zero-interest to adhere to U.S. regulations. Thanks in part to a new working oven funded by a Zafèn loan, MAPDEN is back on its feet and Duval, shown above making flour, says he wants to expand into the rabbit business.

That's a relatively straightforward case compared to the challenges lenders face trying to build a path out of poverty at the lower end of the economic spectrum. "You'd be amazed at the number of women who can't count," Roenen says of the borrowers in Fonkoze's much-praised Ti Kredi lending program for women at the bottom of the economic pyramid. "They will recognize the color of banknotes, but only the small ones. They've never seen the big ones."




Ti Kredi—which means 'little credit'—is a variation on the Grameen Bank's village-banking model. Borrowers, who each receive about $25 as an initial loan, form groups of five to help each other plan and manage their borrowing and commerce. Clients, even the least well-off, get a savings account, plus life, credit, and catastrophic insurance. "In Ti Kredi we start basically at zero," says David Garfunkel, the program's assistant director. That means buying a bag of flour and selling it in smaller portions, or using the money for supplies to cook something for sale on the side of the road. Women with business assets of less than $20 must obtain a loan from Ti Kredi. After about six months, they graduate to loans of $75.
Ti Kredi doesn't stop at lending to the poorest of the poor; it also sets out to teach them. Borrowers attend four training sessions before taking out a loan; once they have cash in hand, they continue to attend weekly meetings. The organization even teaches women to read; not with the alphabet and phonics, but from a more basic foundation: the shapes of letters. "A 'b' isn't a 'b,' it's a stick with a circle," Garfunkel says. An 'a' is an "upside down umbrella handle" and a "half moon shape" connected at the bottom.
The trainings mix self-empowerment basics like reading with business management, starting at the most basic level—for example, Garfunkel says, "if you are taking transportation to get goods to market, do you know that comes out of your earnings?"
"Three years ago, you couldn't talk about supporting small and medium-sized businesses," Roenen says. Now, it's on Haiti's list of key issues, alongside perennial needs like clean water, housing, safety, and fighting cholera. Fonkoze's defiance of the odds serves as evidence that Haiti may be able to construct a business culture as the nation itself rebuilds.
Photo by Alex Goldmark