Articles
The hip-hop star, featuring Oscar and the grouches, brings the "Thrift Shop" treatment to dumpster diving.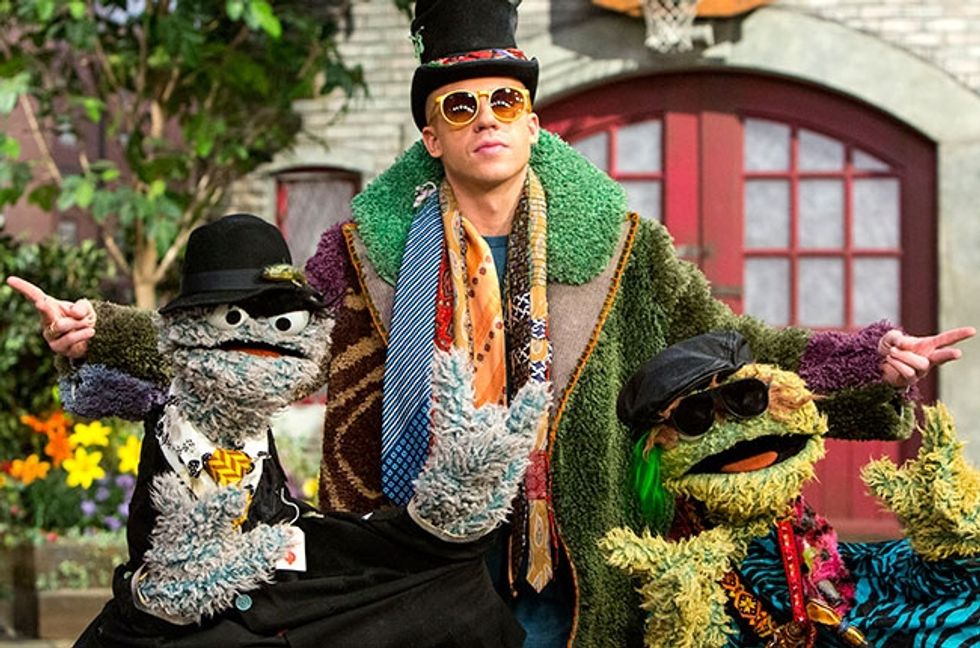 "Mucklemore" and the grouches
Seattle's own Macklemore made a dirty, rotten appearance on Sesame Street recently, and he took the opportunity to sing about trash. Clad in a halo of neckties and a rotting fish on his head as his alter ego "Mucklemore," the Grammy winner performed a parody of his hit song "Thrift Shop" with an enthusiastic group of grouches.
<p>"I'm gonna pop some trash. Only got seven bags in my trash can," sing Oscar and the grouches. "I-I-I'm shopping. Looking for some rubbish. This is gross and awesome."</p><p>Usually when musicians make appearances on the educational kid's show they try to impart wisdom, skills, morals, or some other tangible life lesson through their songs and parodies, but the lesson in Macklemore's ode to trash isn't quite clear. Perhaps the point is for kids to recycle? Or to appreciate the beauty in decay? Or maybe it's just about riding broken scooters with an old fish on your head. Whatever the point is, it's sure to teach kids the value of getting silly.</p><p><span class="rm-shortcode" data-rm-shortcode-id="5bb76a6a1e17da6087988fdb07a7ba5c" style="display:block;position:relative;padding-top:56.25%;"><iframe frameborder="0" height="auto" type="lazy-iframe" scrolling="no" data-runner-src="https://www.youtube.com/embed/STH9ZpeFH2o?rel=0" style="position:absolute;top:0;left:0;width:100%;height:100%;" width="100%"></iframe></span></p>