Articles
Sweden's "Charity Arcade" gives travelers the opportunity for some retro gaming with a do-good twist.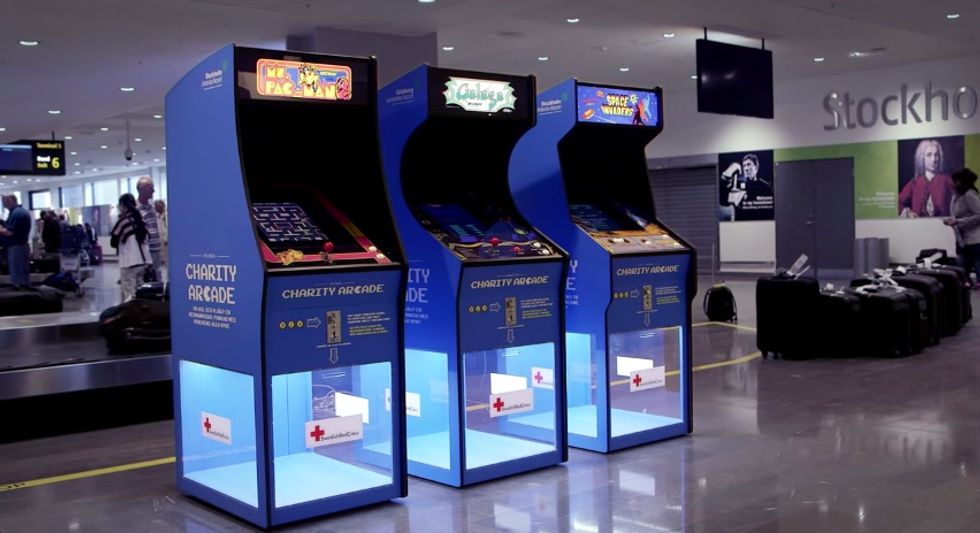 image via youtube screen capture
Most travelers stuck in international airports have two things to kill: time, and money. Specifically, the foreign currency that visitors have yet to exchange to match either their country of origin or destination. With that in mind, Airports have devised any number of ways to separate guests from their various coins. Shops, kiosks, and food courts all exist to entice air travelers into spending money while laid over in various concourses and terminals around the globe.
<p>Thanks to some innovative thinking on the part of the Swedish Red Cross, flyers waiting for bags at either Stockholm's Arlanda or Gothenburg's Landvetter airports now have <a href="http://www.neatorama.com/2015/03/18/Play-Arcade-Games-for-Charity-at-the-Swedish-Airport/">a new option</a> to both waste a few minutes, and relieve themselves of unwanted coin, all while simultaneously helping fund one of Sweden's largest charities. </p><p>They can play Ms. Pac-Man. </p><p><span class="rm-shortcode" data-rm-shortcode-id="ccbb170c95d204ebc40835492cb4f079" style="display:block;position:relative;padding-top:56.25%;"><iframe frameborder="0" height="auto" type="lazy-iframe" scrolling="no" data-runner-src="https://www.youtube.com/embed/9eIRP68PQvo?rel=0" style="position:absolute;top:0;left:0;width:100%;height:100%;" width="100%"></iframe></span></p><p>The "Charity Arcade" is one of those devilishly simple ideas that, once you see it in action, you're shocked it hasn't (as far as I know?) been done before. And, with Adam Sandler's upcoming, retro video game-themed family film <a href="http://www.cartoonbrew.com/feature-film/the-first-pixels-trailer-is-here-110478.html"><em>Pixels</em></a>, it's probably safe to assume that arcade classics like Space Invaders and Galaga are about to see their popularity skyrocket.</p><p>Here's hoping that the renewed interest translates into some serious dollars, euros, kronor, or whatever else happens to be jangling in travelers' pockets, being spent on a fun airport diversion that could, in a small way, help save lives.</p>