Politics
'They just stopped' testing: Trump blames Obama and Biden for his own COVID-19 failures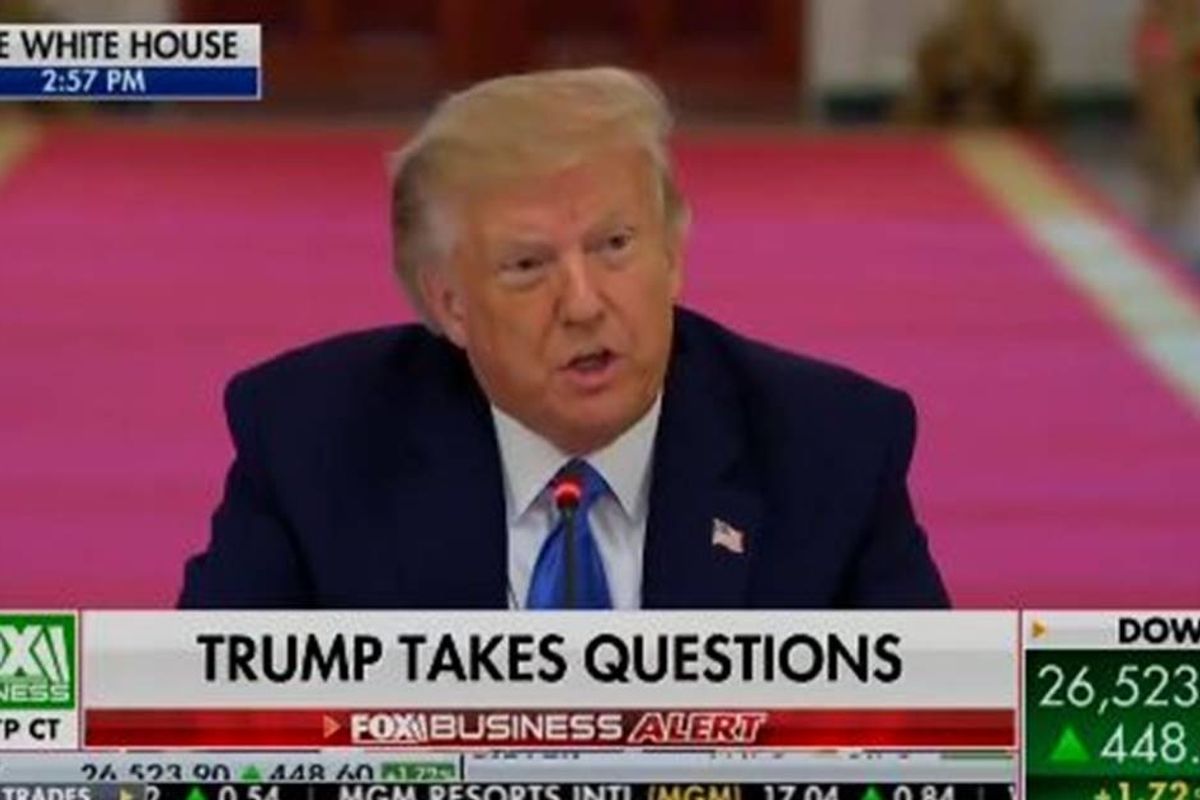 via Aaron Rupar / Twitter
In a rambling news conference on Monday, President Trump proved once again proved that he is ill-equipped to handle the COVID-19 pandemic which has killed over 135,000 Americans and continues to spread.
A reporter asked if he acknowledges that COVID-19 cases are going up for "any other reasons" than an increase in testing and that it's "actually spreading"? She followed that up with, "What are you going to do do stop the spread?"
While a competent president would lay out a plan to stop the spread, Trump tried to redirect blame for the rise in cases on Barack Obama and Joe Biden who haven't been in office for over three years.
---
Obama stopped testing 😂. You couldn't make it up https://t.co/CknHifEOOi

— Didi Hamann (@Didi Hamann) 1594668038.0
"You do you know we have the lowest mortality rates, anywhere," Trump said falsely. "If you know Biden and Obama stopped their testing. They just stopped it."

"You probably know that I'm sure you probably don't want to report it. But they stopped testing. Right in the middle they just went, " he said making a slashing motion with his hand, "no more testing."
It appears as though Trump is responding to the question by criticizing the Obama administration for stopping testing during the H1N1 virus or the "bird flu" that killed between 8,000 to 17,000 Americans over ten years ago. The two diseases are completely unrelated.
H1N1 killed somewhere between 8,330 and 17,160 Americans. COVID-19 has killed over 135,00 Americans.
He then referenced the flue epidemic of 1918.

"On much lesser problem than we have, honestly with respect to this is the worst thing that's happened since probably 1917," he added. He then attributed the rise in number to an increase in testing. We "test more than anybody by far and when you test you create cases."
As the numbers and the death toll rise there is no coherent national strategy for dealing with COVID-19 because the president is in complete denial about his responsibility to stop it as well as the very nature of the disease.
Earlier today he tweeted a conspiracy theory from game show host Chuck Woolery.
The most outrageous lies are the ones about Covid 19. Everyone is lying. The CDC, Media, Democrats, our Doctors, no… https://t.co/ND5N3wBiUq

— Chuck Woolery (@Chuck Woolery) 1594606646.0