Sneaker culture and environmentalism are not ordinarily things you would put hand-in-hand. But 11 million shoes made from recycled ocean plastic isn't just a statement, it's something of a movement.
For decades there has often been an uneasy balance between things that are good for the environment, our bodies and our minds and things that mass culture is willing to spend money on. So, it would be understandable to assume that when Adidas announced a partnership with Parley to create their Parley for the Oceans shoe that it would be a nice press release and not much more.
It's morning. Another picture-perfect day by the sea. You lace up your new running shoes. Stepping into the crisp, bright day, you fill your lungs with air. Soon, you're at the beach, hitting your stride.

You stumble. Tangled around your foot is the scourge of coastlines and oceans worldwide: a dirty mass of single-use plastic. Washed up on dry land, bobbing in the surf, bottles, bags, and other debris isn't just trashing your morning run. It's strangling life on Earth — above and below the waves.
What if, instead of simply kicking away the trash and grimly jogging on, you — and millions around the world — retrieved it? What if that action was part of a global campaign that infuses our deadly waste with a transformational intention to reclaim it from the waters and return it to use in our lives?
And, what if those shoes on your feet were made from that very same ocean plastic?
That's the visionary idea behind Parley for the Oceans.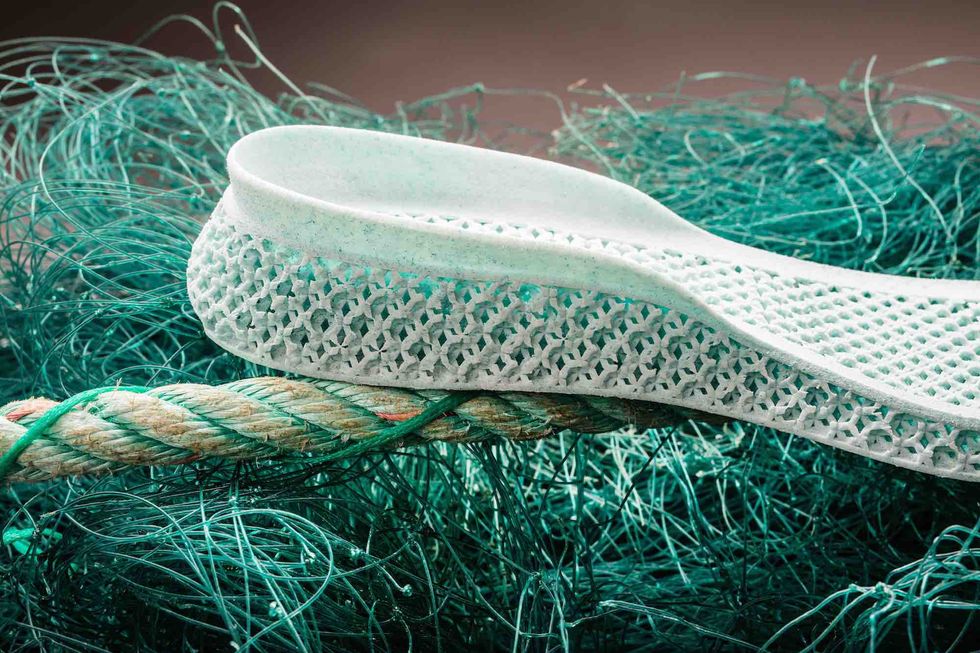 Photo courtesy of Parley.
Founded by activist designer Cyrill Gutsch, the organization — built around the insight that creativity catalyzes change faster than awareness alone — launched a historic Earth Day partnership with Adidas that saw every Major League Soccer team don jerseys constructed with Parley materials that upcycle ocean plastic. There are running shoes made in the same way, too — including a Stella McCartney trainer — and a women's yoga gear line called Wanderlust.
Why merch instead of public service announcements?
For Gutsch, the answer is simple. Not only is collaboration more powerful than flogging a message solo — it's more productive, too.
And when it comes to moving people to adopt new ways of seeing and doing, the fashion and art world is the perfect place to make bold new concepts concrete.
In that world, says Gutsch, "people expect to be surprised, to learn new things. and be inspired to change their ways." Fashion, he laughs, "has the power to create trends which make you do things that often make zero sense."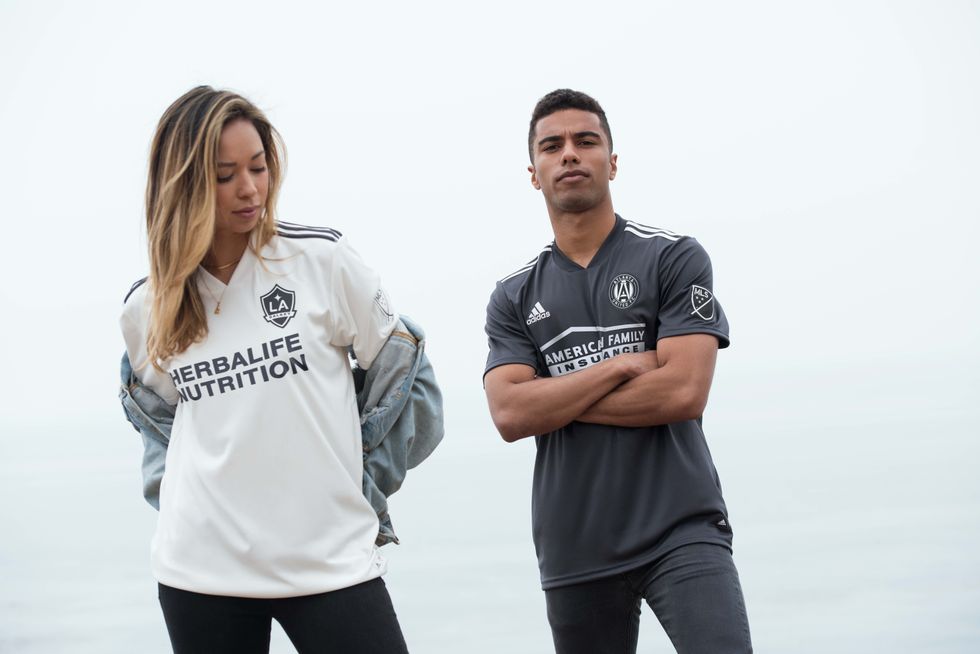 Jerseys created from recycled ocean plastic. Photo courtesy Adidas/Parley.
With a cause as monumental as saving the oceans and marine life, trends can be leveraged to reach straight for heart and soul, not argument and analysis.
"Environmentalism, for a long time, was all about protest, all about warning," he explains. "It was not fast enough to bring the economy to change, even though it is a fast-growing movement. We will not be able to convince everybody on this planet by presenting scientific evidence. We have to find a catalyst and that is what these products are that we make: symbols of change."
That's where the science comes in.
"With creatives, I include a scientist on the same level as an artist," Gutsch says. And Parley's technicians, who turn discarded ocean plastic into the textile-like material woven into Adidas athletic garments, are truly scientific artisans.
"We believe that if you want to replace something that does harm," he notes, "you need to come with something that is better. You have to question product but you also have to develop new product ideas."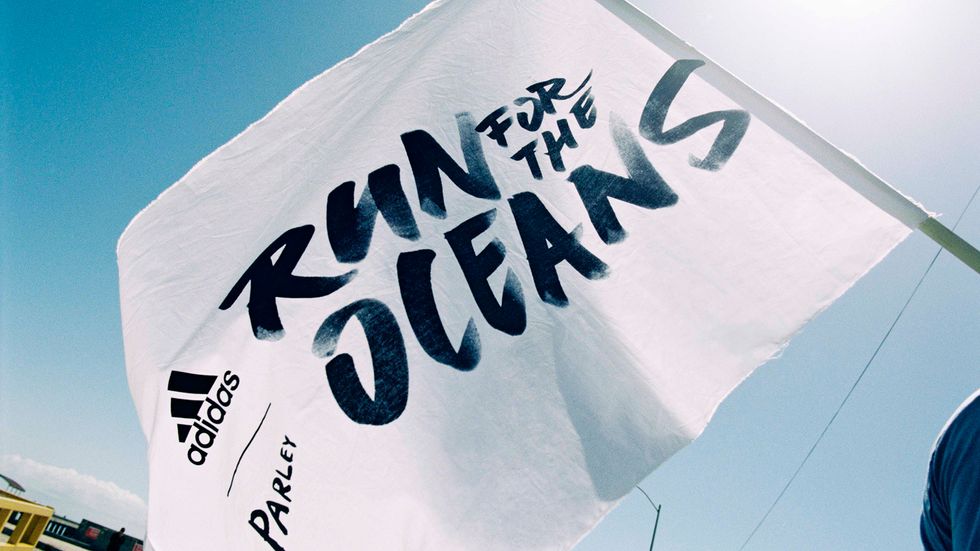 Photo courtesy of Adidas/Parley.
Without a tangible, concrete improvement, there's no value proposition for the brands and companies, according to Gutsch, you need to bring fashion breakthroughs to global markets. "They just can't justify a change of course if they don't have a replacement," he says.
That's what won over Adidas. In 2017, the company produced 1 million Parley shoes. In 2018, the goal is as many as 5 million shoes made of Parley's ocean plastic.
Sadly, there's more than enough floating detritus to push numbers like that even higher.
Virgin plastic is everywhere, and, as Gutsch underscores, "everything ends up in the water."
The evidence is abundant and damning. This spring, a study published in Marine Policy reported that "plastics are ubiquitous" in ocean waters as deep as 20,000 feet, with 92% of the waste made up of single-use products.
In a shocking show of how infested the seas have become, a single-use plastic bag was found in the Mariana Trench, 36,000 feet below the surface. For living creatures from mammals and fish, to reefs and invertebrates, Gutsch says, we have maybe 10 years to turn things around. Meanwhile, he adds, nearly three fourths of Earth's oxygen comes from sea life. That "one simple fact," as he puts it, that "should actually be convincing enough" to drive change.
But pushing those changes through the marketplace alone takes time.
Even National Geographic, which made the plastic crisis its current cover story with a dramatic image of an iceberg-like bag, initially mailed out copies of the issue double-wrapped in, yes, plastic.
That's why Parley's newest initiative is centered so strongly around the exponential effect of human love and care.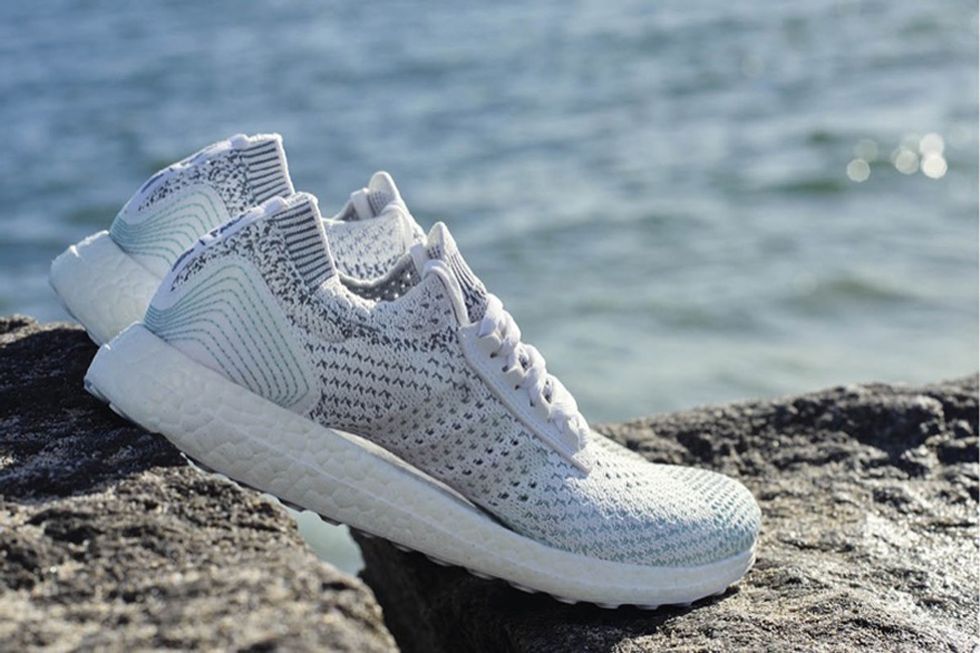 Photo courtesy of Adidas/Parley.
While changing the economic and business role of plastic is key, it's not sufficient. The spirit of communities and nations must change. And once again, collaboration, not argumentation, makes it possible. Already, with Adidas, "what we have proven is that luxury is redefined," says Gutsch.
"Its purpose is not any more the pure material value but the intention that you have — the energy you use to charge up these materials."
Adrift, ocean plastic has negative value. But precisely because "it takes a crazy effort to get it off the beach or out of the water, the moment when a person decides to touch it, remove it, and protect life," a tremendous new positive value arises.
Therein lies the path from market-driven change to community-driven change.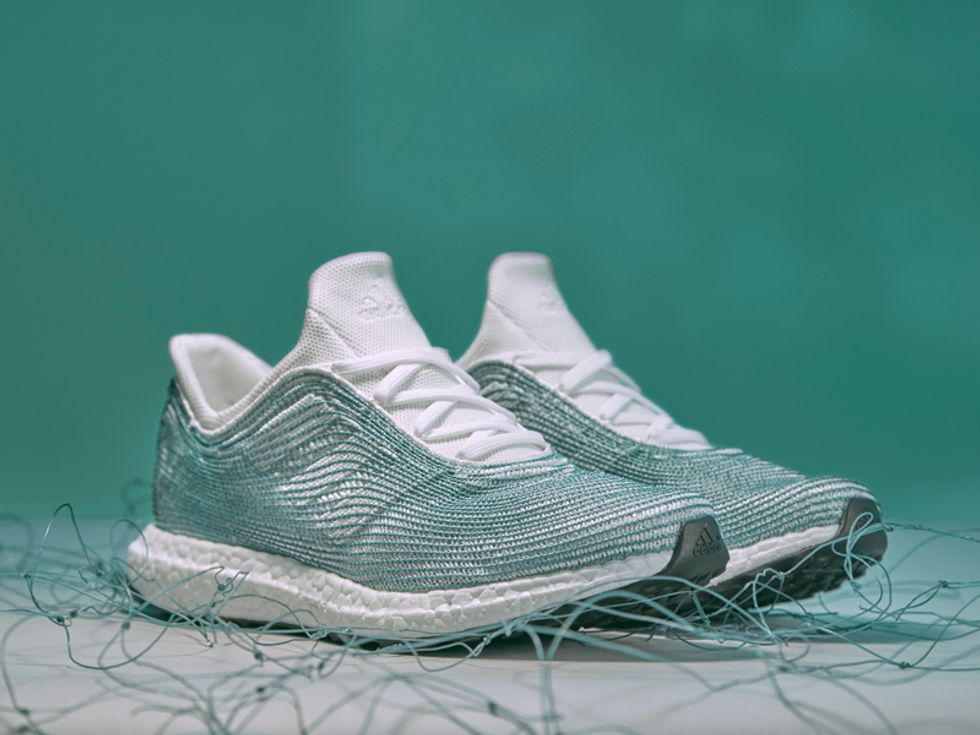 Photo courtesy of Adidas/Parley.
Parley put it to work through a sweeping partnership in the Maldives, the archipelago nation southwest of India. More than 200 in-country collaborations — encompassing the private and public sector, resorts, schools, government offices, and government-owned companies — are committed to implementing Parley's aptly-named "A.I.R." approach to ocean rescue: avoiding virgin plastic, intercepting plastic waste, and redesigning ocean plastic from a material infused with death to one that sustains life.
"They never really swim," Gutsch says of the Maldives residents plagued by plastic. "They're scared of the water."
But through the new partnership, once in the water, "they start to see their country differently. There is this magic universe of life. They become proud and excited to explore and protect it."
Soon, the kids educate their parents, creating a new culture of ambassadorship and guardianship of the oceans. "Suddenly it all fits together," Gutsch reflects. "It's the first time in six years that all the theoretical approach and abstract ideas show that they actually work. And that is more than exciting. That is for me something touching and overwhelming."
In the next five years, Gutsch says, Parley intends to be fully operational and intercepting ocean plastic in nearly 40 countries worldwide, working with brands like Corona. And if you want to get involved right now, you can take global action locally. "Just let one plastic item go," Gutsch asks. "Observe it well, think about, and post it on social media. Explain that you're letting go. Ban it from your life and challenge somebody else."