Articles
Inoculation like you've never seen it before.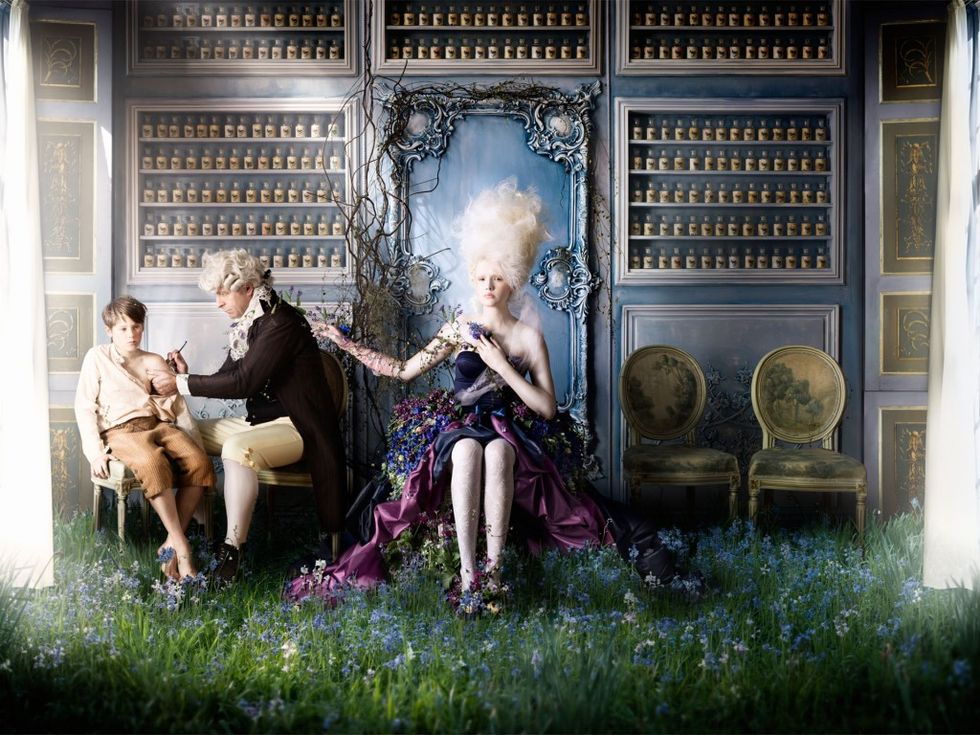 Alexia Sinclair, Edward Jenner's Smallpox Discovery portrait features Dr. Edward Jenner inoculating James Phipps, the first person to receive the smallpox vaccine. Dr. Jenner's work in the late 18th century led to the eradication of smallpox in the 1980s. The aristocratic woman in the center represents how smallpox affected all classes of society, and the flowers symbolize the global impact of smallpox.
Louis Pasteur, the father of the germ theory, probably didn't pick up a paint brush in his spare time. And it's unlikely Andy Warhol was very concerned about potential bacteria floating in the Campbell's soup can.
<p>However, the Gates Foundation is now merging the disciplines of art and science in a fantastic campaign called <a href="http://artofsavingalife.com/">The Art of Saving a Life,</a> which promotes the necessity and importance of vaccinations. The campaign's goal to raise awareness coincides with the foundation's fundraising efforts, which underwrite the cost of these vaccinations in underprivileged areas around the world. Artists recruited to the campaign whose work will be showcased include photographers (Annie Leibovitz, Sebastião Salgado, Mary Ellen Mark); writers (Chimamanda Ngozi Adichie); filmmakers (Luc Jacquet, director of the documentary "March of the Penguins"); and bands (Playing for Change).</p><p>Some of the show's work went live on the website Wednesday. The rest will be released throughout the month of January.</p><p class="shortcode-media shortcode-media-rebelmouse-image"> <img class="rm-shortcode" data-rm-shortcode-id="0d86d6c6afabcf37b79f80ba58532bbd" data-rm-shortcode-name="rebelmouse-image" id="4319e" type="lazy-image" data-runner-src="https://assets.rebelmouse.io/eyJhbGciOiJIUzI1NiIsInR5cCI6IkpXVCJ9.eyJpbWFnZSI6Imh0dHBzOi8vYXNzZXRzLnJibC5tcy8xOTgzNTE5Ny9vcmlnaW4uanBnIiwiZXhwaXJlc19hdCI6MTYyMzQxMTk4OX0.qy_dYUhGOrr23MUcxayWaBKTy-Xb-3mCSSIPbwn3u7Q/img.jpg?width=980"/> <small class="image-media media-caption" placeholder="add caption..."></small> <small class="image-media media-photo-credit" placeholder="add photo credit...">Mauro Perucchetti, Vaccines as Love Serum</small> </p><p class="shortcode-media shortcode-media-rebelmouse-image"> <img class="rm-shortcode" data-rm-shortcode-id="8e8c74f4167843a3db71d736dfdf7497" data-rm-shortcode-name="rebelmouse-image" id="299d3" type="lazy-image" data-runner-src="https://assets.rebelmouse.io/eyJhbGciOiJIUzI1NiIsInR5cCI6IkpXVCJ9.eyJpbWFnZSI6Imh0dHBzOi8vYXNzZXRzLnJibC5tcy8xOTgzNTE5OC9vcmlnaW4uanBnIiwiZXhwaXJlc19hdCI6MTYzNTIxOTMwMH0.OqPv2OqG1LBFUaCVKjd-DWyTRfCzOqvcuFlmxud8Y00/img.jpg?width=980"/> <small class="image-media media-caption" placeholder="add caption..."></small> <small class="image-media media-photo-credit" placeholder="add photo credit...">Vik Muniz, The Beauty of Vaccines</small> </p>