Articles
Students at an Albuquerque united in favor of a communist prom.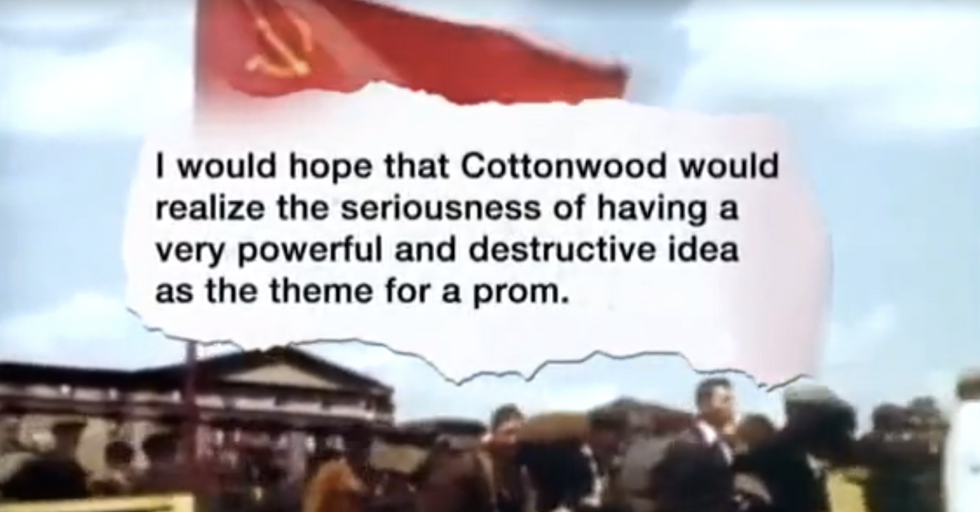 Screencap from the KQRE news video.
When seniors at Cottonwood Classical Preparatory School in Albuquerque voted for a prom theme this year, the masses casted their ballots in favor of Prom-munism. The winning decision, however, appears to have incited a class war (ha ha, get it?), and the grumbly teenaged McCartheyite dissenters who voted instead for "A Night in the Reef," say they don't find communism to be very funny. If the pinkos have their way, it's likely Cottonwood's seniors will be swigging kvass instead of fruit punch, which as we all know is a petite bourgeois beverage.
<p>Here are some choice quotes from the <a href="http://krqe.com/2015/03/05/seniors-vote-for-communism-themed-prom/">KRQE News 13 article</a>:</p><blockquote><p>"I would hope Cottonwood would realize the seriousness of having a very powerful and destructive idea as the theme for a prom," one student wrote.</p><p>Another said, "While the seniors meant no harm in their choice of theme, it is not appropriate."</p></blockquote><p>No word yet on whether they will be overthrowing the Prom monarchy as well, but we all know it's not <em>real </em>communism until the queen is toppled. </p>