Articles
A new initiative ensures future generations will have the opportunity to interact with an important piece of history.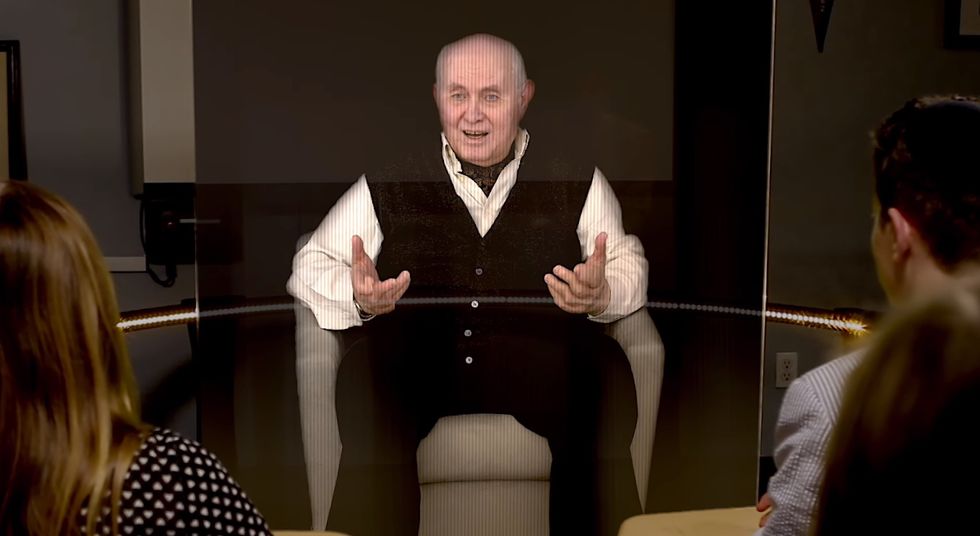 image via youtube screen capture
I remember the first time I saw Henry's arm. I was in grade school, and he was in his late 70's. My teacher had invited Henry to our class so we could hear, first hand, his story of horror and survival, of hardship and liberation. We sat in a circle on the floor while Henry described how, as a young Jew in Berlin, he'd been rounded up and sent to Auschwitz, where he endured terrors our developing minds could only begin to understand. What we could understand, though, were the faint blue digits etched into his arm, which he showed us, one by one, when he'd finished speaking. The numbers, he explained, were a reminder of how low people could sink, as well as how high they could climb afterwards.
<p>It remains a tremendously powerful moment in my life. It's a type of moment, I fear, that will be lost forever as the last generation of Holocaust survivors begins to pass away. But thanks to a team from the University of Southern California, the testimonies of survivors like Henry will be preserved in a wholly unexpected medium: Interactive Holograms. </p><p class="shortcode-media shortcode-media-rebelmouse-image"> <img class="rm-shortcode" data-rm-shortcode-id="5ea5c7c559a0f0ae4a929ceddfca0a0e" data-rm-shortcode-name="rebelmouse-image" id="cbf51" type="lazy-image" data-runner-src="https://assets.rebelmouse.io/eyJhbGciOiJIUzI1NiIsInR5cCI6IkpXVCJ9.eyJpbWFnZSI6Imh0dHBzOi8vYXNzZXRzLnJibC5tcy8xOTg0MDA1My9vcmlnaW4uanBnIiwiZXhwaXJlc19hdCI6MTU5MzYxNzk0NX0.3NU8fPzD3_LncFjggQvVsjgiy8JuxsAMC3ftMPIDUbA/img.jpg?width=980"/> <small class="image-media media-caption" placeholder="add caption..."></small> <small class="image-media media-photo-credit" placeholder="add photo credit...">image via youtube screen capture</small> </p><p><a href="http://ict.usc.edu/prototypes/new-dimensions-in-testimony/">New Dimensions in Testimony</a> (NDT) is a project of the USC Institute of Creative Technologies in partnership with the USC Shoah Foundation, and Conscience Display. Using advanced image capturing technology, NDT records survivors sharing both their personal narrative, as well as answering questions, just as they would if they were speaking about their experience to a live audience. The project then transforms that testimony into a holographic presentation that can be projected without necessitating the use of 3D-glasses. The presentation is programmed to be interactive, with questions posed to the hologram triggering keyword-prompted, pre-recorded responses. The result is as stunningly lifelike as is technologically possible, and affords survivors the opportunity to continue sharing their experiences long after they've passed.</p><p><span class="rm-shortcode" data-rm-shortcode-id="0d8bc149b7d175899eadcdb479c690bb" style="display:block;position:relative;padding-top:56.25%;"><iframe frameborder="0" height="auto" type="lazy-iframe" scrolling="no" data-runner-src="https://www.youtube.com/embed/4IBoO2IKFMI?rel=0" style="position:absolute;top:0;left:0;width:100%;height:100%;" width="100%"></iframe></span></p><p>The NDT website <a href="http://ict.usc.edu/prototypes/new-dimensions-in-testimony/">explains</a>: </p><blockquote><p>The goal is to develop interactive 3-D exhibits in which learners can have simulated, educational conversations with survivors though the fourth dimension of time. Years from now, long after the last survivor has passed on, the New Dimensions in Testimony project can provide a path to enable young people to listen to a survivor and ask their own questions directly, encouraging them, each in their own way, to reflect on the deep and meaningful consequences of the Holocaust.</p></blockquote><p>To achieve this incredible effect, <em>USA Today</em> <a href="http://www.today.com/series/are-we-there-yet/holograms-add-new-dimension-holocaust-survivors-story-t20511">reports</a>, participants are filmed by over 50 cameras situated around them as they sit in front of a green screen. Programmers then render the participants based on seven different lighting conditions, as part of the holographic process. </p><p><span class="rm-shortcode" data-rm-shortcode-id="7d1b664b0245b744ec95bc9164abf905" style="display:block;position:relative;padding-top:56.25%;"><iframe frameborder="0" height="auto" type="lazy-iframe" scrolling="no" data-runner-src="https://www.youtube.com/embed/eKu5H4JPF-E?rel=0" style="position:absolute;top:0;left:0;width:100%;height:100%;" width="100%"></iframe></span></p><p>While holograms are, by their very nature, an intangible approximation of the real thing, it's heartening to know that long after those who remember the horrors of the Holocaust have left us, the charge to "Never Forget" will continue for generations to come. </p><p style="text-align: right;">[<em>via <a href="http://www.smithsonianmag.com/smart-news/future-holographic-holocaust-survivors-may-bear-witness-180955244/?no-ist">Smithsonianmag.com</a></em>]</p>