Articles
How academics, government officials, and one Nobel prize winner are fighting to resurrect ancient Nalanda from the ruins.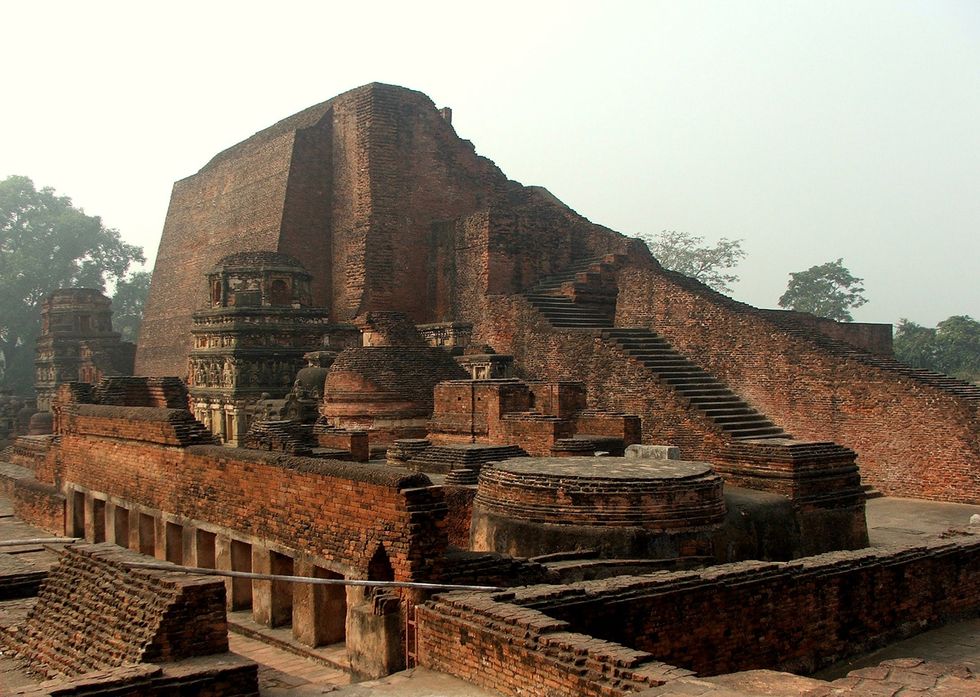 Ruins of ancient Nalanda University. Photo by Bpilgrim/Wikimedia Commons
Back in September, a cadre of prominent Indians, including Minister of External Affairs Sushma Swaraj and Nobel Prize winner Amartya Sen, trouped down to Rajgir, Bihar, to mark the opening of a new university. Given the recent rapid expansion of higher education in India, a nation with almost 700 universities, you'd expect that only some new mega-facility could draw the attention of luminaries. Yet this institution, Nalanda University, boasts less than a dozen faculty members and 15 students, all huddled into the local convention center while their meager campus awaits completion. The new facility has drawn attention as a symbol of national pride and pan-Asian ambition because it's not really an entirely new facility; it's an attempt to resurrect an ancient school of higher education—one of the wonders of old India and perhaps the first university in the world—which once stood nearby.
<p class="shortcode-media shortcode-media-rebelmouse-image"> <img class="rm-shortcode" data-rm-shortcode-id="7a7875fbc17af05ae67e9c5580bdc4f0" data-rm-shortcode-name="rebelmouse-image" id="a647c" type="lazy-image" data-runner-src="https://assets.rebelmouse.io/eyJhbGciOiJIUzI1NiIsInR5cCI6IkpXVCJ9.eyJpbWFnZSI6Imh0dHBzOi8vYXNzZXRzLnJibC5tcy8xOTgzNDAyMy9vcmlnaW4uanBnIiwiZXhwaXJlc19hdCI6MTYzMDYyMTI3MX0.HDGWriBcehc7n7yTaLexWIeVxSARyYR2N8bEQ0th04g/img.jpg?width=980"/> <small class="image-media media-caption" placeholder="add caption..."></small> <small class="image-media media-photo-credit" placeholder="add photo credit...">Nalanda University Seal. Photo by Tabish q/Wikimedia Commons</small> </p><p><a href="https://www.youtube.com/watch?v=k7UR9UEY79k">Ancient Nalanda</a> emerged in the 5th century A.D., about 400 years before the <a href="http://collegestats.org/2009/12/top-10-oldest-universities-in-the-world-ancient-colleges/">University of Al-Karaouine in Fez</a> and 600 years before the <a href="http://www.unibo.it/en">University of Bologna in Italy</a>, often credited as the world's oldest universities. A Buddhist institution down the road from <a href="http://www.buddhanet.net/e-learning/buddhistworld/bodgaya.htm">Bodh Gaya</a>, the revered site of <a href="http://www.buddhanet.net/e-learning/buddhistworld/buddha.htm">Siddhartha Gautama's enlightenment</a>, Nalanda had 10,000 students from all over Asia (some say even from as far as Greece), at its height, studying both secular and theological topics. When Muslim invaders burned Nalanda University to the ground in 1193, legend claims its nine-story library burned for three months turning every book to ash. </p><p>Ever since the <a href="https://history.state.gov/milestones/1945-1952/asia-and-africa">end of colonization</a>, India and other Buddhist states have discussed reviving the university, not as a theological school but as one specializing in pan-Asian Buddhist culture and international humanities. But the project only really <a href="http://www.nalandauniv.edu.in/abt-kalam-msg.html">picked up steam in 2006</a>, when then-Indian President A.P.J. Abdul Kalam endorsed the project, helping to establish an international panel led by Amartya Sen. (In 2010, Parliament passed a bill supporting the project.) </p><p>From the start, <a href="http://www.merinews.com/article/nalanda-intl-university-a-commendable-initiative/125171.shtml">plans for the university were ambitious</a>. Some wanted 4,500 students and more than 450 academics within five years of the ribbon cutting. So having only 15 students in the first class (<a href="http://news.biharprabha.com/2014/09/nalanda-international-universitys-begins-its-first-session-today/">less than the desired 40</a>) in an unfinished complex, starting a year later than expected—not to mention <a href="http://zeenews.india.com/news/bihar/apj-kalam-dissociates-himself-from-nalanda-univ_731857.html">Kalam's disagreement and break</a> from the project in 2011—has led some to wonder if this isn't all just a showy folly. After all, it's <a href="http://www.bbc.com/news/business-22160989">difficult to attract professors and students</a> to an unproven and underfunded institution in a relatively isolated part of India.</p><p class="shortcode-media shortcode-media-rebelmouse-image"> <img class="rm-shortcode" data-rm-shortcode-id="4f9a10e84be23cb8847b9f4213ff4918" data-rm-shortcode-name="rebelmouse-image" id="51ad0" type="lazy-image" data-runner-src="https://assets.rebelmouse.io/eyJhbGciOiJIUzI1NiIsInR5cCI6IkpXVCJ9.eyJpbWFnZSI6Imh0dHBzOi8vYXNzZXRzLnJibC5tcy8xOTgzNDAyNC9vcmlnaW4uanBnIiwiZXhwaXJlc19hdCI6MTYwMDAxNjA4OH0.jjzUQcYLzdChDMPjs01imYr2Eo0PBc02EZoL3unkaVc/img.jpg?width=980"/> <small class="image-media media-caption" placeholder="add caption..."></small> <small class="image-media media-photo-credit" placeholder="add photo credit...">Proposed Nalanda University Campus. Photo by Radharani11/Wikimedia Commons</small> </p><p>But Sen and others at the helm have their <a href="http://www.bbc.com/news/business-22160989">eyes on Nalanda's long-term development</a>, pointing to reputation-boosting partnerships with Beijing, Seoul, and Yale universities. And they have support from the government of Bihar, which, despite the area's relative poverty, is working towards rapid development, believing the university can help power the region's rise. Within years, the university hopes to have seven fully operational faculties on subjects from Buddhist studies to ecology to information technology. And maybe, if they keep their ambition and pride going, one day they will be able to revive the full glory of ancient Nalanda. </p>