Articles
With his application to a charter school, the new Spider-Man, Miles Morales, really is a 21st century teen.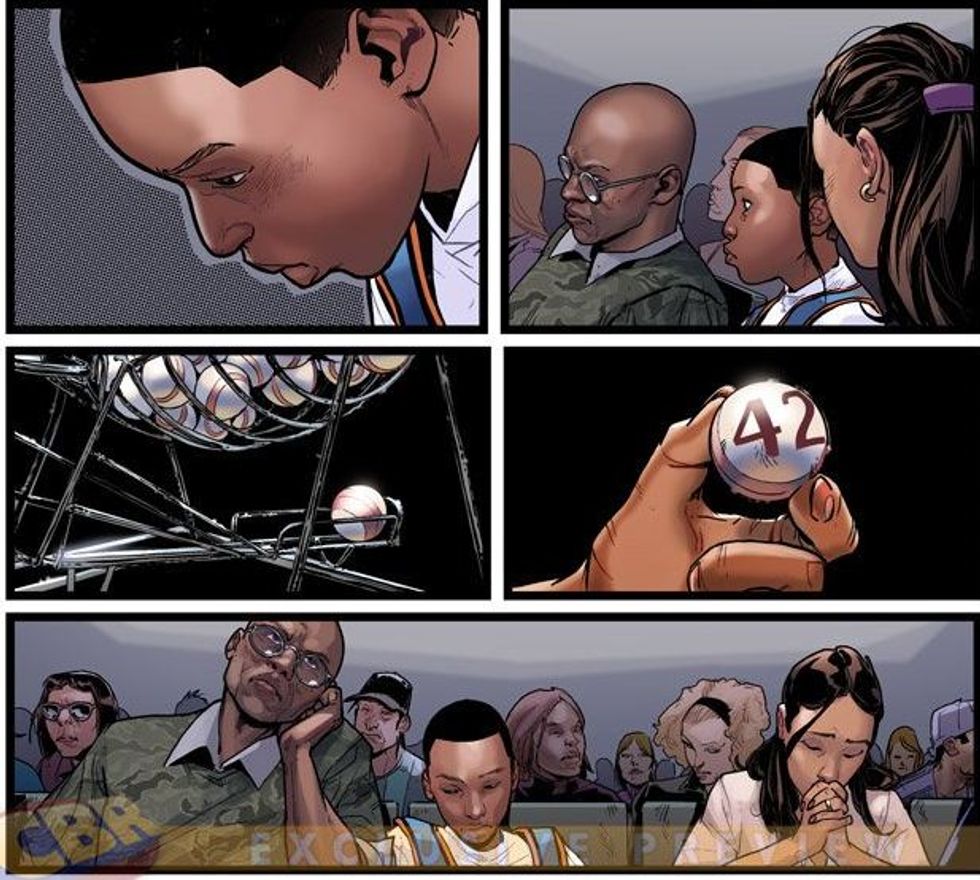 It looks like Marvel's commitment to making the 21st-century Spider-Man
more diverse
"in background and experience" goes beyond replacing a killed-off Peter Parker with half-black, half-Latino teen Miles Morales. In
Ultimate Comics Spider-Man
, which debuts in September, the Brooklyn-born Morales also participates in a high-pressure charter school lottery
similar to those seen
in the documentary
Waiting For "Superman"
.
Thanks to a preview from Comic Book Resources, we get to see Morales and his parents waiting anxiously for their lottery number to come up. The number 42 is drawn, but does that mean that Morales is in the charter or not? Without the accompanying words, it's hard to tell for sure:
<p class="shortcode-media shortcode-media-rebelmouse-image"> <img class="rm-shortcode" data-rm-shortcode-id="d90eee8a73a8bade8d5fba7c2a3068e9" data-rm-shortcode-name="rebelmouse-image" id="29ae0" type="lazy-image" data-runner-src="https://assets.rebelmouse.io/eyJhbGciOiJIUzI1NiIsInR5cCI6IkpXVCJ9.eyJpbWFnZSI6Imh0dHBzOi8vYXNzZXRzLnJibC5tcy8xOTg4ODUyNy9vcmlnaW4uanBnIiwiZXhwaXJlc19hdCI6MTY0Mzg5NzYyOH0.h9y5zxwsB9dJAsGnx0SWK98it4uSMS2SCpbkT0sJtpc/img.jpg?width=980"/> <small class="image-media media-caption" placeholder="add caption..."></small> <small class="image-media media-photo-credit" placeholder="add photo credit..."></small> </p><br/> My spidey sense tells me that number 42 is the last number to be drawn in the charter lottery, meaning Morales and the other crying students don't get accepted—a real experience that thousands of kids and their families go through every year.<p> If this fateful lottery rejection does set Morales up to to attend a regular public school, will the comic follow the <em>Waiting for Superman</em> storyline and portray that school as an inescapable place of horror? Don't be surprised to see education reformers carrying around a copy of this comic next month. They'll be dying to find out how this charter vs. traditional public school storyline will play out.</p><p> <em>Photos via <a href="http://comicbookmovie.com/fansites/Jolt17/news/?a=43978">Comic Book Resources</a></em></p><br/><br/>