Articles
Players from the two nations became friends on the flight to Los Angeles.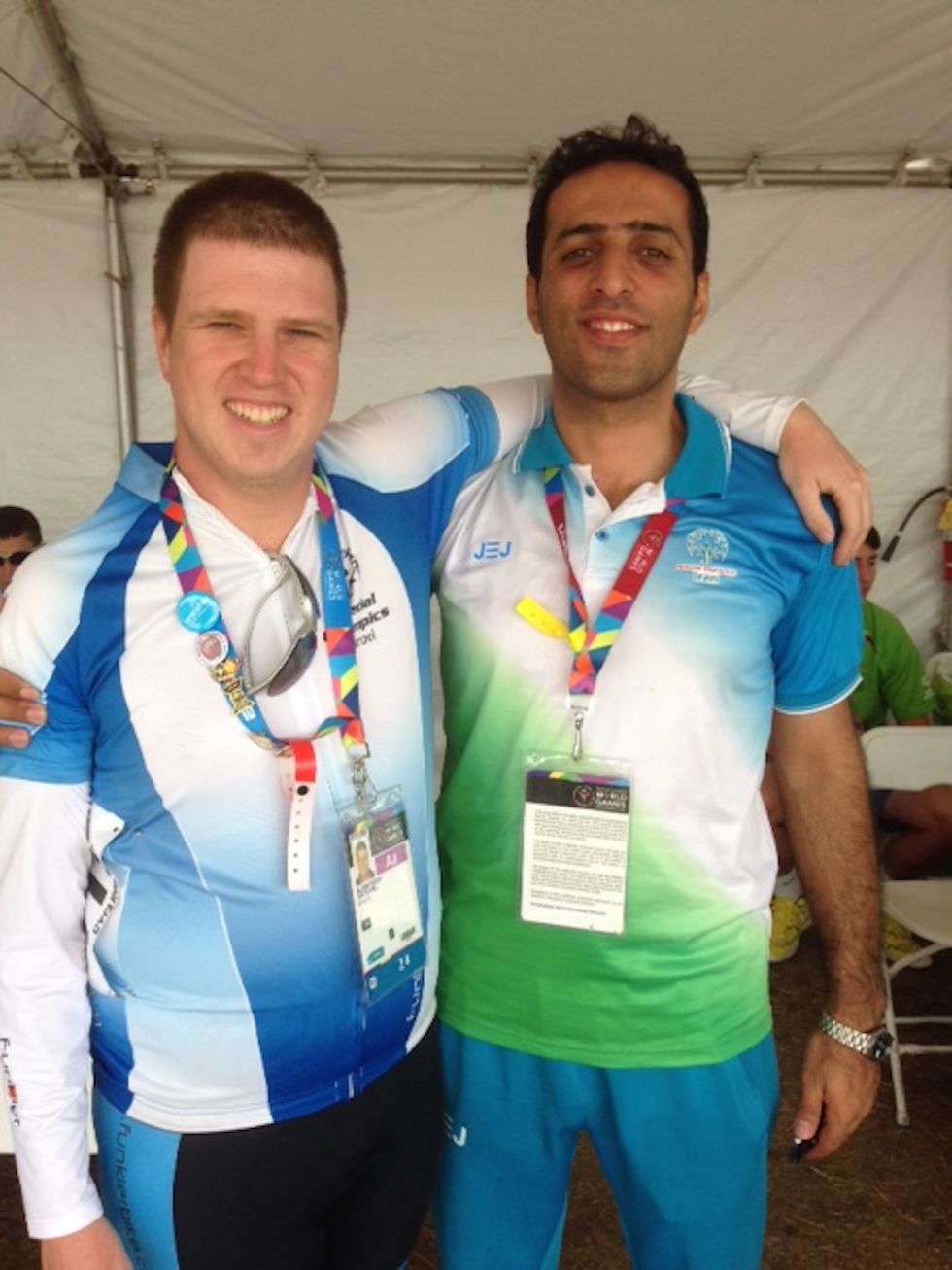 Israeli athlete Alon Dolev (left) and Iranian trainer Yaser Tahmasbi (right) are pictured here. Photo courtesy of the Israeli Delegation to the Special Olympics.
Although the Israeli and Iranian Special Olympics teams came to Los Angeles in search of athletic achievement, they ended up modelling a heartwarming example of sports diplomacy—before even landing in California. As the two otherwise conflicting nations made headlines in the dispute over the proposed America-backed Iranian nuclear deal, by some stroke of cosmic irony, the Israeli and Iranian teams ended up on the same transatlantic flight to California from Rome. But if anyone expected the members of these two teams to act out the political animosity between their governments, they would have been grossly mistaken. Instead, the Iranian and Israeli athletes became friends.
<p>"We were sitting next to each other and it was a twelve-hour flight," Israeli Head of Delegation Reuven Astrachan explains when they saw the Iranian team members in country gear. "So what do you for twelve hours? You talk. You talk to your neighbor."</p><p>For twelve hours the two teams talked a lot about—what else?—sports. "The only thing they think about is their sport," the Iranian Head of Delegation Asghar Dadkhah explained of his team. Politics were the last thing on anyone's minds, according to both Astrachan and Dadkhah.</p><p>Since their fateful meeting the two teams have encountered one another on several occasions—most notably during the Opening Ceremony, when a delegate from Iran passed the torch to a delegate from Israel. Kirsten Suto Seckler,<em> </em>Chief Marketing Officer for the games said it was a deliberate decision by the Special Olympics organizing committee to "send a powerful message." It seems to have been made after the two teams got to know one another on the flight.</p><p>It remains to be seen if members of the two teams will pass the proverbial torch and stay in touch following the games, but they have exchanged pins (whereas, according to Astrachan, Palestinian delegates have refused pins from Israeli athletes). At least for the Israelis and Iranians, however, peace in the Middle East doesn't seem like such a long shot.</p>