You Didn't Know You Craved Passport-Themed Chocolate Until Now
The purpose of this trip is definitely pleasure.
12.13.14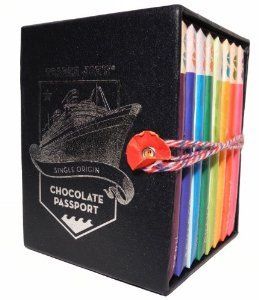 ---
Specialty grocery store Trader Joe's is taking it to a new level this holiday season with a limited run rainbow-packaged "Chocolate Passport" set. For less than a ten-spot, you can float down your own version of Willy Wonka's chocolate river via this package of eight "single origin" chocolate bars sourced from Peru, Ecuador, Venezuela, Ghana, Dominican Republic, Papua New Guinea, São Tomé, and Tanzania. Apparently, you can detect notes of jasmine, dried grass, fresh fruit, wood, flowers, and vanilla in each bar's different terroir—the earthly characteristics specific to each temporal and geographic region. As rich as the chocolates may be, think of it as travelling lightly.
Articles