Articles
Waste has been sitting in the sun uncollected for a week after a major landfill was closed.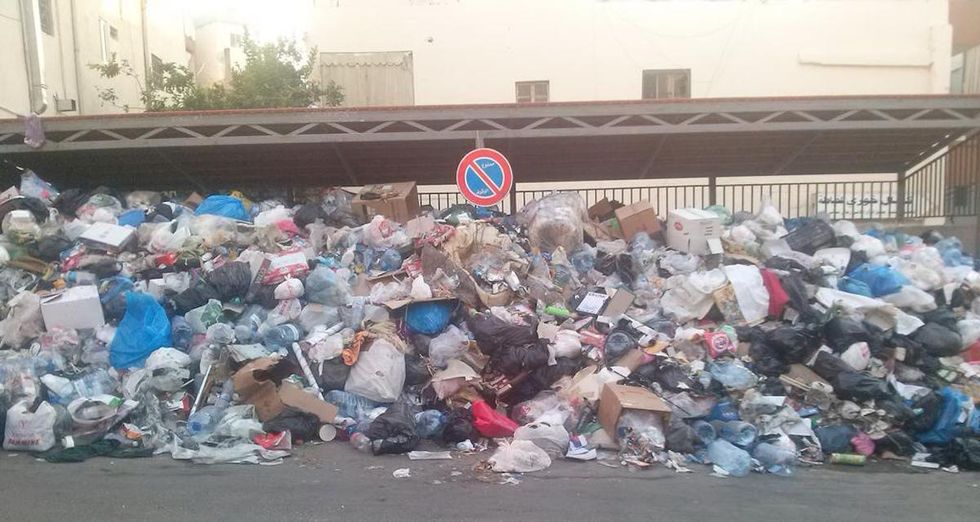 Image of uncollected garbage in Beirut by Twitter user Joseph Elahmar (@JosephElahmar)
The stench of garbage in Beirut had become so overwhelming that residents of the Lebanese city were compelled to protest last weekend, taking to the streets to demand that city officials double-down on trash collection efforts. Demonstrators even blocked a road leading to South Lebanon, chanting, "You stink!" as they marched.
<p>It's unclear whether the slogan was a reference to the garbage or a jab at Lebanon's political officials, who have been struggling to find a solution to the trash situation after a major landfill closed down on July 17th. Residents had been complaining about the dump for over a year now, arguing that it had been filled to overcapacity. But after the landfill was closed, the city's largest waste collector, Sukleen, has had trouble finding a place to put all the garbage, and has ceased operations until they find an alternate solution.</p><p>According to <a href="http://www.aljazeera.com/news/2015/07/lebanon-capital-drowning-ocean-trash-150726083036505.html">Al Jazeera English</a>, the trash piles have grown to several feet tall, as they lay untouched by collectors for more than a week now, and the smell has become impossible to bear.</p><p>"We are literally knee-deep in shit," said Hassan Ali, a Beirut resident, to <a href="http://www.aljazeera.com/news/2015/07/lebanon-capital-drowning-ocean-trash-150726083036505.html">AJE</a>. "You can't sit outside any more, because the smell wafts around you, and wherever you walk you're tripping over garbage."</p><p>Some residents have attempted to burn their garbage. Others have taken to wearing gas masks around the city. Prime Minister Taman Salam has <a href="http://www.reuters.com/article/2015/07/26/us-lebanon-protests-rubbish-idUSKCN0Q00RI20150726">threatened to resign</a> over the crisis. Fortunately, reports that Sukleen had resumed collecting some of the trash emerged on Sunday, and some photos on social media confirmed the story. </p><p class="shortcode-media shortcode-media-rebelmouse-image"> <img class="rm-shortcode" data-rm-shortcode-id="d3bd74fa0cde346d6070c7deb40b7b9b" data-rm-shortcode-name="rebelmouse-image" id="d171c" type="lazy-image" data-runner-src="https://assets.rebelmouse.io/eyJhbGciOiJIUzI1NiIsInR5cCI6IkpXVCJ9.eyJpbWFnZSI6Imh0dHBzOi8vYXNzZXRzLnJibC5tcy8xOTg0MjQ3Ni9vcmlnaW4uanBnIiwiZXhwaXJlc19hdCI6MTYxNDE3NTk0NH0.tmHoTtqpQ80GXNYIo1yjjrq0xEDGMNrFGzmZNYqvpUk/img.jpg?width=980"/> <small class="image-media media-caption" placeholder="add caption..."></small> <small class="image-media media-photo-credit" placeholder="add photo credit...">Image by Twitter user Camille Ammoun (@CAmmoun)</small> </p>