Articles
Eight Eco-friendly Halloween Costumes (and a Tip for Cheaters)
Tips for trick or treaters who don't want to be wasteful (or spend money) on a crappy wear-once Halloween costume. Plus: Tell us yours.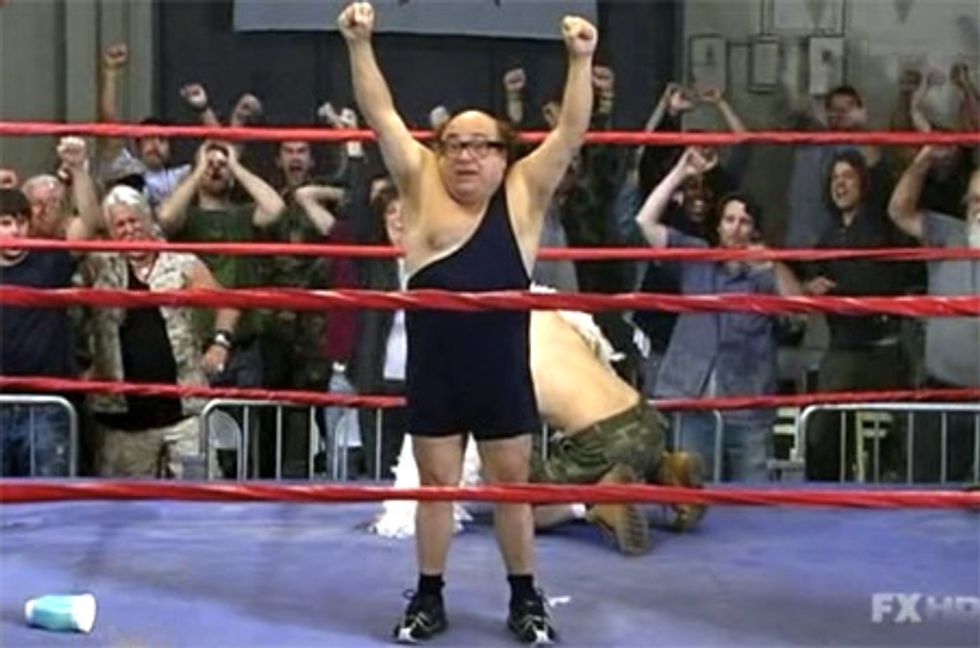 You've all seen
the stores that pop up all over the country at this time of year. They are filled with plastic masks, vinyl clothes, synthetic-hair wigs, and other disposable items you wear once and then throw out. This year, think outside of the plastic box and create your own Halloween costume using ecologically-friendly materials or previously owned items. Here are a few ideas to get you started, but really, we want to hear from you. Leave your idea in the comments.
1. A divot. Yep, as in the chunk of grass you replace when golfing. This costume involves rolling around in the dirt, wearing neutral clothing, and then affixing a small amount of grass (from your garden or the plant store) to a hat on your head. Bizarre, yes. But charming, and waste-free.
---
2. Your favorite TV character. Our favorite is above, but that costume is particularly height- and body-type specific. For more versatile ideas, put on some fake glasses, blue jeans, and a button-up and call yourself Liz Lemon. Go Michael Kors in a black blazer, jeans, and black T-shirt. Be Blair Waldorf in a headband and preppy dress. Invoke anyone from Lost in a dirty old pair of jeans or cargos with a ripped T-shirt and some bronzer on your face.
3. Rewear your costume from last year, but be dead this time. If you were Snow White last year, be zombie Snow White this year by adding some blood and tears. If you were a football player, be a dead one on a rampage, etcetera. To achieve the "undead" look easily and affordably, grab a bit of flour or pale mineral makeup to whiten your face. Maybe toss a little in your hair for a grey streak or two. If you have any dark lipstick or black eyeliner around the house, use that on your lips. For fake blood, combine corn syrup with a little red and a little blue food coloring, a drop of milk, and mix.
4. A Nerd. This is especially easy for hipsters. Hike up your pants, tuck in your white button up or plaid shirt, throw a bunch of pens in the shirt pocket, slick your hair back, tape up some thick rimmed glasses, and wear a back pack.
5. Mother Nature. If you don't have a long flowy dress or skirt in your closet, you can easily find one at a thrift store or borrow one from a friend. Think earth tones, blues, and greens. Adorn the skirt with flowers or leaves. You can use glue, safety pins, a needle and thread. Braid your hair and add a head wreath or flowers. You can carry stuffed animals with you, or even glue a fake bird to your shoulder. Get weird!
6. Ahobo. For those who live in colder climates, this is the ultimate in warmth and convenience. Layer on the sweats and worn-in clothes—the messier and dirtier, the better. Smudge a bit of soot from the fireplace or dark eyeshadow on your cheeks and mess up your hair. Grab a stick and tie an old pillow case to the end of it. Toss that over your shoulder and you're done.
7. A Tree. The base of your costume can be a green or brown t-shirt, long sleeved shirt or sweatshirt; green or brown leggings, sweats, or pants; or a green or brown long dress. Then just gather leaves that have fallen and glue or safety-pin them to your clothes. You can use as many or as few as you want.
8. A cavewoman (or man). You can make your own costume after a quick visit to the fabric store or with the help of an old blanket or sheet. Take some soft material and cut a one-sleeved cave woman dress; securing with large safety pins. You can go barefoot and smudge some black make-up on your cheeks.
Tip for cheaters: If you can't bring yourself to make or improvise a costume for yourself, you have another option: Rent one. You shouldn't wait until the last minute to secure yours, so go next week if you can and pick one that you like. Many stores offer fast, easy, and often beautifully made pieces.