Articles
The GOOD "Waste Less" Wrap Up: We Got Wasted on Waste
July's attempt to give up on waste was perhaps the hardest one yet. Oh, how we struggled with those infernal iced coffees.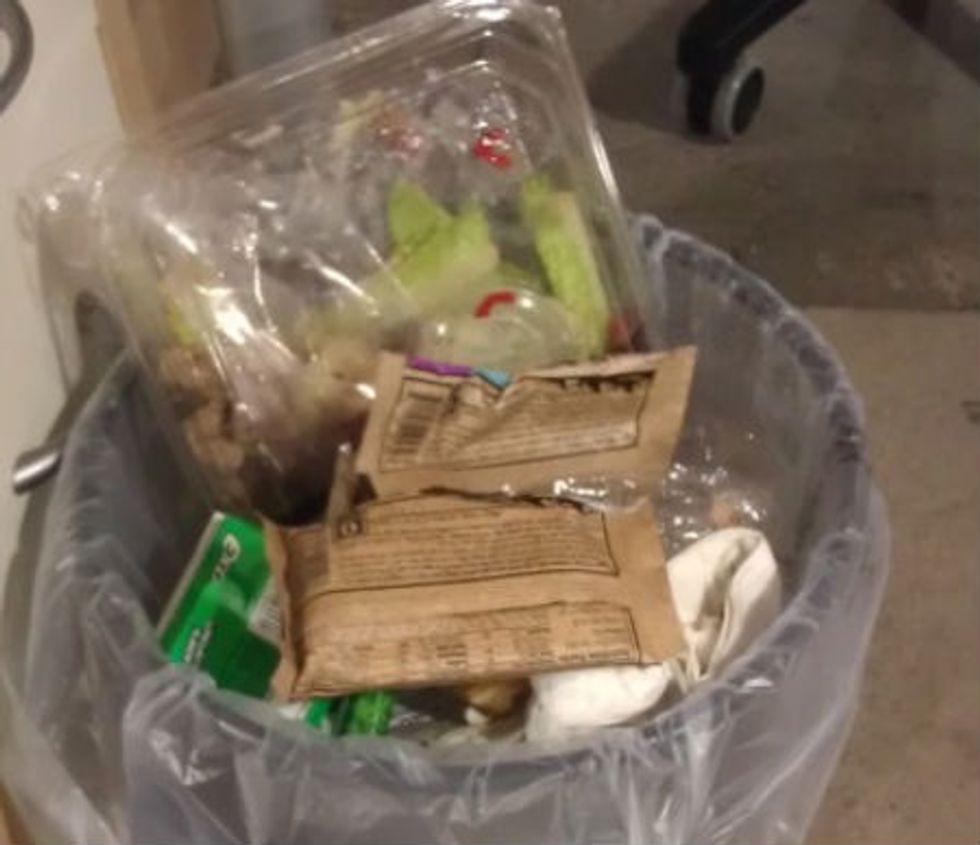 Things are easier said than done, or so the old adage goes, and we couldn't agree more. That's why we do The GOOD 30-Day Challenge ( #30DaysofGOOD ), a monthly attempt to live better. Our challenge for July? Waste less .
---
The photo above is the perfect capper to this month's 30-Day GOOD Challenge to waste less. It depicts what became a sadly common site around the office, a waste basket full of trash both recyclable and non-recyclable. Though a recycling container sat just two feet out of frame, oftentimes it went used far less frequently than it should have been. Though we challenged ourselves to make no more than one paper grocery bag of garbage a week, many of us did not stick to that goal—one staffer who will go unnamed even said he thinks he made more trash than usual this month ("I was getting like four iced coffees a day," he said).
As we noted at this month's halfway point , members of the GOOD community fared pretty well in their pursuit of less waste. They abandoned paper towels, took up cloth diapers, and found resourceful uses for leftover food. Overall, it was inspiring to see, especially considering our own failures.
Chalk it up to the many late-night takeout dinners eaten while working on the new issue of the magazine , or the summer picnic barbecues with drinks in plastic cups; we simply didn't live up to our end of the bargain, and we're actually pretty bummed about it.
Thankfully, not everyone was a trashy slacker. Though he didn't ever quantify his trash, senior editorial designer Dylan Lathrop made a conscious effort to eat at restaurants for lunch rather than ordering food to go throughout the past four weeks. And, as I said I would in our launch video , I used a lot fewer paper towels than normal after washing my hands. Nevertheless, real victories against garbage were few and far between this month. We failed hard.
Thankfully, time keeps rolling on. A new month means a new challenge, the theme of which we'll update you on later today. Our hope for August is that we'll redeem ourselves for July's loss and that you'll join us again to try and change your world and yourself, four weeks at a time.