Infographics
Using search terms to track emerging influenza pandemics. When a handful of engineers can track the daily...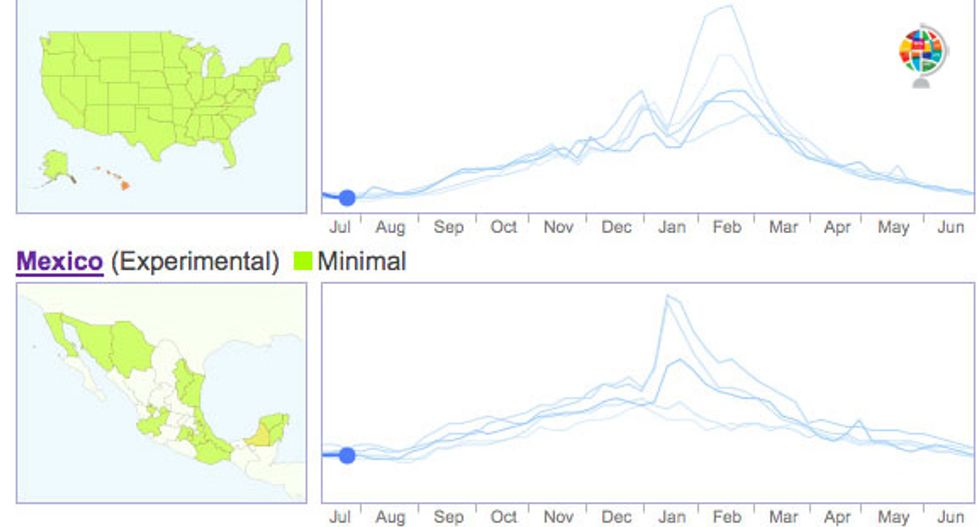 Using search terms to track emerging influenza pandemics.When a handfu
l of engineers can track the daily online searches of tens of millions of people (and protect their privacy) all for the betterment of humanity, one of the internet's great potentials has been fulfilled. And that's what Google.org, the search engine giant's philanthropic arm, is accomplishing through its Google Flu Trends initiative, which launched last November. By identifying a correlation between spikes in the number of queries for certain terms such as "flu," "cough," and "chills, and upticks in the influenza cases reported by public health outlets, Google has invented a sort of cyber-epidemiology.Billed as an early detection system for pandemics, GFT was put to the test in April as news spread worldwide about the H1N1, or swine flu, outbreak. Public health officials asked GFT to look at its search data from Mexico retroactively. While Google identified an increase in flu-related searches, Mexico doesn't have the public health infrastructure that would have allowed it to confirm that swine flu cases were indeed piling up. "There is certainly a bump in the April time period," says Google spokesperson Jamie Yood, "so we definitely picked something up."So far, GFT has detected flu trends up to two weeks sooner than the Centers for Disease Control and Prevention. Such success has encouraged Google.org to expand the program to Australia and New Zealand and to set its sights on other countries as well-Yood wouldn't name names, but Europe's high rates of internet usage make it a good bet. It's also considering how the technique might be used to track other diseases affecting large portions of the public-another initiative about which Google officials remain mum on specifics. "If it's successful, if it's accurate, and that's helpful, that's our goal," says Yood, "to supply health officials with more information."
Photo courtesy of Google
Return to interactive site