Articles
After tearing his ACL, champion rider Mat Hoffman was back biking in a week. There was just one catch...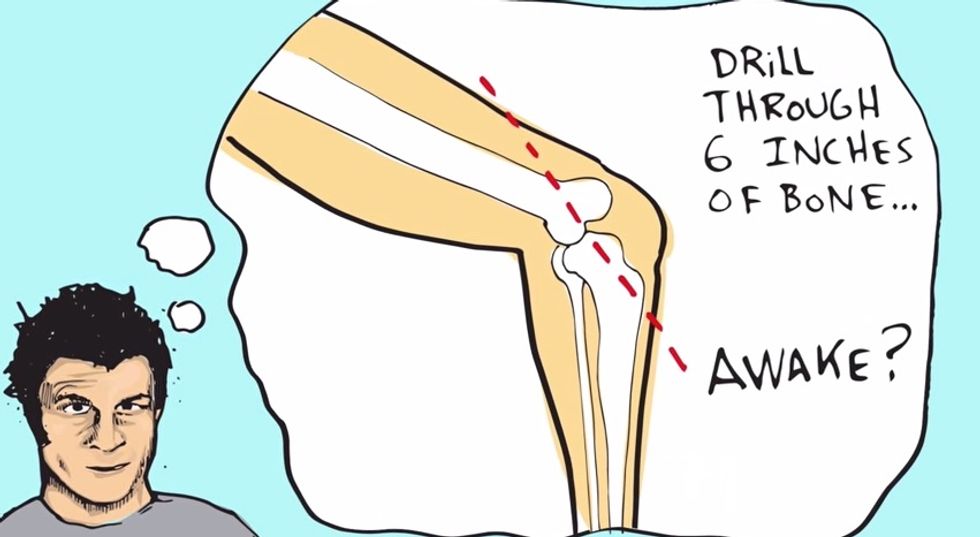 image via YouTube screen capture
In the world of competitive BMX, Mat Hoffman is considered one of the best, and most important riders to ever put foot to pedal. He's a multiple X-Games medal winner, the first person to pull off a no-handed 900 (spinning your bike around in mid-air a bunch of times without holding on) and has worked for decades spreading the gospel of the sport he loves.
<p>As is often the case with many x-treme sports, BMX riders risk equally x-treme injuries as they push themselves toward bigger, more crowd-pleasing stunts. That's what happened to Hoffman when, in 1999, he seriously hurt himself, tearing his ACL while performing a trick (and injuring "Peanuts" creator Charles Schultz's grandson in the process). But while the injury itself was gruesome, it was nothing compared to Hoffman's next move: exploring an experimental surgery that claimed it could repair his damaged knee and have him back on a bike in one weeks time.</p><p>The catch? Hoffman would have to travel to Canada with $10,000 cash in order to undergo the entire procedure...without anesthetics. </p><p>The whole story is so bizarre and morbidly ridiculous that it seems only fitting it be set to animation which, this week, it was, thanks to Hoffman's fellow BMX champion <a href="https://instagram.com/tajlucas/">Taj Mihelich</a>:</p><p><span class="rm-shortcode" data-rm-shortcode-id="ef45d981aae463830e3e9968de2abb41" style="display:block;position:relative;padding-top:56.25%;"><iframe frameborder="0" height="auto" type="lazy-iframe" scrolling="no" data-runner-src="https://www.youtube.com/embed/EZ36BPIoRF0?rel=0" style="position:absolute;top:0;left:0;width:100%;height:100%;" width="100%"></iframe></span></p><p>Just something to keep in mind the next time you flinch while getting a flu shot. </p><p style="text-align: right;">[<em>h/t Ulysses S.</em>]</p>