Articles
Anne Trubek on the Allure of Collecting Hypermodern Literature
Anne Trubek on the allure of collecting hypermodern literature.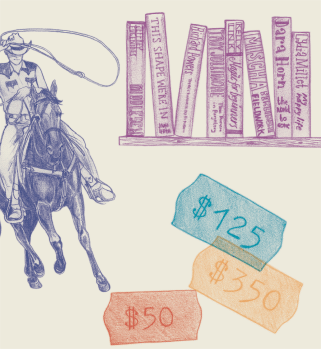 ---
Ignoring first editions
of the King James Bible, illustrated medieval manuscripts, and fine-press editions of
Pride and Prejudice
, I scoured the aisles of this spring's New York Antiquarian Book Fair at the New York Armory. I was indifferent to the museum pieces and objets d'art. I was looking for the small number of recent releases that make it into the fair every year, peering into display cabinets for glossy, colorful dust jackets. I went to the rare book fair to suss out the contemporary book scene.Those who collect hypermoderns-books published in the past 20 years or so-are the cowboys of the antiquarian book trade, investing in the most speculative niche in this otherwise staid market. They scout and bet on future greats, scooping up first editions that they think (and hope) will eventually become classics.Books both high- and lowbrow get tapped with the spending frenzies reserved for the most popular titles. A first U.K. edition of
Harry Potter and the Philosopher's Stone
, for example, recently sold for $37,000; when J. K. Rowling's first novel came out, in 1997, it retailed for about $25. Other popular bestsellers are prone to bubbles, liable to lose their value quickly. According to P. Scott Brown, the editor of
Fine Books & Collections
magazine, the classic case of declining value is Nobel Prize-winning novelist John Galsworthy. Popular in his day, publishers issued numerous fine-press volumes of his works, but his reputation declined, and now those limited-edition, signed firsts are easy to come by, selling for $200 or so apiece.So what makes a good investment? Literary fiction of lasting value-classics to be. Today, first editions of Hemingway, Fitzgerald, and Faulkner go for six figures. Hypermodern collectors are wagering on what will be deemed classic 50 years or so down the line. Based on my day at the fair, hot authors include Raymond Carver (
Will You Please Be Quiet, Please?
: $2,500), Tim O'Brien (
If I Die in a Combat Zone
: $4,500) and D. B. C. Pierre (
Vernon God Little
: $400). But the clear darling of the hypermodern posse is Cormac McCarthy. McCarthy is perfect for collectors: He is male, writes in difficult prose, attends few book signings (making signed copies scarcer), and once published in small print runs. A copy of McCarthy's 1968 novel
Outer Dark
was going for $3,000 at the April Armory show. A few weeks later, McCarthy won the Pulitzer and a nod from Oprah. His stock further skyrocketed. At another auction at the Swann Auction Galleries, a copy of his 1985
Blood Meridian
sold for $4,560.Collecting is a risky game, though. Some scored with McCarthy, but followers of the American author William T. Vollmann lost big in the1990s. Ken Lopez, a bookseller who specializes in modern and hypermodern titles, told me of a failed attempt to corner Vollmann futures: "A small group of young guys got together to monopolize the market," he says. "They would travel to book signings, buy 10 copies of Vollmann's books for $17.50, and mark the prices up to $100." But they overshot, and today the market is overstocked, supply having outstripped demand.The collecting of hypermoderns became more profitable in the 1970s with a change in the tax law. Beforehand, publishers kept books on the backlist for ages, but with the change, it made financial sense for them to off-load unsold copies. This created a glut of remainders, those bargain-priced books stacked in bookstores. Remainders usually have a black slash in marker on them, rendering them less valuable. With fewer unmarked copies available, prices went up.Also helping the market was the internet, which made it easier to find rare books. Lopez calls this "the golden age of book buying." Most dealers now put their holdings online, and lower prices to stay competitive. Lopez used to sell Cynthia Ozick's first novel,
Trust
, for $500 to $600; today it sells for half that, but, he explains, the price will eventually go back up. "There may be 12 copies on the internet now; when those go away, they will be replaced by six, then three."Hypermodern collecting is a bit absurd, maybe even crass. Many collectors are only interested in trophy hunting, buying matching leather-bound volumes they may never read to line their bookshelves. But it's also enormously compelling. I have been bitten. Since I know more about books than about financial markets, hardbacks are my stocks. After I read a book I admire, I purchase another copy to put on my shelf. I am a big Richard Powers fan, so I have collected all his novels. Shortly after Jeffrey Eugenides' marvelous
Middlesex
won the Pulitzer, I found a signed copy in my local bookstore for $50. Today, I might get $125 to $350 for it. (Plus, my money went to a worthy place. My $50 helped keep an independent bookstore afloat. Independent publishers also have a hard time, so I go out of my way to invest in them as well.)Powers and Eugenides are big names with large publishing houses behind them. Another way to go is to find up-and-coming authors publishing with small presses. After I read a borrowed copy of Kelly Link's
Magic for Beginners
, I bought a collectible copy on the Small Beer Press website. McSweeney's is another great press to support and potentially reap gain from. Collectors love its stable of authors, especially mastermind Dave Eggers.My last tip is to sign up for book-release clubs. If you had been a member of Square Books's Signed First Editions Club in 2002, it would have sent you Yann Martel's
Life of Pi
, which now goes for $200 to $800. Many small presses are launching similar release clubs to help guarantee their own income, and it might help yours, too.Want to bet on America's next top author and put your money into deserving coffers? Buy a new release. Buy three.
Start your own collection:
Middlesex
by Jeffrey Eugenides (Farrar, Straus and Giroux)It won the Pulitzer, and for good reason. Eugenides is a sophisticated writer who publishes infrequently, increasing his value to collectors.
This Shape We're In
by Jonathan Lethem (McSweeney's)Lethem is a consistently strong novelist, and this title, published by McSweeney's, is his prettiest.
Three Farmers on Their Way to a Dance
by Richard Powers (William Morrow)The first novel by this Pulitzer Prize winner and MacArthur "genius" is clever and endearing.
Tom Thomson in Purgatory
by Troy Jollimore (Margie/Intuit House)A collection by America's next great poet, this book was a surprise winner of this year's National Book Critics Circle Award.
Magic for Beginners
by Kelly Link (Small Beer Press)Surprising, wacky, smart stories from a rising star. She'll make you laugh and fall on the floor in disbelief.
Fieldwork
by Mischa Berlinski (Farrar, Straus and Giroux)A thought-provoking and hilarious debut novel about anthropologists and missionaries in Thailand. It should have received more ink, and his next novel may be big.
The World to Come
by Dara Horn (W. W. Norton)The second novel by an underappreciated, lyrical writer. Horn goes backward in history and forward to the afterlife and also manages to pen a page-turning mystery.
My Happy Life
by Lydia Millet (Henry Holt and Co.)The third novel by this genre-bending, inventive writer, who deserves more readers.